Find the idMSOs that are supported in Excel in Office 2016 for Windows.
Applies to: Excel for Windows | Office 2016 for Windows
Office 2016 for Windows apps don't support some of the idMSOs that Office for Mac supports. The following idMSOs are supported by Excel for Windows, if you need idMSO for Mac, click here.
Download Excel idMSO full list for Windows
Tips
To quickly find your search term on this page, press Ctrl+F use the find bar.
How to quickly get idMSO in Excel?
In Excel, choose File > Options > Quick Access Toolbar, choose a command which you want to get the idMSO, add click Add button, the command appears in the list on the right. Point your mouse to the command you just added. The value in parentheses in the command description is idMSO.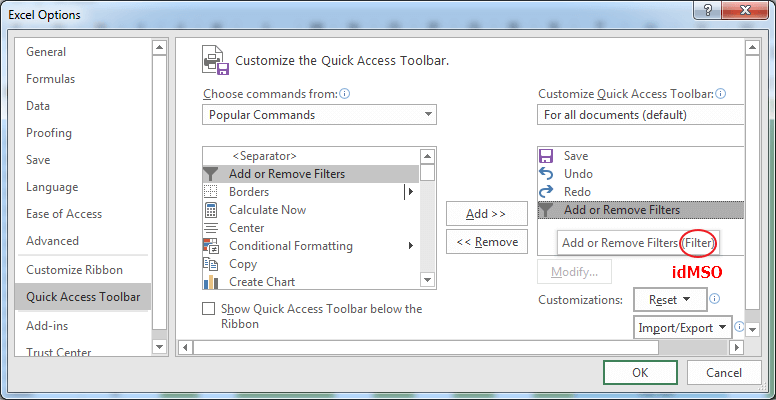 | idMSO | Control Type | Tab Set | Tab |
| --- | --- | --- | --- |
| FileNewDefault | button | None (Quick Access Toolbar) | Quick Access Toolbar |
| FileOpenUsingBackstage | button | None (Quick Access Toolbar) | Quick Access Toolbar |
| FileSave | button | None (Quick Access Toolbar) | Quick Access Toolbar |
| FileSendAsAttachment | button | None (Quick Access Toolbar) | Quick Access Toolbar |
| FilePrintQuick | button | None (Quick Access Toolbar) | Quick Access Toolbar |
| PrintPreviewAndPrint | button | None (Quick Access Toolbar) | Quick Access Toolbar |
| Spelling | button | None (Quick Access Toolbar) | Quick Access Toolbar |
| Undo | gallery | None (Quick Access Toolbar) | Quick Access Toolbar |
| Redo | gallery | None (Quick Access Toolbar) | Quick Access Toolbar |
| SortAscendingExcel | button | None (Quick Access Toolbar) | Quick Access Toolbar |
| SortDescendingExcel | button | None (Quick Access Toolbar) | Quick Access Toolbar |
| PointerModeOptions | gallery | None (Quick Access Toolbar) | Quick Access Toolbar |
| TabHome | tab | None (Core Tab) | |
| GroupClipboard | group | None (Core Tab) | TabHome |
| PasteMenu | splitButton | None (Core Tab) | TabHome |
| Paste | button | None (Core Tab) | TabHome |
| PasteGallery | gallery | None (Core Tab) | TabHome |
| PasteUsingTextImportWizard | button | None (Core Tab) | TabHome |
| PasteRefreshableWebQuery | button | None (Core Tab) | TabHome |
| PasteSpecialDialog | button | None (Core Tab) | TabHome |
| Cut | button | None (Core Tab) | TabHome |
| CopySplitButton | splitButton | None (Core Tab) | TabHome |
| Copy | button | None (Core Tab) | TabHome |
| CopyAsPicture | button | None (Core Tab) | TabHome |
| FormatPainter | control | None (Core Tab) | TabHome |
| ShowClipboard | button (dialogBoxLauncher) | None (Core Tab) | TabHome |
| GroupFont | group | None (Core Tab) | TabHome |
| Font | comboBox | None (Core Tab) | TabHome |
| FontSize | comboBox | None (Core Tab) | TabHome |
| FontSizeIncrease | button | None (Core Tab) | TabHome |
| FontSizeDecrease | button | None (Core Tab) | TabHome |
| Bold | toggleButton | None (Core Tab) | TabHome |
| Italic | toggleButton | None (Core Tab) | TabHome |
| UnderlineGallery | splitButton | None (Core Tab) | TabHome |
| Underline | toggleButton | None (Core Tab) | TabHome |
| UnderlineDouble | toggleButton | None (Core Tab) | TabHome |
| BordersGallery | splitButton | None (Core Tab) | TabHome |
| BorderBottomNoToggle | button | None (Core Tab) | TabHome |
| BorderTopNoToggle | button | None (Core Tab) | TabHome |
| BorderLeftNoToggle | button | None (Core Tab) | TabHome |
| BorderRightNoToggle | button | None (Core Tab) | TabHome |
| BorderNone | button | None (Core Tab) | TabHome |
| BordersAll | button | None (Core Tab) | TabHome |
| BorderOutside | button | None (Core Tab) | TabHome |
| BorderThickOutside | button | None (Core Tab) | TabHome |
| BorderDoubleBottom | button | None (Core Tab) | TabHome |
| BorderThickBottom | button | None (Core Tab) | TabHome |
| BorderTopAndBottom | button | None (Core Tab) | TabHome |
| BorderTopAndThickBottom | button | None (Core Tab) | TabHome |
| BorderTopAndDoubleBottom | button | None (Core Tab) | TabHome |
| BorderDrawLine | toggleButton | None (Core Tab) | TabHome |
| BorderDrawGrid | toggleButton | None (Core Tab) | TabHome |
| BorderErase | toggleButton | None (Core Tab) | TabHome |
| BorderColorPickerExcel | gallery | None (Core Tab) | TabHome |
| BorderMoreColorsDialog | button | None (Core Tab) | TabHome |
| BorderStyle | dropDown | None (Core Tab) | TabHome |
| BordersMoreDialog | button | None (Core Tab) | TabHome |
| CellFillColorPicker | gallery | None (Core Tab) | TabHome |
| FontShadingColorMoreColorsDialog | button | None (Core Tab) | TabHome |
| FontColorPicker | gallery | None (Core Tab) | TabHome |
| FontColorMoreColorsDialogExcel | button | None (Core Tab) | TabHome |
| PhoneticGuideMenu | splitButton | None (Core Tab) | TabHome |
| PhoneticGuideFieldShow | toggleButton | None (Core Tab) | TabHome |
| PhoneticGuideEdit | button | None (Core Tab) | TabHome |
| PhoneticGuideSettings | button | None (Core Tab) | TabHome |
| FormatCellsFontDialog | button (dialogBoxLauncher) | None (Core Tab) | TabHome |
| GroupAlignmentExcel | group | None (Core Tab) | TabHome |
| AlignTopExcel | toggleButton | None (Core Tab) | TabHome |
| AlignMiddleExcel | toggleButton | None (Core Tab) | TabHome |
| AlignBottomExcel | toggleButton | None (Core Tab) | TabHome |
| OrientationMenu | menu | None (Core Tab) | TabHome |
| TextOrientationAngleCounterclockwise | toggleButton | None (Core Tab) | TabHome |
| TextOrientationAngleClockwise | toggleButton | None (Core Tab) | TabHome |
| TextOrientationVertical | toggleButton | None (Core Tab) | TabHome |
| TextOrientationRotateUp | toggleButton | None (Core Tab) | TabHome |
| TextOrientationRotateDown | toggleButton | None (Core Tab) | TabHome |
| CellAlignmentOptions | button | None (Core Tab) | TabHome |
| AlignLeftToRightMenu | splitButton | None (Core Tab) | TabHome |
| TextDirectionLeftToRight | toggleButton | None (Core Tab) | TabHome |
| TextDirectionRightToLeft | toggleButton | None (Core Tab) | TabHome |
| TextDirectionContext | toggleButton | None (Core Tab) | TabHome |
| AlignLeft | toggleButton | None (Core Tab) | TabHome |
| AlignCenter | toggleButton | None (Core Tab) | TabHome |
| AlignRight | toggleButton | None (Core Tab) | TabHome |
| IndentDecreaseExcel | button | None (Core Tab) | TabHome |
| IndentIncreaseExcel | button | None (Core Tab) | TabHome |
| WrapText | toggleButton | None (Core Tab) | TabHome |
| MergeCenterMenu | splitButton | None (Core Tab) | TabHome |
| MergeCenter | toggleButton | None (Core Tab) | TabHome |
| MergeCellsAcross | button | None (Core Tab) | TabHome |
| MergeCells | button | None (Core Tab) | TabHome |
| UnmergeCells | button | None (Core Tab) | TabHome |
| CellAlignmentOptions | button (dialogBoxLauncher) | None (Core Tab) | TabHome |
| GroupNumber | group | None (Core Tab) | TabHome |
| NumberFormatGallery | comboBox | None (Core Tab) | TabHome |
| NumberFormatsDialog | button | None (Core Tab) | TabHome |
| AccountingFormatMenu | splitButton | None (Core Tab) | TabHome |
| AccountingFormat | button | None (Core Tab) | TabHome |
| AccountingFormatExcel | button | None (Core Tab) | TabHome |
| AccountingFormatMoreExcel | button | None (Core Tab) | TabHome |
| PercentStyle | button | None (Core Tab) | TabHome |
| CommaStyle | button | None (Core Tab) | TabHome |
| DecimalsIncrease | button | None (Core Tab) | TabHome |
| DecimalsDecrease | button | None (Core Tab) | TabHome |
| FormatCellsNumberDialog | button (dialogBoxLauncher) | None (Core Tab) | TabHome |
| GroupStyles | group | None (Core Tab) | TabHome |
| ConditionalFormattingMenu | menu | None (Core Tab) | TabHome |
| ConditionalFormattingHighlightCellsMenu | menu | None (Core Tab) | TabHome |
| ConditionalFormattingHighlightGreaterThan | button | None (Core Tab) | TabHome |
| ConditionalFormattingHighlightLessThan | button | None (Core Tab) | TabHome |
| ConditionalFormattingHighlightBetween | button | None (Core Tab) | TabHome |
| ConditionalFormattingHighlightEqualTo | button | None (Core Tab) | TabHome |
| ConditionalFormattingHighlightTextContaining | button | None (Core Tab) | TabHome |
| ConditionalFormattingHighlightDateOccuring | button | None (Core Tab) | TabHome |
| ConditionalFormattingHighlightDuplicateValues | button | None (Core Tab) | TabHome |
| ConditionalFormattingHighlightRulesMore | button | None (Core Tab) | TabHome |
| ConditionalFormattingTopBottomMenu | menu | None (Core Tab) | TabHome |
| ConditionalFormattingTopNItems | button | None (Core Tab) | TabHome |
| ConditionalFormattingTopNPercent | button | None (Core Tab) | TabHome |
| ConditionalFormattingBottomNItems | button | None (Core Tab) | TabHome |
| ConditionalFormattingBottomNPercent | button | None (Core Tab) | TabHome |
| ConditionalFormattingAboveAverage | button | None (Core Tab) | TabHome |
| ConditionalFormattingBelowAverage | button | None (Core Tab) | TabHome |
| ConditionalFormattingTopBottomMore | button | None (Core Tab) | TabHome |
| ConditionalFormattingDataBarsGallery | gallery | None (Core Tab) | TabHome |
| ConditionalFormattingDataBarsMoreOptions | button | None (Core Tab) | TabHome |
| ConditionalFormattingColorScalesGallery | gallery | None (Core Tab) | TabHome |
| ConditionalFormattingColorScalesMore | button | None (Core Tab) | TabHome |
| ConditionalFormattingIconSetsGallery | gallery | None (Core Tab) | TabHome |
| ConditionalFormattingIconSetsMore | button | None (Core Tab) | TabHome |
| ConditionalFormattingNewRule | button | None (Core Tab) | TabHome |
| ConditionalFormattingClearMenu | menu | None (Core Tab) | TabHome |
| ConditionalFormattingClearSelectedCells | button | None (Core Tab) | TabHome |
| ConditionalFormattingClearSheet | button | None (Core Tab) | TabHome |
| ConditionalFormattingClearTable | button | None (Core Tab) | TabHome |
| ConditionalFormattingClearPivotTable | button | None (Core Tab) | TabHome |
| ConditionalFormattingsManage | button | None (Core Tab) | TabHome |
| FormatAsTableGallery | gallery | None (Core Tab) | TabHome |
| TableStyleNew | button | None (Core Tab) | TabHome |
| PivotTableNewStyle | button | None (Core Tab) | TabHome |
| CellStylesGallery | gallery | None (Core Tab) | TabHome |
| CellStyleNew | button | None (Core Tab) | TabHome |
| CellStylesMerge | button | None (Core Tab) | TabHome |
| GroupCells | group | None (Core Tab) | TabHome |
| InsertCellstMenu | splitButton | None (Core Tab) | TabHome |
| CellsInsertSmart | button | None (Core Tab) | TabHome |
| CellsInsertDialog | button | None (Core Tab) | TabHome |
| SheetRowsInsert | button | None (Core Tab) | TabHome |
| SheetColumnsInsert | button | None (Core Tab) | TabHome |
| TableRowsInsertAboveExcel | button | None (Core Tab) | TabHome |
| TableRowsInsertBelowExcel | button | None (Core Tab) | TabHome |
| TableColumnsInsertLeftExcel | button | None (Core Tab) | TabHome |
| TableColumnsInsertRightExcel | button | None (Core Tab) | TabHome |
| SheetInsert | button | None (Core Tab) | TabHome |
| TableDeleteRowsAndColumnsMenu | splitButton | None (Core Tab) | TabHome |
| CellsDeleteSmart | button | None (Core Tab) | TabHome |
| CellsDelete | button | None (Core Tab) | TabHome |
| SheetRowsDelete | button | None (Core Tab) | TabHome |
| SheetColumnsDelete | button | None (Core Tab) | TabHome |
| TableRowsDeleteExcel | button | None (Core Tab) | TabHome |
| TableColumnsDeleteExcel | button | None (Core Tab) | TabHome |
| SheetDelete | button | None (Core Tab) | TabHome |
| FormatCellsMenu | menu | None (Core Tab) | TabHome |
| RowHeight | button | None (Core Tab) | TabHome |
| RowHeightAutoFit | button | None (Core Tab) | TabHome |
| ColumnWidth | button | None (Core Tab) | TabHome |
| ColumnWidthAutoFit | button | None (Core Tab) | TabHome |
| ColumnWidthDefault | button | None (Core Tab) | TabHome |
| HideAndUnhideMenu | menu | None (Core Tab) | TabHome |
| RowsHide | button | None (Core Tab) | TabHome |
| ColumnsHide | button | None (Core Tab) | TabHome |
| SheetHide | button | None (Core Tab) | TabHome |
| RowsUnhide | button | None (Core Tab) | TabHome |
| ColumnsUnhide | button | None (Core Tab) | TabHome |
| SheetUnhide | button | None (Core Tab) | TabHome |
| SheetRename | button | None (Core Tab) | TabHome |
| SheetMoveOrCopy | button | None (Core Tab) | TabHome |
| SheetTabColorGallery | gallery | None (Core Tab) | TabHome |
| SheetTabColorMoreColorsDialog | button | None (Core Tab) | TabHome |
| SheetProtect | button | None (Core Tab) | TabHome |
| Lock | toggleButton | None (Core Tab) | TabHome |
| FormatCellsDialog | button | None (Core Tab) | TabHome |
| GroupEditingExcel | group | None (Core Tab) | TabHome |
| AutoSumMenu | splitButton | None (Core Tab) | TabHome |
| AutoSum | button | None (Core Tab) | TabHome |
| AutoSumAverage | button | None (Core Tab) | TabHome |
| AutoSumCount | button | None (Core Tab) | TabHome |
| AutoSumMax | button | None (Core Tab) | TabHome |
| AutoSumMin | button | None (Core Tab) | TabHome |
| AutoSumMoreFunctions | button | None (Core Tab) | TabHome |
| FillMenu | menu | None (Core Tab) | TabHome |
| FillDown | button | None (Core Tab) | TabHome |
| FillRight | button | None (Core Tab) | TabHome |
| FillUp | button | None (Core Tab) | TabHome |
| FillLeft | button | None (Core Tab) | TabHome |
| FillAcrossWorksheets | button | None (Core Tab) | TabHome |
| FillSeries | button | None (Core Tab) | TabHome |
| FillJustify | button | None (Core Tab) | TabHome |
| QuickCode | button | None (Core Tab) | TabHome |
| ClearMenu | menu | None (Core Tab) | TabHome |
| ClearAll | button | None (Core Tab) | TabHome |
| ClearFormats | button | None (Core Tab) | TabHome |
| ClearContents | button | None (Core Tab) | TabHome |
| ClearComments | button | None (Core Tab) | TabHome |
| HyperlinksClear | button | None (Core Tab) | TabHome |
| HyperlinksRemove | button | None (Core Tab) | TabHome |
| SortFilterMenu | menu | None (Core Tab) | TabHome |
| SortAscendingExcel | button | None (Core Tab) | TabHome |
| SortDescendingExcel | button | None (Core Tab) | TabHome |
| SortCustomExcel | button | None (Core Tab) | TabHome |
| Filter | toggleButton | None (Core Tab) | TabHome |
| SortClear | button | None (Core Tab) | TabHome |
| FilterReapply | button | None (Core Tab) | TabHome |
| SelectMenuExcel | menu | None (Core Tab) | TabHome |
| FindDialogExcel | button | None (Core Tab) | TabHome |
| ReplaceDialog | button | None (Core Tab) | TabHome |
| GoTo | button | None (Core Tab) | TabHome |
| GoToSpecial | button | None (Core Tab) | TabHome |
| GoToFormulas | button | None (Core Tab) | TabHome |
| GoToComments | button | None (Core Tab) | TabHome |
| GoToConditionalFormatting | button | None (Core Tab) | TabHome |
| GoToConstants | button | None (Core Tab) | TabHome |
| GoToDataValidation | button | None (Core Tab) | TabHome |
| ObjectsSelect | toggleButton | None (Core Tab) | TabHome |
| SelectionPane | toggleButton | None (Core Tab) | TabHome |
| TabInsert | tab | None (Core Tab) | |
| GroupInsertTablesExcel | group | None (Core Tab) | TabInsert |
| PivotTableInsert | button | None (Core Tab) | TabInsert |
| PivotTableSuggestion | button | None (Core Tab) | TabInsert |
| TableInsertExcel | button | None (Core Tab) | TabInsert |
| GroupInsertIllustrations | group | None (Core Tab) | TabInsert |
| PictureInsertFromFile | button | None (Core Tab) | TabInsert |
| ClipArtInsertDialog | button | None (Core Tab) | TabInsert |
| ShapesInsertGallery | gallery | None (Core Tab) | TabInsert |
| SmartArtInsert | button | None (Core Tab) | TabInsert |
| ScreenshotInsertGallery | gallery | None (Core Tab) | TabInsert |
| ScreenClipping | button | None (Core Tab) | TabInsert |
| GroupOfficeExtension | group | None (Core Tab) | TabInsert |
| OfficeExtensionsAppStore | button | None (Core Tab) | TabInsert |
| OfficeExtensionsGallery2 | gallery | None (Core Tab) | TabInsert |
| OfficeExtensionsDialog | button | None (Core Tab) | TabInsert |
| OfficeExtensionsManageOtherAddins | button | None (Core Tab) | TabInsert |
| OfficeExtensionsFeaturedApp1 | button | None (Core Tab) | TabInsert |
| OfficeExtensionsFeaturedApp2 | button | None (Core Tab) | TabInsert |
| OfficeExtensionsFeaturedApp3 | button | None (Core Tab) | TabInsert |
| OfficeExtensionsFeaturedApp4 | button | None (Core Tab) | TabInsert |
| OfficeExtensionsFeaturedApp5 | button | None (Core Tab) | TabInsert |
| OfficeExtensionsFeaturedApp6 | button | None (Core Tab) | TabInsert |
| GroupInsertChartsExcel | group | None (Core Tab) | TabInsert |
| ChartInsertGalleryNew | button | None (Core Tab) | TabInsert |
| ChartTypeColumnInsertGallery | gallery | None (Core Tab) | TabInsert |
| ChartTypeColumnInsertDialog | button | None (Core Tab) | TabInsert |
| ChartTypeLineInsertGallery | gallery | None (Core Tab) | TabInsert |
| ChartTypeLineInsertDialog | button | None (Core Tab) | TabInsert |
| ChartTypePieInsertGallery | gallery | None (Core Tab) | TabInsert |
| ChartTypePieInsertDialog | button | None (Core Tab) | TabInsert |
| ChartTypeHierarchyInsertGallery | gallery | None (Core Tab) | TabInsert |
| ChartTypeHierarchyInsertDialog | button | None (Core Tab) | TabInsert |
| ChartTypeStatisticalInsertGallery | gallery | None (Core Tab) | TabInsert |
| ChartTypeStatisticalInsertDialog | button | None (Core Tab) | TabInsert |
| ChartTypeXYScatterInsertGallery | gallery | None (Core Tab) | TabInsert |
| ChartTypeScatterInsertDialog | button | None (Core Tab) | TabInsert |
| ChartTypeWaterfallInsertChartGallery | gallery | None (Core Tab) | TabInsert |
| ChartTypeStockInsertDialog | button | None (Core Tab) | TabInsert |
| ChartTypeComboInsertGallery | gallery | None (Core Tab) | TabInsert |
| ChartTypeComboInsertDialog | button | None (Core Tab) | TabInsert |
| ChartTypeOtherInsertGallery | gallery | None (Core Tab) | TabInsert |
| ChartTypeOtherInsertDialog | button | None (Core Tab) | TabInsert |
| NewPivotChartSplitButton | splitButton | None (Core Tab) | TabInsert |
| PivotChartInsert | button | None (Core Tab) | TabInsert |
| SxNewPivotChartAndTable | button | None (Core Tab) | TabInsert |
| ChartDialogLauncherAll | button (dialogBoxLauncher) | None (Core Tab) | TabInsert |
| GroupPowerMap | group | None (Core Tab) | TabInsert |
| SplitButtonPowerMap | gallery | None (Core Tab) | TabInsert |
| PowerMapLaunch | button | None (Core Tab) | TabInsert |
| PowerMapAddData | button | None (Core Tab) | TabInsert |
| GroupSparklinesInsert | group | None (Core Tab) | TabInsert |
| SparklineLineInsert | button | None (Core Tab) | TabInsert |
| SparklineColumnInsert | button | None (Core Tab) | TabInsert |
| SparklineWinLossInsert | button | None (Core Tab) | TabInsert |
| GroupSlicerInsert | group | None (Core Tab) | TabInsert |
| SlicerInsert | button | None (Core Tab) | TabInsert |
| InsertTimeline | button | None (Core Tab) | TabInsert |
| GroupInsertLinks | group | None (Core Tab) | TabInsert |
| HyperlinkInsert | button | None (Core Tab) | TabInsert |
| GroupInsertText | group | None (Core Tab) | TabInsert |
| TextBoxInsertExcel | toggleButton | None (Core Tab) | TabInsert |
| TextBoxInsertMenu | splitButton | None (Core Tab) | TabInsert |
| TextBoxInsertHorizontal | toggleButton | None (Core Tab) | TabInsert |
| TextBoxInsertVertical | toggleButton | None (Core Tab) | TabInsert |
| HeaderFooterInsert | button | None (Core Tab) | TabInsert |
| WordArtInsertGallery | gallery | None (Core Tab) | TabInsert |
| SignatureLineInsertMenu | splitButton | None (Core Tab) | TabInsert |
| SignatureLineInsert | button | None (Core Tab) | TabInsert |
| SignatureServicesAdd | button | None (Core Tab) | TabInsert |
| OleObjectctInsert | button | None (Core Tab) | TabInsert |
| GroupInsertSymbols | group | None (Core Tab) | TabInsert |
| InsertBuildingBlocksEquationsGallery | gallery | None (Core Tab) | TabInsert |
| EquationInsertNew | button | None (Core Tab) | TabInsert |
| InkEquation | button | None (Core Tab) | TabInsert |
| SymbolInsert | button | None (Core Tab) | TabInsert |
| GroupInsertBarcode | group | None (Core Tab) | TabInsert |
| BarcodeInsert | button | None (Core Tab) | TabInsert |
| LabelInsert | button | None (Core Tab) | TabInsert |
| TabPageLayoutExcel | tab | None (Core Tab) | |
| GroupThemesExcel | group | None (Core Tab) | TabPageLayoutExcel |
| ThemesGallery | gallery | None (Core Tab) | TabPageLayoutExcel |
| ThemeSearchOfficeOnline | button | None (Core Tab) | TabPageLayoutExcel |
| ThemeBrowseForThemes | button | None (Core Tab) | TabPageLayoutExcel |
| ThemeSaveCurrent | button | None (Core Tab) | TabPageLayoutExcel |
| ThemeColorsGallery | gallery | None (Core Tab) | TabPageLayoutExcel |
| ThemeColorsCreateNew | button | None (Core Tab) | TabPageLayoutExcel |
| ThemeFontsGallery | gallery | None (Core Tab) | TabPageLayoutExcel |
| ThemeFontsCreateNew | button | None (Core Tab) | TabPageLayoutExcel |
| ThemeEffectsGallery | gallery | None (Core Tab) | TabPageLayoutExcel |
| GroupPageSetup | group | None (Core Tab) | TabPageLayoutExcel |
| PageMarginsGallery | gallery | None (Core Tab) | TabPageLayoutExcel |
| MarginsCustomMargins | button | None (Core Tab) | TabPageLayoutExcel |
| PageOrientationGallery | gallery | None (Core Tab) | TabPageLayoutExcel |
| PageSizeGallery | gallery | None (Core Tab) | TabPageLayoutExcel |
| PageSizeMorePaperSizesDialogExcel | button | None (Core Tab) | TabPageLayoutExcel |
| PrintAreaMenu | menu | None (Core Tab) | TabPageLayoutExcel |
| PrintAreaSetPrintArea | button | None (Core Tab) | TabPageLayoutExcel |
| PrintAreaClearPrintArea | button | None (Core Tab) | TabPageLayoutExcel |
| PrintAreaAddToPrintArea | button | None (Core Tab) | TabPageLayoutExcel |
| PageBreakMenu | menu | None (Core Tab) | TabPageLayoutExcel |
| PageBreakInsertExcel | button | None (Core Tab) | TabPageLayoutExcel |
| PageBreakRemove | button | None (Core Tab) | TabPageLayoutExcel |
| PageBreaksResetAll | button | None (Core Tab) | TabPageLayoutExcel |
| SheetBackground | button | None (Core Tab) | TabPageLayoutExcel |
| PrintTitles | button | None (Core Tab) | TabPageLayoutExcel |
| PageSetupPageDialog | button (dialogBoxLauncher) | None (Core Tab) | TabPageLayoutExcel |
| GroupPageLayoutScaleToFit | group | None (Core Tab) | TabPageLayoutExcel |
| PageScaleToFitWidth | comboBox | None (Core Tab) | TabPageLayoutExcel |
| PageScaleToFitOptionsDialog | button | None (Core Tab) | TabPageLayoutExcel |
| PageScaleToFitHeight | comboBox | None (Core Tab) | TabPageLayoutExcel |
| PageScaleToFitOptionsDialog | button | None (Core Tab) | TabPageLayoutExcel |
| PageScaleToFitScale | control | None (Core Tab) | TabPageLayoutExcel |
| PageSetupPageDialog | button (dialogBoxLauncher) | None (Core Tab) | TabPageLayoutExcel |
| GroupPageLayoutSheetOptions | group | None (Core Tab) | TabPageLayoutExcel |
| RightToLeftDocument | toggleButton | None (Core Tab) | TabPageLayoutExcel |
| GridlinesLabel | labelControl | None (Core Tab) | TabPageLayoutExcel |
| ViewSheetGridlines | checkBox | None (Core Tab) | TabPageLayoutExcel |
| SheetPrintGridlines | checkBox | None (Core Tab) | TabPageLayoutExcel |
| HeadingsLabel | labelControl | None (Core Tab) | TabPageLayoutExcel |
| ViewSheetHeadings | checkBox | None (Core Tab) | TabPageLayoutExcel |
| SheetPrintHeadings | checkBox | None (Core Tab) | TabPageLayoutExcel |
| PageSetupSheetDialog | button (dialogBoxLauncher) | None (Core Tab) | TabPageLayoutExcel |
| GroupArrange | group | None (Core Tab) | TabPageLayoutExcel |
| ObjectBringForwardMenu | splitButton | None (Core Tab) | TabPageLayoutExcel |
| ObjectBringForward | button | None (Core Tab) | TabPageLayoutExcel |
| ObjectBringToFront | button | None (Core Tab) | TabPageLayoutExcel |
| ObjectSendBackwardMenu | splitButton | None (Core Tab) | TabPageLayoutExcel |
| ObjectSendBackward | button | None (Core Tab) | TabPageLayoutExcel |
| ObjectSendToBack | button | None (Core Tab) | TabPageLayoutExcel |
| SelectionPane | toggleButton | None (Core Tab) | TabPageLayoutExcel |
| ObjectAlignMenu | menu | None (Core Tab) | TabPageLayoutExcel |
| ObjectsAlignLeft | button | None (Core Tab) | TabPageLayoutExcel |
| ObjectsAlignCenterHorizontal | button | None (Core Tab) | TabPageLayoutExcel |
| ObjectsAlignRight | button | None (Core Tab) | TabPageLayoutExcel |
| ObjectsAlignTop | button | None (Core Tab) | TabPageLayoutExcel |
| ObjectsAlignMiddleVertical | button | None (Core Tab) | TabPageLayoutExcel |
| ObjectsAlignBottom | button | None (Core Tab) | TabPageLayoutExcel |
| AlignDistributeHorizontallyClassic | button | None (Core Tab) | TabPageLayoutExcel |
| AlignDistributeVerticallyClassic | button | None (Core Tab) | TabPageLayoutExcel |
| SnapToGrid | toggleButton | None (Core Tab) | TabPageLayoutExcel |
| SnapToShapes | toggleButton | None (Core Tab) | TabPageLayoutExcel |
| ViewGridlinesToggleExcel | toggleButton | None (Core Tab) | TabPageLayoutExcel |
| ObjectsGroupMenu | menu | None (Core Tab) | TabPageLayoutExcel |
| ObjectsGroup | button | None (Core Tab) | TabPageLayoutExcel |
| ObjectsRegroup | button | None (Core Tab) | TabPageLayoutExcel |
| ObjectsUngroup | button | None (Core Tab) | TabPageLayoutExcel |
| ObjectRotateGallery | gallery | None (Core Tab) | TabPageLayoutExcel |
| ObjectRotationOptionsDialog | button | None (Core Tab) | TabPageLayoutExcel |
| TabFormulas | tab | None (Core Tab) | |
| GroupFunctionLibrary | group | None (Core Tab) | TabFormulas |
| FunctionWizard | button | None (Core Tab) | TabFormulas |
| AutoSumMenu | splitButton | None (Core Tab) | TabFormulas |
| AutoSum | button | None (Core Tab) | TabFormulas |
| AutoSumAverage | button | None (Core Tab) | TabFormulas |
| AutoSumCount | button | None (Core Tab) | TabFormulas |
| AutoSumMax | button | None (Core Tab) | TabFormulas |
| AutoSumMin | button | None (Core Tab) | TabFormulas |
| AutoSumMoreFunctions | button | None (Core Tab) | TabFormulas |
| FunctionsRecentlyUsedtInsertGallery | gallery | None (Core Tab) | TabFormulas |
| FunctionWizard | button | None (Core Tab) | TabFormulas |
| FunctionsFinancialInsertGallery | gallery | None (Core Tab) | TabFormulas |
| FunctionWizard | button | None (Core Tab) | TabFormulas |
| FunctionsLogicalInsertGallery | gallery | None (Core Tab) | TabFormulas |
| FunctionWizard | button | None (Core Tab) | TabFormulas |
| FunctionsTextInsertGallery | gallery | None (Core Tab) | TabFormulas |
| FunctionWizard | button | None (Core Tab) | TabFormulas |
| FunctionsDateTimeInsertGallery | gallery | None (Core Tab) | TabFormulas |
| FunctionWizard | button | None (Core Tab) | TabFormulas |
| FunctionsLookupReferenceInsertGallery | gallery | None (Core Tab) | TabFormulas |
| FunctionWizard | button | None (Core Tab) | TabFormulas |
| FunctionsMathTrigInsertGallery | gallery | None (Core Tab) | TabFormulas |
| FunctionWizard | button | None (Core Tab) | TabFormulas |
| FormulaMoreFunctionsMenu | menu | None (Core Tab) | TabFormulas |
| FunctionsStatisticalInsertGallery | gallery | None (Core Tab) | TabFormulas |
| FunctionWizard | button | None (Core Tab) | TabFormulas |
| FunctionsEngineeringInsertGallery | gallery | None (Core Tab) | TabFormulas |
| FunctionWizard | button | None (Core Tab) | TabFormulas |
| FunctionsCubeInsertGallery | gallery | None (Core Tab) | TabFormulas |
| FunctionWizard | button | None (Core Tab) | TabFormulas |
| FunctionsInformationInsertGallery | gallery | None (Core Tab) | TabFormulas |
| FunctionWizard | button | None (Core Tab) | TabFormulas |
| FunctionsCompatibility | gallery | None (Core Tab) | TabFormulas |
| FunctionWizard | button | None (Core Tab) | TabFormulas |
| FunctionsWebInsertGallery | gallery | None (Core Tab) | TabFormulas |
| FunctionWizard | button | None (Core Tab) | TabFormulas |
| GroupNamedCells | group | None (Core Tab) | TabFormulas |
| NameManager | button | None (Core Tab) | TabFormulas |
| NameDefineMenu | splitButton | None (Core Tab) | TabFormulas |
| NameDefine | button | None (Core Tab) | TabFormulas |
| NamesApply | button | None (Core Tab) | TabFormulas |
| NameUseInFormula | gallery | None (Core Tab) | TabFormulas |
| NamePasteName | button | None (Core Tab) | TabFormulas |
| NameCreateFromSelection | button | None (Core Tab) | TabFormulas |
| GroupFormulaAuditing | group | None (Core Tab) | TabFormulas |
| TracePrecedents | button | None (Core Tab) | TabFormulas |
| TraceDependents | button | None (Core Tab) | TabFormulas |
| TraceRemoveArrowsMenu | splitButton | None (Core Tab) | TabFormulas |
| TraceRemoveAllArrows | button | None (Core Tab) | TabFormulas |
| TracePrecedentsRemoveArrows | button | None (Core Tab) | TabFormulas |
| TraceDependentRemoveArrows | button | None (Core Tab) | TabFormulas |
| ShowFormulas | toggleButton | None (Core Tab) | TabFormulas |
| ErrorCheckingMenu | splitButton | None (Core Tab) | TabFormulas |
| ErrorChecking | button | None (Core Tab) | TabFormulas |
| TraceError | button | None (Core Tab) | TabFormulas |
| CircularReferences | gallery | None (Core Tab) | TabFormulas |
| FormulaEvaluate | button | None (Core Tab) | TabFormulas |
| WatchWindow | toggleButton | None (Core Tab) | TabFormulas |
| GroupCalculation | group | None (Core Tab) | TabFormulas |
| CalculationOptionsMenu | menu | None (Core Tab) | TabFormulas |
| CalculationOptionsAutomatically | toggleButton | None (Core Tab) | TabFormulas |
| CalculationOptionsAutomaticallyExceptDataTables | toggleButton | None (Core Tab) | TabFormulas |
| CalculationOptionsManuallly | toggleButton | None (Core Tab) | TabFormulas |
| CalculateNow | button | None (Core Tab) | TabFormulas |
| CalculateSheet | button | None (Core Tab) | TabFormulas |
| TabData | tab | None (Core Tab) | |
| GroupGetExternalData | group | None (Core Tab) | TabData |
| GetExternalDataFromAccess | button | None (Core Tab) | TabData |
| GetExternalDataFromWeb | button | None (Core Tab) | TabData |
| GetExternalDataFromText | button | None (Core Tab) | TabData |
| GetExternalDataFromOtherSources | gallery | None (Core Tab) | TabData |
| GetExternalDataExistingConnections | button | None (Core Tab) | TabData |
| GroupPowerQueryData | group | None (Core Tab) | TabData |
| FlyoutAnchorPowerQueryNewQuery | menu | None (Core Tab) | TabData |
| GetPowerQueryDataFromFile | menu | None (Core Tab) | TabData |
| GetPowerQueryDataFromExcel | button | None (Core Tab) | TabData |
| GetPowerQueryDataFromCsv | button | None (Core Tab) | TabData |
| GetPowerQueryDataFromXml | button | None (Core Tab) | TabData |
| GetPowerQueryDataFromText | button | None (Core Tab) | TabData |
| GetPowerQueryDataFromFolder | button | None (Core Tab) | TabData |
| GetPowerQueryDataFromDatabase | menu | None (Core Tab) | TabData |
| GetPowerQueryDataFromSqlServerDatabase | button | None (Core Tab) | TabData |
| GetPowerQueryDataFromAccessDatabase | button | None (Core Tab) | TabData |
| GetPowerQueryDataFromSqlServerASServices | button | None (Core Tab) | TabData |
| GetPowerQueryDataFromOracleDatabase | button | None (Core Tab) | TabData |
| GetPowerQueryDataFromIbmDb2Database | button | None (Core Tab) | TabData |
| GetPowerQueryDataFromMySqlDatabase | button | None (Core Tab) | TabData |
| GetPowerQueryDataFromPostgreSqlDatabase | button | None (Core Tab) | TabData |
| GetPowerQueryDataFromSybaseDatabase | button | None (Core Tab) | TabData |
| GetPowerQueryDataFromTeradataDatabase | button | None (Core Tab) | TabData |
| GetPowerQueryDataFromAzure | menu | None (Core Tab) | TabData |
| GetPowerQueryDataFromAzureSqlDatabase | button | None (Core Tab) | TabData |
| GetPowerQueryDataFromWindowsAzureMarketplace | button | None (Core Tab) | TabData |
| GetPowerQueryDataFromWindowsAzureHdInsight | button | None (Core Tab) | TabData |
| GetPowerQueryDataFromWindowsAzureBlob | button | None (Core Tab) | TabData |
| GetPowerQueryDataFromWindowsAzureTable | button | None (Core Tab) | TabData |
| GetPowerQueryDataFromOtherSource | menu | None (Core Tab) | TabData |
| GetPowerQueryDataFromWeb | button | None (Core Tab) | TabData |
| GetPowerQueryDataFromSharePointList | button | None (Core Tab) | TabData |
| GetPowerQueryDataFromODataFeed | button | None (Core Tab) | TabData |
| GetPowerQueryDataFromHdfsFile | button | None (Core Tab) | TabData |
| GetPowerQueryDataFromActiveDirectory | button | None (Core Tab) | TabData |
| GetPowerQueryDataFromDynamicsCRM | button | None (Core Tab) | TabData |
| GetPowerQueryDataFromMicrosoftExchange | button | None (Core Tab) | TabData |
| GetPowerQueryDataFromFacebook | button | None (Core Tab) | TabData |
| GetPowerQueryDataFromSalesforceObjects | button | None (Core Tab) | TabData |
| GetPowerQueryDataFromSalesforceReports | button | None (Core Tab) | TabData |
| GetPowerQueryDataFromODBC | button | None (Core Tab) | TabData |
| GetPowerQueryDataFromEmptyFormula | button | None (Core Tab) | TabData |
| FlyoutAnchorPowerQueryCombine | menu | None (Core Tab) | TabData |
| GetPowerQueryMerge | button | None (Core Tab) | TabData |
| GetPowerQueryAppend | button | None (Core Tab) | TabData |
| PowerQueryLaunchQueryEditor | button | None (Core Tab) | TabData |
| GetPowerQueryOnlineSearch | toggleButton | None (Core Tab) | TabData |
| PowerQueryManageSharedQueries | toggleButton | None (Core Tab) | TabData |
| GetPowerQueryDataSourceSettings | button | None (Core Tab) | TabData |
| PowerQueryShowQuerySettings | button | None (Core Tab) | TabData |
| PowerQueryManageWorkbookQueries | toggleButton | None (Core Tab) | TabData |
| GetPowerQueryExcelDataFromTable | button | None (Core Tab) | TabData |
| PowerQueryRecentSources | button | None (Core Tab) | TabData |
| GroupConnections | group | None (Core Tab) | TabData |
| RefreshAllMenu | splitButton | None (Core Tab) | TabData |
| RefreshAll | button | None (Core Tab) | TabData |
| Refresh | button | None (Core Tab) | TabData |
| RefreshStatus | button | None (Core Tab) | TabData |
| RefreshCancel | button | None (Core Tab) | TabData |
| ConnectionProperties | button | None (Core Tab) | TabData |
| Connections | button | None (Core Tab) | TabData |
| DataRangeProperties | button | None (Core Tab) | TabData |
| EditLinks | button | None (Core Tab) | TabData |
| GroupSortFilter | group | None (Core Tab) | TabData |
| SortAscendingExcel | button | None (Core Tab) | TabData |
| SortDescendingExcel | button | None (Core Tab) | TabData |
| SortDialog | button | None (Core Tab) | TabData |
| Filter | toggleButton | None (Core Tab) | TabData |
| SortClear | button | None (Core Tab) | TabData |
| FilterReapply | button | None (Core Tab) | TabData |
| AdvancedFilterDialog | button | None (Core Tab) | TabData |
| GroupDataTools | group | None (Core Tab) | TabData |
| ConvertTextToTable | button | None (Core Tab) | TabData |
| QuickCode | button | None (Core Tab) | TabData |
| RemoveDuplicates | button | None (Core Tab) | TabData |
| DataValidationMenu | splitButton | None (Core Tab) | TabData |
| DataValidation | button | None (Core Tab) | TabData |
| DataValidationCircleInvalid | button | None (Core Tab) | TabData |
| DataValidationClearValidationCircles | button | None (Core Tab) | TabData |
| Consolidate | button | None (Core Tab) | TabData |
| AsppRelationships | button | None (Core Tab) | TabData |
| DataModelManage | button | None (Core Tab) | TabData |
| GroupForecast | group | None (Core Tab) | TabData |
| WhatIfAnalysisMenu | menu | None (Core Tab) | TabData |
| ScenarioManager | button | None (Core Tab) | TabData |
| GoalSeek | button | None (Core Tab) | TabData |
| DataTable | button | None (Core Tab) | TabData |
| ForecastInsert | button | None (Core Tab) | TabData |
| GroupOutline | group | None (Core Tab) | TabData |
| OutlineGroupMenu | splitButton | None (Core Tab) | TabData |
| OutlineGroup | button | None (Core Tab) | TabData |
| OutlineAuto | button | None (Core Tab) | TabData |
| OutlineUngroupMenu | splitButton | None (Core Tab) | TabData |
| OutlineUngroup | button | None (Core Tab) | TabData |
| OutlineClear | button | None (Core Tab) | TabData |
| OutlineSubtotals | button | None (Core Tab) | TabData |
| OutlineShowDetail | button | None (Core Tab) | TabData |
| OutlineHideDetail | button | None (Core Tab) | TabData |
| OutlineSettings | button (dialogBoxLauncher) | None (Core Tab) | TabData |
| TabReview | tab | None (Core Tab) | |
| GroupProofing | group | None (Core Tab) | TabReview |
| Spelling | button | None (Core Tab) | TabReview |
| Thesaurus | button | None (Core Tab) | TabReview |
| GroupInsights | group | None (Core Tab) | TabReview |
| Insights | button | None (Core Tab) | TabReview |
| GroupLanguage | group | None (Core Tab) | TabReview |
| Translate | button | None (Core Tab) | TabReview |
| HangulHanjaConversion | button | None (Core Tab) | TabReview |
| GroupComments | group | None (Core Tab) | TabReview |
| ReviewNewComment | button | None (Core Tab) | TabReview |
| ReviewDeleteComment | button | None (Core Tab) | TabReview |
| ReviewPreviousComment | button | None (Core Tab) | TabReview |
| ReviewNextComment | button | None (Core Tab) | TabReview |
| ReviewShowOrHideComment | button | None (Core Tab) | TabReview |
| ReviewShowAllComments | toggleButton | None (Core Tab) | TabReview |
| ReviewShowInk | toggleButton | None (Core Tab) | TabReview |
| GroupChangesExcel | group | None (Core Tab) | TabReview |
| SheetProtect | button | None (Core Tab) | TabReview |
| ReviewRestrictEditing | toggleButton | None (Core Tab) | TabReview |
| ReviewShareWorkbook | button | None (Core Tab) | TabReview |
| ReviewProtectAndShareWorkbook | button | None (Core Tab) | TabReview |
| ReviewAllowUsersToEditRanges | button | None (Core Tab) | TabReview |
| ReviewTrackChangesMenu | menu | None (Core Tab) | TabReview |
| ReviewHighlightChanges | button | None (Core Tab) | TabReview |
| ReviewAcceptOrRejectChangeDialog | button | None (Core Tab) | TabReview |
| GroupInk | group | None (Core Tab) | TabReview |
| InkingStart | button | None (Core Tab) | TabReview |
| TabView | tab | None (Core Tab) | |
| GroupWorkbookViews | group | None (Core Tab) | TabView |
| ViewNormalViewExcel | toggleButton | None (Core Tab) | TabView |
| ViewPageBreakPreviewView | toggleButton | None (Core Tab) | TabView |
| ViewPageLayoutView | toggleButton | None (Core Tab) | TabView |
| ViewCustomViews | button | None (Core Tab) | TabView |
| GroupViewShowHide | group | None (Core Tab) | TabView |
| ViewRulerExcel | checkBox | None (Core Tab) | TabView |
| GridlinesExcel | checkBox | None (Core Tab) | TabView |
| ViewFormulaBar | checkBox | None (Core Tab) | TabView |
| ViewHeadings | checkBox | None (Core Tab) | TabView |
| ViewDocumentActionsPane | toggleButton | None (Core Tab) | TabView |
| GroupZoom | group | None (Core Tab) | TabView |
| ZoomDialog | button | None (Core Tab) | TabView |
| ZoomCurrent100 | button | None (Core Tab) | TabView |
| ZoomToSelection | toggleButton | None (Core Tab) | TabView |
| GroupWindow | group | None (Core Tab) | TabView |
| WindowNew | button | None (Core Tab) | TabView |
| WindowsArrangeAll | button | None (Core Tab) | TabView |
| ViewFreezePanesGallery | gallery | None (Core Tab) | TabView |
| WindowSplitToggle | toggleButton | None (Core Tab) | TabView |
| WindowHide | button | None (Core Tab) | TabView |
| WindowUnhide | button | None (Core Tab) | TabView |
| ViewSideBySide | toggleButton | None (Core Tab) | TabView |
| WindowSideBySideSynchronousScrolling | toggleButton | None (Core Tab) | TabView |
| WindowResetPosition | button | None (Core Tab) | TabView |
| WindowSwitchWindowsMenuExcel | menu | None (Core Tab) | TabView |
| GroupMacros | group | None (Core Tab) | TabView |
| MenuMacros | splitButton | None (Core Tab) | TabView |
| PlayMacro | button | None (Core Tab) | TabView |
| MacroRecord | button | None (Core Tab) | TabView |
| MacroRelativeReferences | toggleButton | None (Core Tab) | TabView |
| TabDeveloper | tab | None (Core Tab) | |
| GroupCode | group | None (Core Tab) | TabDeveloper |
| VisualBasic | button | None (Core Tab) | TabDeveloper |
| MacroPlay | button | None (Core Tab) | TabDeveloper |
| MacroRecord | button | None (Core Tab) | TabDeveloper |
| MacroRelativeReferences | toggleButton | None (Core Tab) | TabDeveloper |
| MacroSecurity | button | None (Core Tab) | TabDeveloper |
| GroupAddins | group | None (Core Tab) | TabDeveloper |
| OfficeExtensionsGallery3 | button | None (Core Tab) | TabDeveloper |
| AddInManager | button | None (Core Tab) | TabDeveloper |
| ComAddInsDialog | button | None (Core Tab) | TabDeveloper |
| GroupControls | group | None (Core Tab) | TabDeveloper |
| ControlsGallery | gallery | None (Core Tab) | TabDeveloper |
| DesignMode | toggleButton | None (Core Tab) | TabDeveloper |
| ControlProperties | button | None (Core Tab) | TabDeveloper |
| ViewCode | button | None (Core Tab) | TabDeveloper |
| RunDialog | button | None (Core Tab) | TabDeveloper |
| GroupXml | group | None (Core Tab) | TabDeveloper |
| XmlSource | toggleButton | None (Core Tab) | TabDeveloper |
| XmlMapProperties | button | None (Core Tab) | TabDeveloper |
| XmlExpansionPacksExcel | button | None (Core Tab) | TabDeveloper |
| XmlDataRefresh | button | None (Core Tab) | TabDeveloper |
| XmlImport | button | None (Core Tab) | TabDeveloper |
| XmlExport | button | None (Core Tab) | TabDeveloper |
| TabAddIns | tab | None (Core Tab) | |
| GroupAddInsMenuCommands | group | None (Core Tab) | TabAddIns |
| GroupAddInsToolbarCommands | group | None (Core Tab) | TabAddIns |
| GroupAddInsCustomToolbars | group | None (Core Tab) | TabAddIns |
| TabPrintPreview | tab | None (Core Tab) | |
| GroupPrintPreviewPrint | group | None (Core Tab) | TabPrintPreview |
| FilePrint | button | None (Core Tab) | TabPrintPreview |
| PageSetupPageDialog | button | None (Core Tab) | TabPrintPreview |
| GroupPrintPreviewZoom | group | None (Core Tab) | TabPrintPreview |
| ZoomPrintPreviewExcel | toggleButton | None (Core Tab) | TabPrintPreview |
| GroupPrintPreviewPreview | group | None (Core Tab) | TabPrintPreview |
| PageNext | button | None (Core Tab) | TabPrintPreview |
| PagePrevious | button | None (Core Tab) | TabPrintPreview |
| MarginsShowHide | checkBox | None (Core Tab) | TabPrintPreview |
| PrintPreviewClose | button | None (Core Tab) | TabPrintPreview |
| TabBackgroundRemoval | tab | None (Core Tab) | |
| GroupBackgroundRemovalMode | group | None (Core Tab) | TabBackgroundRemoval |
| PictureBackgroundRemovalMarkForeground | toggleButton | None (Core Tab) | TabBackgroundRemoval |
| PictureBackgroundRemovalMarkBackground | toggleButton | None (Core Tab) | TabBackgroundRemoval |
| PictureBackgroundRemovalMarkDelete | toggleButton | None (Core Tab) | TabBackgroundRemoval |
| GroupBackgroundRemovalClose | group | None (Core Tab) | TabBackgroundRemoval |
| BackgroundRemovalClose | button | None (Core Tab) | TabBackgroundRemoval |
| KeepBackgroundRemoval | button | None (Core Tab) | TabBackgroundRemoval |
| FileOpenUsingBackstage | button | None (Not in the Ribbon) | None (Not in the Ribbon) |
| FileSave | button | None (Not in the Ribbon) | None (Not in the Ribbon) |
| FileSendAsAttachment | button | None (Not in the Ribbon) | None (Not in the Ribbon) |
| FilePrintQuick | button | None (Not in the Ribbon) | None (Not in the Ribbon) |
| PrintPreviewAndPrint | button | None (Not in the Ribbon) | None (Not in the Ribbon) |
| Spelling | button | None (Not in the Ribbon) | None (Not in the Ribbon) |
| Undo | gallery | None (Not in the Ribbon) | None (Not in the Ribbon) |
| Redo | gallery | None (Not in the Ribbon) | None (Not in the Ribbon) |
| SortAscendingExcel | button | None (Not in the Ribbon) | None (Not in the Ribbon) |
| SortDescendingExcel | button | None (Not in the Ribbon) | None (Not in the Ribbon) |
| FileOpenRecentFile | button | None (Not in the Ribbon) | None (Not in the Ribbon) |
| PointerModeOptions | gallery | None (Not in the Ribbon) | None (Not in the Ribbon) |
| FilePermissionRestrictAs | button | None (Not in the Ribbon) | None (Not in the Ribbon) |
| MdiChildSystemMenu | menu | None (Not in the Ribbon) | None (Not in the Ribbon) |
| MinimizeRibbon | toggleButton | None (Not in the Ribbon) | None (Not in the Ribbon) |
| Help | button | None (Not in the Ribbon) | None (Not in the Ribbon) |
| WindowMinimize | button | None (Not in the Ribbon) | None (Not in the Ribbon) |
| WindowRestore | button | None (Not in the Ribbon) | None (Not in the Ribbon) |
| WindowClose | button | None (Not in the Ribbon) | None (Not in the Ribbon) |
| HideRibbon | toggleButton | None (Not in the Ribbon) | None (Not in the Ribbon) |
| PowerViewInsert | button | None (Not in the Ribbon) | None (Not in the Ribbon) |
| FileCreateDocumentWorkspace | toggleButton | None (Not in the Ribbon) | None (Not in the Ribbon) |
| FileDocumentManagementInformation | toggleButton | None (Not in the Ribbon) | None (Not in the Ribbon) |
| ViewMessageBar | checkBox | None (Not in the Ribbon) | None (Not in the Ribbon) |
| SplitCells | button | None (Not in the Ribbon) | None (Not in the Ribbon) |
| SortDialogClassic | button | None (Not in the Ribbon) | None (Not in the Ribbon) |
| ViewFullScreenView | toggleButton | None (Not in the Ribbon) | None (Not in the Ribbon) |
| ZoomClassic | gallery | None (Not in the Ribbon) | None (Not in the Ribbon) |
| FreezePanes | button | None (Not in the Ribbon) | None (Not in the Ribbon) |
| PivotTableReport | button | None (Not in the Ribbon) | None (Not in the Ribbon) |
| ShapeRectangle | toggleButton | None (Not in the Ribbon) | None (Not in the Ribbon) |
| PageBreakInsertOrRemove | button | None (Not in the Ribbon) | None (Not in the Ribbon) |
| EqualSign | button | None (Not in the Ribbon) | None (Not in the Ribbon) |
| SendCopySendToMailRecipient | toggleButton | None (Not in the Ribbon) | None (Not in the Ribbon) |
| Repeat | button | None (Not in the Ribbon) | None (Not in the Ribbon) |
| AutoFilterClassic | button | None (Not in the Ribbon) | None (Not in the Ribbon) |
| AutoFormatDialog | button | None (Not in the Ribbon) | None (Not in the Ribbon) |
| GetExternalDataImportClassic | button | None (Not in the Ribbon) | None (Not in the Ribbon) |
| ShapeOval | toggleButton | None (Not in the Ribbon) | None (Not in the Ribbon) |
| BrightnessMore | button | None (Not in the Ribbon) | None (Not in the Ribbon) |
| ContrastMore | button | None (Not in the Ribbon) | None (Not in the Ribbon) |
| LightShading | button | None (Not in the Ribbon) | None (Not in the Ribbon) |
| StylesDialogClassic | button | None (Not in the Ribbon) | None (Not in the Ribbon) |
| EditQuery | button | None (Not in the Ribbon) | None (Not in the Ribbon) |
| FilePermission | button | None (Not in the Ribbon) | None (Not in the Ribbon) |
| PropertySheet | button | None (Not in the Ribbon) | None (Not in the Ribbon) |
| ContrastLess | button | None (Not in the Ribbon) | None (Not in the Ribbon) |
| Strikethrough | toggleButton | None (Not in the Ribbon) | None (Not in the Ribbon) |
| BrightnessLess | button | None (Not in the Ribbon) | None (Not in the Ribbon) |
| FileSaveAsWebPage | button | None (Not in the Ribbon) | None (Not in the Ribbon) |
| AlignJustify | toggleButton | None (Not in the Ribbon) | None (Not in the Ribbon) |
| DataFormExcel | button | None (Not in the Ribbon) | None (Not in the Ribbon) |
| TableSelectVisibleCells | button | None (Not in the Ribbon) | None (Not in the Ribbon) |
| BorderBottom | toggleButton | None (Not in the Ribbon) | None (Not in the Ribbon) |
| ObjectRotateLeft90 | button | None (Not in the Ribbon) | None (Not in the Ribbon) |
| Camera | button | None (Not in the Ribbon) | None (Not in the Ribbon) |
| ShapeElbowConnectorArrow | toggleButton | None (Not in the Ribbon) | None (Not in the Ribbon) |
| ShapeStraightConnectorArrow | toggleButton | None (Not in the Ribbon) | None (Not in the Ribbon) |
| ObjectSetShapeDefaults | button | None (Not in the Ribbon) | None (Not in the Ribbon) |
| ShapeFreeform | toggleButton | None (Not in the Ribbon) | None (Not in the Ribbon) |
| ShapeConvertToFreeform | button | None (Not in the Ribbon) | None (Not in the Ribbon) |
| ShapeCurve | toggleButton | None (Not in the Ribbon) | None (Not in the Ribbon) |
| ParagraphDistributed | toggleButton | None (Not in the Ribbon) | None (Not in the Ribbon) |
| PlusSign | button | None (Not in the Ribbon) | None (Not in the Ribbon) |
| DatabaseQueryNew | button | None (Not in the Ribbon) | None (Not in the Ribbon) |
| BorderTop | toggleButton | None (Not in the Ribbon) | None (Not in the Ribbon) |
| BorderLeft | toggleButton | None (Not in the Ribbon) | None (Not in the Ribbon) |
| BorderRight | toggleButton | None (Not in the Ribbon) | None (Not in the Ribbon) |
| ShapeStraightConnector | toggleButton | None (Not in the Ribbon) | None (Not in the Ribbon) |
| ShapeRoundedRectangularCallout | toggleButton | None (Not in the Ribbon) | None (Not in the Ribbon) |
| Calculator | button | None (Not in the Ribbon) | None (Not in the Ribbon) |
| MinusSign | button | None (Not in the Ribbon) | None (Not in the Ribbon) |
| ActiveXButton | button | None (Not in the Ribbon) | None (Not in the Ribbon) |
| FormControlButton | button | None (Not in the Ribbon) | None (Not in the Ribbon) |
| ShapeRightBrace | toggleButton | None (Not in the Ribbon) | None (Not in the Ribbon) |
| WebPagePreview | button | None (Not in the Ribbon) | None (Not in the Ribbon) |
| BorderInsideHorizontal | button | None (Not in the Ribbon) | None (Not in the Ribbon) |
| ZoomOut | button | None (Not in the Ribbon) | None (Not in the Ribbon) |
| SpeakCells | button | None (Not in the Ribbon) | None (Not in the Ribbon) |
| ZoomIn | button | None (Not in the Ribbon) | None (Not in the Ribbon) |
| BorderInside | button | None (Not in the Ribbon) | None (Not in the Ribbon) |
| ShapeRoundedRectangle | toggleButton | None (Not in the Ribbon) | None (Not in the Ribbon) |
| DarkShading | button | None (Not in the Ribbon) | None (Not in the Ribbon) |
| SelectCurrentRegion | button | None (Not in the Ribbon) | None (Not in the Ribbon) |
| DivisionSign | button | None (Not in the Ribbon) | None (Not in the Ribbon) |
| ShapeArc | toggleButton | None (Not in the Ribbon) | None (Not in the Ribbon) |
| ObjectFlipHorizontal | button | None (Not in the Ribbon) | None (Not in the Ribbon) |
| MultiplicationSign | button | None (Not in the Ribbon) | None (Not in the Ribbon) |
| BorderInsideVertical | button | None (Not in the Ribbon) | None (Not in the Ribbon) |
| CheckForUpdates | button | None (Not in the Ribbon) | None (Not in the Ribbon) |
| SpeakStop | button | None (Not in the Ribbon) | None (Not in the Ribbon) |
| ShapeRightArrow | toggleButton | None (Not in the Ribbon) | None (Not in the Ribbon) |
| ShapeScribble | toggleButton | None (Not in the Ribbon) | None (Not in the Ribbon) |
| ReviewSendForReview | button | None (Not in the Ribbon) | None (Not in the Ribbon) |
| WebGoBack | button | None (Not in the Ribbon) | None (Not in the Ribbon) |
| ObjectRotateFree | button | None (Not in the Ribbon) | None (Not in the Ribbon) |
| ShapeLeftBrace | toggleButton | None (Not in the Ribbon) | None (Not in the Ribbon) |
| WordArtVerticalText | button | None (Not in the Ribbon) | None (Not in the Ribbon) |
| ObjectNudgeLeft | button | None (Not in the Ribbon) | None (Not in the Ribbon) |
| ShapeDownArrow | toggleButton | None (Not in the Ribbon) | None (Not in the Ribbon) |
| FormControlListBox | button | None (Not in the Ribbon) | None (Not in the Ribbon) |
| ParenthesisRight | button | None (Not in the Ribbon) | None (Not in the Ribbon) |
| ParenthesisLeft | button | None (Not in the Ribbon) | None (Not in the Ribbon) |
| FormControlComboBox | button | None (Not in the Ribbon) | None (Not in the Ribbon) |
| OutlookTaskCreate | button | None (Not in the Ribbon) | None (Not in the Ribbon) |
| ObjectRotateRight90 | button | None (Not in the Ribbon) | None (Not in the Ribbon) |
| ListSynchronize | button | None (Not in the Ribbon) | None (Not in the Ribbon) |
| ReviewReplyWithChanges | button | None (Not in the Ribbon) | None (Not in the Ribbon) |
| _3DSurfaceMaterialClassic | menu | None (Not in the Ribbon) | None (Not in the Ribbon) |
| _3DSurfaceWireFrameClassic | toggleButton | None (Not in the Ribbon) | None (Not in the Ribbon) |
| _3DSurfaceMatteClassic | toggleButton | None (Not in the Ribbon) | None (Not in the Ribbon) |
| _3DSurfacePlasticClassic | toggleButton | None (Not in the Ribbon) | None (Not in the Ribbon) |
| _3DSurfaceMetalClassic | toggleButton | None (Not in the Ribbon) | None (Not in the Ribbon) |
| AutoCorrect | button | None (Not in the Ribbon) | None (Not in the Ribbon) |
| ShapeElbowConnector | toggleButton | None (Not in the Ribbon) | None (Not in the Ribbon) |
| FormControlRadioButton | button | None (Not in the Ribbon) | None (Not in the Ribbon) |
| FormControlCheckBox | button | None (Not in the Ribbon) | None (Not in the Ribbon) |
| ActiveXCheckBox | button | None (Not in the Ribbon) | None (Not in the Ribbon) |
| BorderDiagonalUp | button | None (Not in the Ribbon) | None (Not in the Ribbon) |
| ShapeIsoscelesTriangle | toggleButton | None (Not in the Ribbon) | None (Not in the Ribbon) |
| FileUpdate | button | None (Not in the Ribbon) | None (Not in the Ribbon) |
| PrivacyOptionsDialog | button | None (Not in the Ribbon) | None (Not in the Ribbon) |
| ObjectNudgeDown | button | None (Not in the Ribbon) | None (Not in the Ribbon) |
| ObjectNudgeRight | button | None (Not in the Ribbon) | None (Not in the Ribbon) |
| ObjectFlipVertical | button | None (Not in the Ribbon) | None (Not in the Ribbon) |
| FormControlSpinner | button | None (Not in the Ribbon) | None (Not in the Ribbon) |
| ActiveXComboBox | button | None (Not in the Ribbon) | None (Not in the Ribbon) |
| VerticallyDistributed | button | None (Not in the Ribbon) | None (Not in the Ribbon) |
| StyleGalleryClassic | gallery | None (Not in the Ribbon) | None (Not in the Ribbon) |
| SpeakOnEnter | toggleButton | None (Not in the Ribbon) | None (Not in the Ribbon) |
| ActiveXTextBox | button | None (Not in the Ribbon) | None (Not in the Ribbon) |
| FormControlLabel | button | None (Not in the Ribbon) | None (Not in the Ribbon) |
| ActiveXListBox | button | None (Not in the Ribbon) | None (Not in the Ribbon) |
| MoreControlsDialog | button | None (Not in the Ribbon) | None (Not in the Ribbon) |
| FormControlGroupBox | button | None (Not in the Ribbon) | None (Not in the Ribbon) |
| ChangesDiscardAndRefresh | button | None (Not in the Ribbon) | None (Not in the Ribbon) |
| FormControlScrollBar | button | None (Not in the Ribbon) | None (Not in the Ribbon) |
| ObjectNudgeUp | button | None (Not in the Ribbon) | None (Not in the Ribbon) |
| ActiveXImage | button | None (Not in the Ribbon) | None (Not in the Ribbon) |
| ActiveXLabel | button | None (Not in the Ribbon) | None (Not in the Ribbon) |
| DocumentLocation | comboBox | None (Not in the Ribbon) | None (Not in the Ribbon) |
| ActiveXSpinButton | button | None (Not in the Ribbon) | None (Not in the Ribbon) |
| ActiveXRadioButton | button | None (Not in the Ribbon) | None (Not in the Ribbon) |
| FileCloseAll | button | None (Not in the Ribbon) | None (Not in the Ribbon) |
| ContactUs | button | None (Not in the Ribbon) | None (Not in the Ribbon) |
| WebGoForward | button | None (Not in the Ribbon) | None (Not in the Ribbon) |
| BorderDiagonalDown | button | None (Not in the Ribbon) | None (Not in the Ribbon) |
| QueryParameters | button | None (Not in the Ribbon) | None (Not in the Ribbon) |
| DollarSign | button | None (Not in the Ribbon) | None (Not in the Ribbon) |
| ShapeStar | toggleButton | None (Not in the Ribbon) | None (Not in the Ribbon) |
| ActiveXScrollBar | button | None (Not in the Ribbon) | None (Not in the Ribbon) |
| ObjectsMultiSelect | button | None (Not in the Ribbon) | None (Not in the Ribbon) |
| ReviewEndReview | button | None (Not in the Ribbon) | None (Not in the Ribbon) |
| ExchangeFolder | button | None (Not in the Ribbon) | None (Not in the Ribbon) |
| OutlineSymbolsShowHide | button | None (Not in the Ribbon) | None (Not in the Ribbon) |
| SpeakByRows | toggleButton | None (Not in the Ribbon) | None (Not in the Ribbon) |
| SpeakByColumns | toggleButton | None (Not in the Ribbon) | None (Not in the Ribbon) |
| SelectAll | button | None (Not in the Ribbon) | None (Not in the Ribbon) |
| ReadOnly | button | None (Not in the Ribbon) | None (Not in the Ribbon) |
| TabOrder | button | None (Not in the Ribbon) | None (Not in the Ribbon) |
| ActiveXToggleButton | button | None (Not in the Ribbon) | None (Not in the Ribbon) |
| FormControlCombinationDropDownEdit | button | None (Not in the Ribbon) | None (Not in the Ribbon) |
| CodeEdit | button | None (Not in the Ribbon) | None (Not in the Ribbon) |
| CompareAndMergeWorkbooks | button | None (Not in the Ribbon) | None (Not in the Ribbon) |
| ExponentiationSign | button | None (Not in the Ribbon) | None (Not in the Ribbon) |
| PrintListRange | button | None (Not in the Ribbon) | None (Not in the Ribbon) |
| FormControlEditBox | button | None (Not in the Ribbon) | None (Not in the Ribbon) |
| PercentSign | button | None (Not in the Ribbon) | None (Not in the Ribbon) |
| FormControlCombinationListEdit | button | None (Not in the Ribbon) | None (Not in the Ribbon) |
| CommaSign | button | None (Not in the Ribbon) | None (Not in the Ribbon) |
| DrawingCanvasExpand | button | None (Not in the Ribbon) | None (Not in the Ribbon) |
| SendCopySendNow | button | None (Not in the Ribbon) | None (Not in the Ribbon) |
| DrawingCanvasFit | button | None (Not in the Ribbon) | None (Not in the Ribbon) |
| ScenarioGallery | gallery | None (Not in the Ribbon) | None (Not in the Ribbon) |
| FilePublishAsWebPage | button | None (Not in the Ribbon) | None (Not in the Ribbon) |
| InkCopyAsText | button | None (Not in the Ribbon) | None (Not in the Ribbon) |
| ColonSign | button | None (Not in the Ribbon) | None (Not in the Ribbon) |
| ConstrainNumeric | button | None (Not in the Ribbon) | None (Not in the Ribbon) |
| WebOptionsDialog | button | None (Not in the Ribbon) | None (Not in the Ribbon) |
| CalculateFull | button | None (Not in the Ribbon) | None (Not in the Ribbon) |
| SendCopySelectNames | button | None (Not in the Ribbon) | None (Not in the Ribbon) |
| DrawingCanvasResize | button | None (Not in the Ribbon) | None (Not in the Ribbon) |
| FontColorCycle | button | None (Not in the Ribbon) | None (Not in the Ribbon) |
| ChartInsert | button | None (Not in the Ribbon) | None (Not in the Ribbon) |
| CombineCharacters | toggleButton | None (Not in the Ribbon) | None (Not in the Ribbon) |
| BulletsAndNumberingBulletsDialog | button | None (Not in the Ribbon) | None (Not in the Ribbon) |
| QuickAccessToolbarCustomization | button | None (Not in the Ribbon) | None (Not in the Ribbon) |
| RibbonCustomization | button | None (Not in the Ribbon) | None (Not in the Ribbon) |
| AlternativeText | button | None (Not in the Ribbon) | None (Not in the Ribbon) |
| AdvancedFileProperties | button | None (Not in the Ribbon) | None (Not in the Ribbon) |
| CustomViews | comboBox | None (Not in the Ribbon) | None (Not in the Ribbon) |
| AccessibilityChecker | button | None (Not in the Ribbon) | None (Not in the Ribbon) |
| PictureBrightnessGallery | gallery | None (Not in the Ribbon) | None (Not in the Ribbon) |
| PictureCorrectionsDialog | button | None (Not in the Ribbon) | None (Not in the Ribbon) |
| PictureContrastGallery | gallery | None (Not in the Ribbon) | None (Not in the Ribbon) |
| PictureCorrectionsDialog | button | None (Not in the Ribbon) | None (Not in the Ribbon) |
| PictureCorrectionsReset | button | None (Not in the Ribbon) | None (Not in the Ribbon) |
| PictureColorReset | button | None (Not in the Ribbon) | None (Not in the Ribbon) |
| PictureArtisticEffectsReset | button | None (Not in the Ribbon) | None (Not in the Ribbon) |
| FileDiscardCachedChanges | button | None (Not in the Ribbon) | None (Not in the Ribbon) |
| ReopenFromServer | button | None (Not in the Ribbon) | None (Not in the Ribbon) |
| FileSaveACopy | button | None (Not in the Ribbon) | None (Not in the Ribbon) |
| | button | None (Not in the Ribbon) | None (Not in the Ribbon) |
| PivotChartFilterShow | toggleButton | None (Not in the Ribbon) | None (Not in the Ribbon) |
| TranslationPane | button | None (Not in the Ribbon) | None (Not in the Ribbon) |
| ObjectSizeAndPositionDialog | button | None (Not in the Ribbon) | None (Not in the Ribbon) |
| About | button | None (Not in the Ribbon) | None (Not in the Ribbon) |
| ReviewProtectWorkbook | toggleButton | None (Not in the Ribbon) | None (Not in the Ribbon) |
| InkDeleteAllInk | button | None (Not in the Ribbon) | None (Not in the Ribbon) |
| ObjectBringToFrontMenu | splitButton | None (Not in the Ribbon) | None (Not in the Ribbon) |
| ObjectBringToFront | button | None (Not in the Ribbon) | None (Not in the Ribbon) |
| ObjectBringForward | button | None (Not in the Ribbon) | None (Not in the Ribbon) |
| ObjectSendToBackMenu | splitButton | None (Not in the Ribbon) | None (Not in the Ribbon) |
| ObjectSendToBack | button | None (Not in the Ribbon) | None (Not in the Ribbon) |
| ObjectSendBackward | button | None (Not in the Ribbon) | None (Not in the Ribbon) |
| PrintPreviewFullScreen | button | None (Not in the Ribbon) | None (Not in the Ribbon) |
| FilePrintPreview | button | None (Not in the Ribbon) | None (Not in the Ribbon) |
| ClipArtInsert | toggleButton | None (Not in the Ribbon) | None (Not in the Ribbon) |
| SlicerInsertMenu | splitButton | None (Not in the Ribbon) | None (Not in the Ribbon) |
| SlicerCreate | button | None (Not in the Ribbon) | None (Not in the Ribbon) |
| SlicerShare | button | None (Not in the Ribbon) | None (Not in the Ribbon) |
| PivotTableInsertMenu | splitButton | None (Not in the Ribbon) | None (Not in the Ribbon) |
| PivotTableInsert | button | None (Not in the Ribbon) | None (Not in the Ribbon) |
| PivotChartInsert | button | None (Not in the Ribbon) | None (Not in the Ribbon) |
| FileOpen | button | None (Not in the Ribbon) | None (Not in the Ribbon) |
| WindowSaveWorkspace | button | None (Not in the Ribbon) | None (Not in the Ribbon) |
| Collaborate | button | None (Not in the Ribbon) | None (Not in the Ribbon) |
| PasteInk | button | None (Not in the Ribbon) | None (Not in the Ribbon) |
| PasteFormatting | button | None (Not in the Ribbon) | None (Not in the Ribbon) |
| PasteFormulasAndNumberFormatting | button | None (Not in the Ribbon) | None (Not in the Ribbon) |
| PasteValuesAndNumberFormatting | button | None (Not in the Ribbon) | None (Not in the Ribbon) |
| PasteTextOnly | button | None (Not in the Ribbon) | None (Not in the Ribbon) |
| PasteDestinationFormatting | button | None (Not in the Ribbon) | None (Not in the Ribbon) |
| PasteSourceTheme | button | None (Not in the Ribbon) | None (Not in the Ribbon) |
| PasteDestinationTheme | button | None (Not in the Ribbon) | None (Not in the Ribbon) |
| PasteValuesAndSourceFormatting | button | None (Not in the Ribbon) | None (Not in the Ribbon) |
| PasteWithColumnWidths | button | None (Not in the Ribbon) | None (Not in the Ribbon) |
| PasteSourceFormatting | button | None (Not in the Ribbon) | None (Not in the Ribbon) |
| PasteFormulas | button | None (Not in the Ribbon) | None (Not in the Ribbon) |
| PasteValues | button | None (Not in the Ribbon) | None (Not in the Ribbon) |
| PasteNoBorders | button | None (Not in the Ribbon) | None (Not in the Ribbon) |
| PasteTranspose | button | None (Not in the Ribbon) | None (Not in the Ribbon) |
| PasteLink | button | None (Not in the Ribbon) | None (Not in the Ribbon) |
| PasteAsHyperlink | button | None (Not in the Ribbon) | None (Not in the Ribbon) |
| PasteMergeConditionalFormatting | button | None (Not in the Ribbon) | None (Not in the Ribbon) |
| PasteAsPictureMenu | menu | None (Not in the Ribbon) | None (Not in the Ribbon) |
| CopyAsPicture | button | None (Not in the Ribbon) | None (Not in the Ribbon) |
| PasteAsPicture | button | None (Not in the Ribbon) | None (Not in the Ribbon) |
| PastePictureLink | button | None (Not in the Ribbon) | None (Not in the Ribbon) |
| InkingStart | button | None (Not in the Ribbon) | None (Not in the Ribbon) |
| InkToolsClose | button | None (Not in the Ribbon) | None (Not in the Ribbon) |
| ChartTypeAllInsertDialog | button | None (Not in the Ribbon) | None (Not in the Ribbon) |
| Group3DEffects | group | None (Not in the Ribbon) | None (Not in the Ribbon) |
| _3DEffectsGalleryClassic | gallery | None (Not in the Ribbon) | None (Not in the Ribbon) |
| _3DEffectColorPickerClassic | gallery | None (Not in the Ribbon) | None (Not in the Ribbon) |
| _3DEffectColorPickerMoreClassic | button | None (Not in the Ribbon) | None (Not in the Ribbon) |
| _3DExtrusionDepthGalleryClassic | gallery | None (Not in the Ribbon) | None (Not in the Ribbon) |
| _3DDirectionGalleryClassic | gallery | None (Not in the Ribbon) | None (Not in the Ribbon) |
| _3DExtrusionPerspectiveClassic | toggleButton | None (Not in the Ribbon) | None (Not in the Ribbon) |
| _3DExtrusionParallelClassic | toggleButton | None (Not in the Ribbon) | None (Not in the Ribbon) |
| _3DLightingGalleryClassic | gallery | None (Not in the Ribbon) | None (Not in the Ribbon) |
| _3DLightingFlatClassic | toggleButton | None (Not in the Ribbon) | None (Not in the Ribbon) |
| _3DLightingNormalClassic | toggleButton | None (Not in the Ribbon) | None (Not in the Ribbon) |
| _3DLightingDimClassic | toggleButton | None (Not in the Ribbon) | None (Not in the Ribbon) |
| _3DSurfaceMaterialGalleryClassic | gallery | None (Not in the Ribbon) | None (Not in the Ribbon) |
| _3DTiltUpClassic | button | None (Not in the Ribbon) | None (Not in the Ribbon) |
| _3DTiltLeftClassic | button | None (Not in the Ribbon) | None (Not in the Ribbon) |
| _3DEffectsOnOffClassic | toggleButton | None (Not in the Ribbon) | None (Not in the Ribbon) |
| _3DTiltRightClassic | button | None (Not in the Ribbon) | None (Not in the Ribbon) |
| _3DTiltDownClassic | button | None (Not in the Ribbon) | None (Not in the Ribbon) |
| GroupShadowEffects | group | None (Not in the Ribbon) | None (Not in the Ribbon) |
| ShadowStyleGalleryClassic | gallery | None (Not in the Ribbon) | None (Not in the Ribbon) |
| ShadowColorPickerClassic | gallery | None (Not in the Ribbon) | None (Not in the Ribbon) |
| ShadowSemitransparentClassic | toggleButton | None (Not in the Ribbon) | None (Not in the Ribbon) |
| ObjectShadowColorMoreColorsDialog | button | None (Not in the Ribbon) | None (Not in the Ribbon) |
| ShadowNudgeUpClassic | button | None (Not in the Ribbon) | None (Not in the Ribbon) |
| ShadowNudgeLeftClassic | button | None (Not in the Ribbon) | None (Not in the Ribbon) |
| ShadowOnOrOffClassic | toggleButton | None (Not in the Ribbon) | None (Not in the Ribbon) |
| ShadowNudgeRightClassic | button | None (Not in the Ribbon) | None (Not in the Ribbon) |
| ShadowNudgeDownClassic | button | None (Not in the Ribbon) | None (Not in the Ribbon) |
| GroupDrawBorders | group | None (Not in the Ribbon) | None (Not in the Ribbon) |
| BorderStyle | dropDown | None (Not in the Ribbon) | None (Not in the Ribbon) |
| BorderColorPickerExcel | gallery | None (Not in the Ribbon) | None (Not in the Ribbon) |
| BorderMoreColorsDialog | button | None (Not in the Ribbon) | None (Not in the Ribbon) |
| BorderDrawMenu | splitButton | None (Not in the Ribbon) | None (Not in the Ribbon) |
| BorderDrawLine | toggleButton | None (Not in the Ribbon) | None (Not in the Ribbon) |
| BorderDrawGrid | toggleButton | None (Not in the Ribbon) | None (Not in the Ribbon) |
| BorderErase | toggleButton | None (Not in the Ribbon) | None (Not in the Ribbon) |
| GroupInkSelect | group | None (Not in the Ribbon) | None (Not in the Ribbon) |
| ObjectsSelect | toggleButton | None (Not in the Ribbon) | None (Not in the Ribbon) |
| PictureInsertFromFile | button | None (Not in the Ribbon) | None (Not in the Ribbon) |
| TableInsertExcel | button | None (Not in the Ribbon) | None (Not in the Ribbon) |
| PivotTableInsert | button | None (Not in the Ribbon) | None (Not in the Ribbon) |
| SortCustomExcel | button | None (Not in the Ribbon) | None (Not in the Ribbon) |
| FormatCellsDialog | button | None (Not in the Ribbon) | None (Not in the Ribbon) |
| PrintAreaSetPrintArea | button | None (Not in the Ribbon) | None (Not in the Ribbon) |
| CalculateNow | button | None (Not in the Ribbon) | None (Not in the Ribbon) |
| MacroPlay | button | None (Not in the Ribbon) | None (Not in the Ribbon) |
| SheetRowsInsert | button | None (Not in the Ribbon) | None (Not in the Ribbon) |
| SheetColumnsInsert | button | None (Not in the Ribbon) | None (Not in the Ribbon) |
| SheetRowsDelete | button | None (Not in the Ribbon) | None (Not in the Ribbon) |
| SheetColumnsDelete | button | None (Not in the Ribbon) | None (Not in the Ribbon) |
| CellsInsertDialog | button | None (Not in the Ribbon) | None (Not in the Ribbon) |
| CellsDelete | button | None (Not in the Ribbon) | None (Not in the Ribbon) |
| RefreshAll | button | None (Not in the Ribbon) | None (Not in the Ribbon) |
| Connections | button | None (Not in the Ribbon) | None (Not in the Ribbon) |
| Filter | toggleButton | None (Not in the Ribbon) | None (Not in the Ribbon) |
| NameManager | button | None (Not in the Ribbon) | None (Not in the Ribbon) |
| FunctionWizard | button | None (Not in the Ribbon) | None (Not in the Ribbon) |
| MergeCenter | toggleButton | None (Not in the Ribbon) | None (Not in the Ribbon) |
| AlignCenter | toggleButton | None (Not in the Ribbon) | None (Not in the Ribbon) |
| Cut | button | None (Not in the Ribbon) | None (Not in the Ribbon) |
| Copy | button | None (Not in the Ribbon) | None (Not in the Ribbon) |
| FormatPainter | control | None (Not in the Ribbon) | None (Not in the Ribbon) |
| AutoSum | button | None (Not in the Ribbon) | None (Not in the Ribbon) |
| FontSizeIncrease | button | None (Not in the Ribbon) | None (Not in the Ribbon) |
| FontSizeDecrease | button | None (Not in the Ribbon) | None (Not in the Ribbon) |
| FileSaveAs | button | None (Not in the Ribbon) | None (Not in the Ribbon) |
| PageSetupPageDialog | button | None (Not in the Ribbon) | None (Not in the Ribbon) |
| FileNewDefault | button | None (Not in the Ribbon) | None (Not in the Ribbon) |
| ViewFreezePanesGallery | gallery | None (Not in the Ribbon) | None (Not in the Ribbon) |
| ShapesInsertGallery | gallery | None (Not in the Ribbon) | None (Not in the Ribbon) |
| FontSize | comboBox | None (Not in the Ribbon) | None (Not in the Ribbon) |
| Font | comboBox | None (Not in the Ribbon) | None (Not in the Ribbon) |
| PasteMenu | splitButton | None (Not in the Ribbon) | None (Not in the Ribbon) |
| Paste | button | None (Not in the Ribbon) | None (Not in the Ribbon) |
| PasteGallery | gallery | None (Not in the Ribbon) | None (Not in the Ribbon) |
| PasteUsingTextImportWizard | button | None (Not in the Ribbon) | None (Not in the Ribbon) |
| PasteRefreshableWebQuery | button | None (Not in the Ribbon) | None (Not in the Ribbon) |
| PasteSpecialDialog | button | None (Not in the Ribbon) | None (Not in the Ribbon) |
| CellFillColorPicker | gallery | None (Not in the Ribbon) | None (Not in the Ribbon) |
| FontShadingColorMoreColorsDialog | button | None (Not in the Ribbon) | None (Not in the Ribbon) |
| FontColorPicker | gallery | None (Not in the Ribbon) | None (Not in the Ribbon) |
| FontColorMoreColorsDialogExcel | button | None (Not in the Ribbon) | None (Not in the Ribbon) |
| BordersGallery | splitButton | None (Not in the Ribbon) | None (Not in the Ribbon) |
| BorderBottomNoToggle | button | None (Not in the Ribbon) | None (Not in the Ribbon) |
| BorderTopNoToggle | button | None (Not in the Ribbon) | None (Not in the Ribbon) |
| BorderLeftNoToggle | button | None (Not in the Ribbon) | None (Not in the Ribbon) |
| BorderRightNoToggle | button | None (Not in the Ribbon) | None (Not in the Ribbon) |
| BorderNone | button | None (Not in the Ribbon) | None (Not in the Ribbon) |
| BordersAll | button | None (Not in the Ribbon) | None (Not in the Ribbon) |
| BorderOutside | button | None (Not in the Ribbon) | None (Not in the Ribbon) |
| BorderThickOutside | button | None (Not in the Ribbon) | None (Not in the Ribbon) |
| BorderDoubleBottom | button | None (Not in the Ribbon) | None (Not in the Ribbon) |
| BorderThickBottom | button | None (Not in the Ribbon) | None (Not in the Ribbon) |
| BorderTopAndBottom | button | None (Not in the Ribbon) | None (Not in the Ribbon) |
| BorderTopAndThickBottom | button | None (Not in the Ribbon) | None (Not in the Ribbon) |
| BorderTopAndDoubleBottom | button | None (Not in the Ribbon) | None (Not in the Ribbon) |
| BorderDrawLine | toggleButton | None (Not in the Ribbon) | None (Not in the Ribbon) |
| BorderDrawGrid | toggleButton | None (Not in the Ribbon) | None (Not in the Ribbon) |
| BorderErase | toggleButton | None (Not in the Ribbon) | None (Not in the Ribbon) |
| BorderColorPickerExcel | gallery | None (Not in the Ribbon) | None (Not in the Ribbon) |
| BorderMoreColorsDialog | button | None (Not in the Ribbon) | None (Not in the Ribbon) |
| BorderStyle | dropDown | None (Not in the Ribbon) | None (Not in the Ribbon) |
| BordersMoreDialog | button | None (Not in the Ribbon) | None (Not in the Ribbon) |
| ConditionalFormattingMenu | menu | None (Not in the Ribbon) | None (Not in the Ribbon) |
| ConditionalFormattingHighlightCellsMenu | menu | None (Not in the Ribbon) | None (Not in the Ribbon) |
| ConditionalFormattingHighlightGreaterThan | button | None (Not in the Ribbon) | None (Not in the Ribbon) |
| ConditionalFormattingHighlightLessThan | button | None (Not in the Ribbon) | None (Not in the Ribbon) |
| ConditionalFormattingHighlightBetween | button | None (Not in the Ribbon) | None (Not in the Ribbon) |
| ConditionalFormattingHighlightEqualTo | button | None (Not in the Ribbon) | None (Not in the Ribbon) |
| ConditionalFormattingHighlightTextContaining | button | None (Not in the Ribbon) | None (Not in the Ribbon) |
| ConditionalFormattingHighlightDateOccuring | button | None (Not in the Ribbon) | None (Not in the Ribbon) |
| ConditionalFormattingHighlightDuplicateValues | button | None (Not in the Ribbon) | None (Not in the Ribbon) |
| ConditionalFormattingHighlightRulesMore | button | None (Not in the Ribbon) | None (Not in the Ribbon) |
| ConditionalFormattingTopBottomMenu | menu | None (Not in the Ribbon) | None (Not in the Ribbon) |
| ConditionalFormattingTopNItems | button | None (Not in the Ribbon) | None (Not in the Ribbon) |
| ConditionalFormattingTopNPercent | button | None (Not in the Ribbon) | None (Not in the Ribbon) |
| ConditionalFormattingBottomNItems | button | None (Not in the Ribbon) | None (Not in the Ribbon) |
| ConditionalFormattingBottomNPercent | button | None (Not in the Ribbon) | None (Not in the Ribbon) |
| ConditionalFormattingAboveAverage | button | None (Not in the Ribbon) | None (Not in the Ribbon) |
| ConditionalFormattingBelowAverage | button | None (Not in the Ribbon) | None (Not in the Ribbon) |
| ConditionalFormattingTopBottomMore | button | None (Not in the Ribbon) | None (Not in the Ribbon) |
| ConditionalFormattingDataBarsGallery | gallery | None (Not in the Ribbon) | None (Not in the Ribbon) |
| ConditionalFormattingDataBarsMoreOptions | button | None (Not in the Ribbon) | None (Not in the Ribbon) |
| ConditionalFormattingColorScalesGallery | gallery | None (Not in the Ribbon) | None (Not in the Ribbon) |
| ConditionalFormattingColorScalesMore | button | None (Not in the Ribbon) | None (Not in the Ribbon) |
| ConditionalFormattingIconSetsGallery | gallery | None (Not in the Ribbon) | None (Not in the Ribbon) |
| ConditionalFormattingIconSetsMore | button | None (Not in the Ribbon) | None (Not in the Ribbon) |
| ConditionalFormattingNewRule | button | None (Not in the Ribbon) | None (Not in the Ribbon) |
| ConditionalFormattingClearMenu | menu | None (Not in the Ribbon) | None (Not in the Ribbon) |
| ConditionalFormattingClearSelectedCells | button | None (Not in the Ribbon) | None (Not in the Ribbon) |
| ConditionalFormattingClearSheet | button | None (Not in the Ribbon) | None (Not in the Ribbon) |
| ConditionalFormattingClearTable | button | None (Not in the Ribbon) | None (Not in the Ribbon) |
| ConditionalFormattingClearPivotTable | button | None (Not in the Ribbon) | None (Not in the Ribbon) |
| ConditionalFormattingsManage | button | None (Not in the Ribbon) | None (Not in the Ribbon) |
| UpgradeWorkbook | button | None (Not in the Ribbon) | None (Not in the Ribbon) |
| FileExit | button | None (Not in the Ribbon) | None (Not in the Ribbon) |
| FileNew | button | None (Not in the Ribbon) | None (Not in the Ribbon) |
| ApplicationOptionsDialog | button | None (Not in the Ribbon) | None (Not in the Ribbon) |
| FileStartWorkflow | button | None (Not in the Ribbon) | None (Not in the Ribbon) |
| LeaveReader | button | None (Not in the Ribbon) | None (Not in the Ribbon) |
| SheetProtect | button | None (Not in the Ribbon) | None (Not in the Ribbon) |
| FilePrepareMenu | menu | None (Not in the Ribbon) | None (Not in the Ribbon) |
| FileProperties | toggleButton | None (Not in the Ribbon) | None (Not in the Ribbon) |
| FileDocumentInspect | button | None (Not in the Ribbon) | None (Not in the Ribbon) |
| FileDocumentEncrypt | toggleButton | None (Not in the Ribbon) | None (Not in the Ribbon) |
| FilePermissionView | button | None (Not in the Ribbon) | None (Not in the Ribbon) |
| FilePermissionRestrictMenu | menu | None (Not in the Ribbon) | None (Not in the Ribbon) |
| FilePermissionUnrestricted | toggleButton | None (Not in the Ribbon) | None (Not in the Ribbon) |
| FilePermissionDoNotDistribute | toggleButton | None (Not in the Ribbon) | None (Not in the Ribbon) |
| FileAddDigitalSignature | button | None (Not in the Ribbon) | None (Not in the Ribbon) |
| FileViewDigitalSignatures | toggleButton | None (Not in the Ribbon) | None (Not in the Ribbon) |
| FileMarkAsFinal | toggleButton | None (Not in the Ribbon) | None (Not in the Ribbon) |
| FileCompatibilityChecker | button | None (Not in the Ribbon) | None (Not in the Ribbon) |
| FileLinksToFiles | button | None (Not in the Ribbon) | None (Not in the Ribbon) |
| FilePrintMenu | splitButton | None (Not in the Ribbon) | None (Not in the Ribbon) |
| PrintPreviewAndPrint | button | None (Not in the Ribbon) | None (Not in the Ribbon) |
| FilePrintQuick | button | None (Not in the Ribbon) | None (Not in the Ribbon) |
| PrintPreviewFullScreen | button | None (Not in the Ribbon) | None (Not in the Ribbon) |
| MenuPublish | menu | None (Not in the Ribbon) | None (Not in the Ribbon) |
| FilePublishExcelServices | button | None (Not in the Ribbon) | None (Not in the Ribbon) |
| FileSaveToDocumentManagementServer | button | None (Not in the Ribbon) | None (Not in the Ribbon) |
| FileSaveAsMenu | splitButton | None (Not in the Ribbon) | None (Not in the Ribbon) |
| FileSaveAs | button | None (Not in the Ribbon) | None (Not in the Ribbon) |
| FileSaveAsExcelXlsx | button | None (Not in the Ribbon) | None (Not in the Ribbon) |
| FileSaveAsExcelXlsxMacro | button | None (Not in the Ribbon) | None (Not in the Ribbon) |
| FileSaveAsExcelXlsb | button | None (Not in the Ribbon) | None (Not in the Ribbon) |
| FileSaveAsExcel97_2003 | button | None (Not in the Ribbon) | None (Not in the Ribbon) |
| FileSaveAsExcelOpenDocumentSpreadsheet | button | None (Not in the Ribbon) | None (Not in the Ribbon) |
| AdvertisePublishAs | button | None (Not in the Ribbon) | None (Not in the Ribbon) |
| FileSaveAsPdfOrXps | button | None (Not in the Ribbon) | None (Not in the Ribbon) |
| FileSaveAsOtherFormats | button | None (Not in the Ribbon) | None (Not in the Ribbon) |
| FileSendMenu | menu | None (Not in the Ribbon) | None (Not in the Ribbon) |
| FileSendAsAttachment | button | None (Not in the Ribbon) | None (Not in the Ribbon) |
| FileEmailAsPdfEmailAttachment | button | None (Not in the Ribbon) | None (Not in the Ribbon) |
| FileEmailAsXpsEmailAttachment | button | None (Not in the Ribbon) | None (Not in the Ribbon) |
| FileInternetFax | button | None (Not in the Ribbon) | None (Not in the Ribbon) |
| FileServerTasksMenu | menu | None (Not in the Ribbon) | None (Not in the Ribbon) |
| FileCheckIn | button | None (Not in the Ribbon) | None (Not in the Ribbon) |
| FileCheckOut | button | None (Not in the Ribbon) | None (Not in the Ribbon) |
| FileCheckOutDiscard | button | None (Not in the Ribbon) | None (Not in the Ribbon) |
| FileVersionHistory | button | None (Not in the Ribbon) | None (Not in the Ribbon) |
| FileWorkflowTasks | button | None (Not in the Ribbon) | None (Not in the Ribbon) |
| FileExcelServicesOptions | button | None (Not in the Ribbon) | None (Not in the Ribbon) |
| ReviewProtectWorkbookMenu | menu | None (Not in the Ribbon) | None (Not in the Ribbon) |
| ReviewRestrictEditing | toggleButton | None (Not in the Ribbon) | None (Not in the Ribbon) |
| FilePermissionUnrestricted | toggleButton | None (Not in the Ribbon) | None (Not in the Ribbon) |
| FilePermissionDoNotDistribute | toggleButton | None (Not in the Ribbon) | None (Not in the Ribbon) |
| TabSetSmartArtTools | tabSet | | |
| TabSmartArtToolsDesign | tab | TabSetSmartArtTools | |
| GroupSmartArtCreateGraphic | group | TabSetSmartArtTools | TabSmartArtToolsDesign |
| SmartArtAddShapeSplitMenu | splitButton | TabSetSmartArtTools | TabSmartArtToolsDesign |
| SmartArtAddShape | button | TabSetSmartArtTools | TabSmartArtToolsDesign |
| SmartArtAddShapeAfter | button | TabSetSmartArtTools | TabSmartArtToolsDesign |
| SmartArtAddShapeBefore | button | TabSetSmartArtTools | TabSmartArtToolsDesign |
| SmartArtAddShapeAbove | button | TabSetSmartArtTools | TabSmartArtToolsDesign |
| SmartArtAddShapeBelow | button | TabSetSmartArtTools | TabSmartArtToolsDesign |
| SmartArtAddAssistant | button | TabSetSmartArtTools | TabSmartArtToolsDesign |
| SmartArtAddBullet | button | TabSetSmartArtTools | TabSmartArtToolsDesign |
| SmartArtTextPane | toggleButton | TabSetSmartArtTools | TabSmartArtToolsDesign |
| SmartArtPromote | button | TabSetSmartArtTools | TabSmartArtToolsDesign |
| SmartArtDemote | button | TabSetSmartArtTools | TabSmartArtToolsDesign |
| SmartArtRightToLeft | toggleButton | TabSetSmartArtTools | TabSmartArtToolsDesign |
| SmartArtReorderUp | button | TabSetSmartArtTools | TabSmartArtToolsDesign |
| SmartArtReorderDown | button | TabSetSmartArtTools | TabSmartArtToolsDesign |
| SmartArtOrganizationChartMenu | menu | TabSetSmartArtTools | TabSmartArtToolsDesign |
| SmartArtOrganizationChartStandard | button | TabSetSmartArtTools | TabSmartArtToolsDesign |
| SmartArtOrganizationChartBoth | button | TabSetSmartArtTools | TabSmartArtToolsDesign |
| SmartArtOrganizationChartLeftHanging | button | TabSetSmartArtTools | TabSmartArtToolsDesign |
| SmartArtOrganizationChartRightHanging | button | TabSetSmartArtTools | TabSmartArtToolsDesign |
| GroupSmartArtLayouts | group | TabSetSmartArtTools | TabSmartArtToolsDesign |
| SmartArtLayoutGallery | gallery | TabSetSmartArtTools | TabSmartArtToolsDesign |
| SmartArtMoreLayoutsDialog | button | TabSetSmartArtTools | TabSmartArtToolsDesign |
| GroupSmartArtQuickStyles | group | TabSetSmartArtTools | TabSmartArtToolsDesign |
| SmartArtChangeColorsGallery | gallery | TabSetSmartArtTools | TabSmartArtToolsDesign |
| SmartArtRecolorImages | toggleButton | TabSetSmartArtTools | TabSmartArtToolsDesign |
| SmartArtStylesGallery | gallery | TabSetSmartArtTools | TabSmartArtToolsDesign |
| GroupSmartArtReset | group | TabSetSmartArtTools | TabSmartArtToolsDesign |
| SmartArtResetGraphic | button | TabSetSmartArtTools | TabSmartArtToolsDesign |
| SmartArtConvertToShapes | button | TabSetSmartArtTools | TabSmartArtToolsDesign |
| TabSmartArtToolsFormat | tab | TabSetSmartArtTools | |
| GroupSmartArtShapes | group | TabSetSmartArtTools | TabSmartArtToolsFormat |
| SmartArtEditIn2D | toggleButton | TabSetSmartArtTools | TabSmartArtToolsFormat |
| ShapeChangeShapeGallery | gallery | TabSetSmartArtTools | TabSmartArtToolsFormat |
| SmartArtLargerShape | button | TabSetSmartArtTools | TabSmartArtToolsFormat |
| SmartArtSmallerShape | button | TabSetSmartArtTools | TabSmartArtToolsFormat |
| GroupShapeStyles | group | TabSetSmartArtTools | TabSmartArtToolsFormat |
| ShapeStylesGallery | gallery | TabSetSmartArtTools | TabSmartArtToolsFormat |
| ShapeStylesOtherThemeFillsGallery | gallery | TabSetSmartArtTools | TabSmartArtToolsFormat |
| ShapeFillColorPicker | gallery | TabSetSmartArtTools | TabSmartArtToolsFormat |
| ObjectFillMoreColorsDialog | button | TabSetSmartArtTools | TabSmartArtToolsFormat |
| ObjectPictureFill | button | TabSetSmartArtTools | TabSmartArtToolsFormat |
| GradientGallery | gallery | TabSetSmartArtTools | TabSmartArtToolsFormat |
| ShapeFillMoreGradientsDialog | button | TabSetSmartArtTools | TabSmartArtToolsFormat |
| ShapeFillTextureGallery | gallery | TabSetSmartArtTools | TabSmartArtToolsFormat |
| MoreTextureOptions | button | TabSetSmartArtTools | TabSmartArtToolsFormat |
| ShapeOutlineColorPicker | gallery | TabSetSmartArtTools | TabSmartArtToolsFormat |
| ObjectBorderOutlineColorMoreColorsDialog | button | TabSetSmartArtTools | TabSmartArtToolsFormat |
| OutlineWeightGallery | gallery | TabSetSmartArtTools | TabSmartArtToolsFormat |
| LineStylesDialog | button | TabSetSmartArtTools | TabSmartArtToolsFormat |
| OutlineDashesGallery | gallery | TabSetSmartArtTools | TabSmartArtToolsFormat |
| LineStylesDialog | button | TabSetSmartArtTools | TabSmartArtToolsFormat |
| ArrowStyleGallery | gallery | TabSetSmartArtTools | TabSmartArtToolsFormat |
| ArrowsMore | button | TabSetSmartArtTools | TabSmartArtToolsFormat |
| ShapeEffectsMenu | menu | TabSetSmartArtTools | TabSmartArtToolsFormat |
| ObjectEffectPresetGallery | gallery | TabSetSmartArtTools | TabSmartArtToolsFormat |
| _3DBevelOptionsDialog | button | TabSetSmartArtTools | TabSmartArtToolsFormat |
| ObjectEffectShadowGallery | gallery | TabSetSmartArtTools | TabSmartArtToolsFormat |
| ShadowOptionsDialog | button | TabSetSmartArtTools | TabSmartArtToolsFormat |
| ReflectionGallery | gallery | TabSetSmartArtTools | TabSmartArtToolsFormat |
| ReflectionsMoreOptions | button | TabSetSmartArtTools | TabSmartArtToolsFormat |
| ObjectEffectGlowGallery | gallery | TabSetSmartArtTools | TabSmartArtToolsFormat |
| GlowColorPicker | gallery | TabSetSmartArtTools | TabSmartArtToolsFormat |
| GlowColorMoreColorsDialog | button | TabSetSmartArtTools | TabSmartArtToolsFormat |
| GlowsMoreOptions | button | TabSetSmartArtTools | TabSmartArtToolsFormat |
| ObjectEffectSoftEdgesGallery | gallery | TabSetSmartArtTools | TabSmartArtToolsFormat |
| SoftEdgesMoreOptions | button | TabSetSmartArtTools | TabSmartArtToolsFormat |
| BevelShapeGallery | gallery | TabSetSmartArtTools | TabSmartArtToolsFormat |
| _3DBevelOptionsDialog | button | TabSetSmartArtTools | TabSmartArtToolsFormat |
| _3DRotationGallery | gallery | TabSetSmartArtTools | TabSmartArtToolsFormat |
| _3DRotationOptionsDialog | button | TabSetSmartArtTools | TabSmartArtToolsFormat |
| ObjectFormatDialog | button (dialogBoxLauncher) | TabSetSmartArtTools | TabSmartArtToolsFormat |
| GroupWordArtStyles | group | TabSetSmartArtTools | TabSmartArtToolsFormat |
| TextStylesGallery | gallery | TabSetSmartArtTools | TabSmartArtToolsFormat |
| WordArtClear | button | TabSetSmartArtTools | TabSmartArtToolsFormat |
| TextFillColorPicker | gallery | TabSetSmartArtTools | TabSmartArtToolsFormat |
| TextFillColorMoreColorsDialog | button | TabSetSmartArtTools | TabSmartArtToolsFormat |
| TextPictureFill | button | TabSetSmartArtTools | TabSmartArtToolsFormat |
| TextFillGradientGallery | gallery | TabSetSmartArtTools | TabSmartArtToolsFormat |
| TextFillMoreGradientsDialog | button | TabSetSmartArtTools | TabSmartArtToolsFormat |
| TextFillTextureGallery | gallery | TabSetSmartArtTools | TabSmartArtToolsFormat |
| TextFillMoreTextures | button | TabSetSmartArtTools | TabSmartArtToolsFormat |
| TextOutlineColorPicker | gallery | TabSetSmartArtTools | TabSmartArtToolsFormat |
| TextOutlineColorMoreColorsDialog | button | TabSetSmartArtTools | TabSmartArtToolsFormat |
| TextOutlineWeightGallery | gallery | TabSetSmartArtTools | TabSmartArtToolsFormat |
| TextOutlineMoreLinesDialog | button | TabSetSmartArtTools | TabSmartArtToolsFormat |
| TextOutlineDashesGallery | gallery | TabSetSmartArtTools | TabSmartArtToolsFormat |
| TextOutlineMoreLinesDialog | button | TabSetSmartArtTools | TabSmartArtToolsFormat |
| TextEffectsMenu | menu | TabSetSmartArtTools | TabSmartArtToolsFormat |
| TextEffectShadowGallery | gallery | TabSetSmartArtTools | TabSmartArtToolsFormat |
| TextEffectsMoreShadowsDialog | button | TabSetSmartArtTools | TabSmartArtToolsFormat |
| TextReflectionGallery | gallery | TabSetSmartArtTools | TabSmartArtToolsFormat |
| TextEffectsReflectionsMoreOptions | button | TabSetSmartArtTools | TabSmartArtToolsFormat |
| TextEffectGlowGallery | gallery | TabSetSmartArtTools | TabSmartArtToolsFormat |
| TextGlowColorPicker | gallery | TabSetSmartArtTools | TabSmartArtToolsFormat |
| TextGlowColorMoreColorsDialog | button | TabSetSmartArtTools | TabSmartArtToolsFormat |
| TextEffectsGlowsMoreOptions | button | TabSetSmartArtTools | TabSmartArtToolsFormat |
| BevelTextGallery | gallery | TabSetSmartArtTools | TabSmartArtToolsFormat |
| TextEffectsBevelMore3DOptionsDialog | button | TabSetSmartArtTools | TabSmartArtToolsFormat |
| TextEffects3DRotationGallery | gallery | TabSetSmartArtTools | TabSmartArtToolsFormat |
| TextEffects3DRotationOptionsDialog | button | TabSetSmartArtTools | TabSmartArtToolsFormat |
| TextEffectTransformGallery | gallery | TabSetSmartArtTools | TabSmartArtToolsFormat |
| WordArtFormatDialog | button (dialogBoxLauncher) | TabSetSmartArtTools | TabSmartArtToolsFormat |
| GroupArrange | group | TabSetSmartArtTools | TabSmartArtToolsFormat |
| ObjectBringForwardMenu | splitButton | TabSetSmartArtTools | TabSmartArtToolsFormat |
| ObjectBringForward | button | TabSetSmartArtTools | TabSmartArtToolsFormat |
| ObjectBringToFront | button | TabSetSmartArtTools | TabSmartArtToolsFormat |
| ObjectSendBackwardMenu | splitButton | TabSetSmartArtTools | TabSmartArtToolsFormat |
| ObjectSendBackward | button | TabSetSmartArtTools | TabSmartArtToolsFormat |
| ObjectSendToBack | button | TabSetSmartArtTools | TabSmartArtToolsFormat |
| SelectionPane | toggleButton | TabSetSmartArtTools | TabSmartArtToolsFormat |
| ObjectAlignMenu | menu | TabSetSmartArtTools | TabSmartArtToolsFormat |
| ObjectsAlignLeft | button | TabSetSmartArtTools | TabSmartArtToolsFormat |
| ObjectsAlignCenterHorizontal | button | TabSetSmartArtTools | TabSmartArtToolsFormat |
| ObjectsAlignRight | button | TabSetSmartArtTools | TabSmartArtToolsFormat |
| ObjectsAlignTop | button | TabSetSmartArtTools | TabSmartArtToolsFormat |
| ObjectsAlignMiddleVertical | button | TabSetSmartArtTools | TabSmartArtToolsFormat |
| ObjectsAlignBottom | button | TabSetSmartArtTools | TabSmartArtToolsFormat |
| AlignDistributeHorizontallyClassic | button | TabSetSmartArtTools | TabSmartArtToolsFormat |
| AlignDistributeVerticallyClassic | button | TabSetSmartArtTools | TabSmartArtToolsFormat |
| SnapToGrid | toggleButton | TabSetSmartArtTools | TabSmartArtToolsFormat |
| SnapToShapes | toggleButton | TabSetSmartArtTools | TabSmartArtToolsFormat |
| ViewGridlinesToggleExcel | toggleButton | TabSetSmartArtTools | TabSmartArtToolsFormat |
| ObjectsGroupMenu | menu | TabSetSmartArtTools | TabSmartArtToolsFormat |
| ObjectsGroup | button | TabSetSmartArtTools | TabSmartArtToolsFormat |
| ObjectsRegroup | button | TabSetSmartArtTools | TabSmartArtToolsFormat |
| ObjectsUngroup | button | TabSetSmartArtTools | TabSmartArtToolsFormat |
| ObjectRotateGallery | gallery | TabSetSmartArtTools | TabSmartArtToolsFormat |
| ObjectRotationOptionsDialog | button | TabSetSmartArtTools | TabSmartArtToolsFormat |
| GroupSmartArtSize | group | TabSetSmartArtTools | TabSmartArtToolsFormat |
| ShapeHeight | control | TabSetSmartArtTools | TabSmartArtToolsFormat |
| ShapeWidth | control | TabSetSmartArtTools | TabSmartArtToolsFormat |
| ObjectSizeAndPropertiesDialog | button (dialogBoxLauncher) | TabSetSmartArtTools | TabSmartArtToolsFormat |
| TabSetChartTools | tabSet | | |
| TabChartToolsDesignNew | tab | TabSetChartTools | |
| GroupChartLayouts | group | TabSetChartTools | TabChartToolsDesignNew |
| AddChartElementMenu | menu | TabSetChartTools | TabChartToolsDesignNew |
| ChartAxesGallery | gallery | TabSetChartTools | TabChartToolsDesignNew |
| ChartAxesOptionsDialog | button | TabSetChartTools | TabChartToolsDesignNew |
| ChartAxisTitlesGallery | gallery | TabSetChartTools | TabChartToolsDesignNew |
| ChartAxesTitlesOptionsDialog | button | TabSetChartTools | TabChartToolsDesignNew |
| ChartTitle | gallery | TabSetChartTools | TabChartToolsDesignNew |
| ChartTitleOptionsDialog | button | TabSetChartTools | TabChartToolsDesignNew |
| ChartDataLabel | gallery | TabSetChartTools | TabChartToolsDesignNew |
| ChartDataLabelDialog | button | TabSetChartTools | TabChartToolsDesignNew |
| ChartDataTable | gallery | TabSetChartTools | TabChartToolsDesignNew |
| ChartDataTableOptionsDialog | button | TabSetChartTools | TabChartToolsDesignNew |
| ChartErrorBars | gallery | TabSetChartTools | TabChartToolsDesignNew |
| ChartErrorBarsOptionsDialog | button | TabSetChartTools | TabChartToolsDesignNew |
| ChartGridlinesGallery | gallery | TabSetChartTools | TabChartToolsDesignNew |
| ChartGridlineOptionsDialog | button | TabSetChartTools | TabChartToolsDesignNew |
| ChartLegend | gallery | TabSetChartTools | TabChartToolsDesignNew |
| ChartLegendOptionsDialogDialog | button | TabSetChartTools | TabChartToolsDesignNew |
| ChartLines | gallery | TabSetChartTools | TabChartToolsDesignNew |
| ChartTrendline | gallery | TabSetChartTools | TabChartToolsDesignNew |
| ChartTrendlineOptionsDialog | button | TabSetChartTools | TabChartToolsDesignNew |
| ChartUpDownBars | gallery | TabSetChartTools | TabChartToolsDesignNew |
| ChartUpDownBarsOptionsDialog | button | TabSetChartTools | TabChartToolsDesignNew |
| ChartLayoutGallery | gallery | TabSetChartTools | TabChartToolsDesignNew |
| GroupChartStyles | group | TabSetChartTools | TabChartToolsDesignNew |
| ChartColorsGallery | gallery | TabSetChartTools | TabChartToolsDesignNew |
| ChartStylesGallery | gallery | TabSetChartTools | TabChartToolsDesignNew |
| GroupChartData | group | TabSetChartTools | TabChartToolsDesignNew |
| ChartSwitchRowColumn | button | TabSetChartTools | TabChartToolsDesignNew |
| ChartEditDataSource | button | TabSetChartTools | TabChartToolsDesignNew |
| GroupChartType | group | TabSetChartTools | TabChartToolsDesignNew |
| ChartChangeType | button | TabSetChartTools | TabChartToolsDesignNew |
| GroupChartLocation | group | TabSetChartTools | TabChartToolsDesignNew |
| ChartPlacement | button | TabSetChartTools | TabChartToolsDesignNew |
| TabChartToolsFormatNew | tab | TabSetChartTools | |
| GroupChartCurrentSelection | group | TabSetChartTools | TabChartToolsFormatNew |
| ChartElementSelector | comboBox | TabSetChartTools | TabChartToolsFormatNew |
| ChartFormatSelection | button | TabSetChartTools | TabChartToolsFormatNew |
| ChartResetToMatchStyle | button | TabSetChartTools | TabChartToolsFormatNew |
| GroupShapesChart | group | TabSetChartTools | TabChartToolsFormatNew |
| ShapesInsertGallery | gallery | TabSetChartTools | TabChartToolsFormatNew |
| ShapeChangeShapeGallery | gallery | TabSetChartTools | TabChartToolsFormatNew |
| GroupShapeStyles | group | TabSetChartTools | TabChartToolsFormatNew |
| ShapeStylesGallery | gallery | TabSetChartTools | TabChartToolsFormatNew |
| ShapeStylesOtherThemeFillsGallery | gallery | TabSetChartTools | TabChartToolsFormatNew |
| ShapeFillColorPicker | gallery | TabSetChartTools | TabChartToolsFormatNew |
| ObjectFillMoreColorsDialog | button | TabSetChartTools | TabChartToolsFormatNew |
| ObjectPictureFill | button | TabSetChartTools | TabChartToolsFormatNew |
| GradientGallery | gallery | TabSetChartTools | TabChartToolsFormatNew |
| ShapeFillMoreGradientsDialog | button | TabSetChartTools | TabChartToolsFormatNew |
| ShapeFillTextureGallery | gallery | TabSetChartTools | TabChartToolsFormatNew |
| MoreTextureOptions | button | TabSetChartTools | TabChartToolsFormatNew |
| ShapeOutlineColorPicker | gallery | TabSetChartTools | TabChartToolsFormatNew |
| ObjectBorderOutlineColorMoreColorsDialog | button | TabSetChartTools | TabChartToolsFormatNew |
| OutlineWeightGallery | gallery | TabSetChartTools | TabChartToolsFormatNew |
| LineStylesDialog | button | TabSetChartTools | TabChartToolsFormatNew |
| OutlineDashesGallery | gallery | TabSetChartTools | TabChartToolsFormatNew |
| LineStylesDialog | button | TabSetChartTools | TabChartToolsFormatNew |
| ArrowStyleGallery | gallery | TabSetChartTools | TabChartToolsFormatNew |
| ArrowsMore | button | TabSetChartTools | TabChartToolsFormatNew |
| ShapeEffectsMenu | menu | TabSetChartTools | TabChartToolsFormatNew |
| ObjectEffectPresetGallery | gallery | TabSetChartTools | TabChartToolsFormatNew |
| _3DBevelOptionsDialog | button | TabSetChartTools | TabChartToolsFormatNew |
| ObjectEffectShadowGallery | gallery | TabSetChartTools | TabChartToolsFormatNew |
| ShadowOptionsDialog | button | TabSetChartTools | TabChartToolsFormatNew |
| ReflectionGallery | gallery | TabSetChartTools | TabChartToolsFormatNew |
| ReflectionsMoreOptions | button | TabSetChartTools | TabChartToolsFormatNew |
| ObjectEffectGlowGallery | gallery | TabSetChartTools | TabChartToolsFormatNew |
| GlowColorPicker | gallery | TabSetChartTools | TabChartToolsFormatNew |
| GlowColorMoreColorsDialog | button | TabSetChartTools | TabChartToolsFormatNew |
| GlowsMoreOptions | button | TabSetChartTools | TabChartToolsFormatNew |
| ObjectEffectSoftEdgesGallery | gallery | TabSetChartTools | TabChartToolsFormatNew |
| SoftEdgesMoreOptions | button | TabSetChartTools | TabChartToolsFormatNew |
| BevelShapeGallery | gallery | TabSetChartTools | TabChartToolsFormatNew |
| _3DBevelOptionsDialog | button | TabSetChartTools | TabChartToolsFormatNew |
| _3DRotationGallery | gallery | TabSetChartTools | TabChartToolsFormatNew |
| _3DRotationOptionsDialog | button | TabSetChartTools | TabChartToolsFormatNew |
| ObjectFormatDialog | button (dialogBoxLauncher) | TabSetChartTools | TabChartToolsFormatNew |
| GroupWordArtStyles | group | TabSetChartTools | TabChartToolsFormatNew |
| TextStylesGallery | gallery | TabSetChartTools | TabChartToolsFormatNew |
| WordArtClear | button | TabSetChartTools | TabChartToolsFormatNew |
| TextFillColorPicker | gallery | TabSetChartTools | TabChartToolsFormatNew |
| TextFillColorMoreColorsDialog | button | TabSetChartTools | TabChartToolsFormatNew |
| TextPictureFill | button | TabSetChartTools | TabChartToolsFormatNew |
| TextFillGradientGallery | gallery | TabSetChartTools | TabChartToolsFormatNew |
| TextFillMoreGradientsDialog | button | TabSetChartTools | TabChartToolsFormatNew |
| TextFillTextureGallery | gallery | TabSetChartTools | TabChartToolsFormatNew |
| TextFillMoreTextures | button | TabSetChartTools | TabChartToolsFormatNew |
| TextOutlineColorPicker | gallery | TabSetChartTools | TabChartToolsFormatNew |
| TextOutlineColorMoreColorsDialog | button | TabSetChartTools | TabChartToolsFormatNew |
| TextOutlineWeightGallery | gallery | TabSetChartTools | TabChartToolsFormatNew |
| TextOutlineMoreLinesDialog | button | TabSetChartTools | TabChartToolsFormatNew |
| TextOutlineDashesGallery | gallery | TabSetChartTools | TabChartToolsFormatNew |
| TextOutlineMoreLinesDialog | button | TabSetChartTools | TabChartToolsFormatNew |
| TextEffectsMenu | menu | TabSetChartTools | TabChartToolsFormatNew |
| TextEffectShadowGallery | gallery | TabSetChartTools | TabChartToolsFormatNew |
| TextEffectsMoreShadowsDialog | button | TabSetChartTools | TabChartToolsFormatNew |
| TextReflectionGallery | gallery | TabSetChartTools | TabChartToolsFormatNew |
| TextEffectsReflectionsMoreOptions | button | TabSetChartTools | TabChartToolsFormatNew |
| TextEffectGlowGallery | gallery | TabSetChartTools | TabChartToolsFormatNew |
| TextGlowColorPicker | gallery | TabSetChartTools | TabChartToolsFormatNew |
| TextGlowColorMoreColorsDialog | button | TabSetChartTools | TabChartToolsFormatNew |
| TextEffectsGlowsMoreOptions | button | TabSetChartTools | TabChartToolsFormatNew |
| BevelTextGallery | gallery | TabSetChartTools | TabChartToolsFormatNew |
| TextEffectsBevelMore3DOptionsDialog | button | TabSetChartTools | TabChartToolsFormatNew |
| TextEffects3DRotationGallery | gallery | TabSetChartTools | TabChartToolsFormatNew |
| TextEffects3DRotationOptionsDialog | button | TabSetChartTools | TabChartToolsFormatNew |
| TextEffectTransformGallery | gallery | TabSetChartTools | TabChartToolsFormatNew |
| WordArtFormatDialog | button (dialogBoxLauncher) | TabSetChartTools | TabChartToolsFormatNew |
| GroupArrange | group | TabSetChartTools | TabChartToolsFormatNew |
| ObjectBringForwardMenu | splitButton | TabSetChartTools | TabChartToolsFormatNew |
| ObjectBringForward | button | TabSetChartTools | TabChartToolsFormatNew |
| ObjectBringToFront | button | TabSetChartTools | TabChartToolsFormatNew |
| ObjectSendBackwardMenu | splitButton | TabSetChartTools | TabChartToolsFormatNew |
| ObjectSendBackward | button | TabSetChartTools | TabChartToolsFormatNew |
| ObjectSendToBack | button | TabSetChartTools | TabChartToolsFormatNew |
| SelectionPane | toggleButton | TabSetChartTools | TabChartToolsFormatNew |
| ObjectAlignMenu | menu | TabSetChartTools | TabChartToolsFormatNew |
| ObjectsAlignLeft | button | TabSetChartTools | TabChartToolsFormatNew |
| ObjectsAlignCenterHorizontal | button | TabSetChartTools | TabChartToolsFormatNew |
| ObjectsAlignRight | button | TabSetChartTools | TabChartToolsFormatNew |
| ObjectsAlignTop | button | TabSetChartTools | TabChartToolsFormatNew |
| ObjectsAlignMiddleVertical | button | TabSetChartTools | TabChartToolsFormatNew |
| ObjectsAlignBottom | button | TabSetChartTools | TabChartToolsFormatNew |
| AlignDistributeHorizontallyClassic | button | TabSetChartTools | TabChartToolsFormatNew |
| AlignDistributeVerticallyClassic | button | TabSetChartTools | TabChartToolsFormatNew |
| SnapToGrid | toggleButton | TabSetChartTools | TabChartToolsFormatNew |
| SnapToShapes | toggleButton | TabSetChartTools | TabChartToolsFormatNew |
| ViewGridlinesToggleExcel | toggleButton | TabSetChartTools | TabChartToolsFormatNew |
| ObjectsGroupMenu | menu | TabSetChartTools | TabChartToolsFormatNew |
| ObjectsGroup | button | TabSetChartTools | TabChartToolsFormatNew |
| ObjectsRegroup | button | TabSetChartTools | TabChartToolsFormatNew |
| ObjectsUngroup | button | TabSetChartTools | TabChartToolsFormatNew |
| ObjectRotateGallery | gallery | TabSetChartTools | TabChartToolsFormatNew |
| ObjectRotationOptionsDialog | button | TabSetChartTools | TabChartToolsFormatNew |
| GroupSize | group | TabSetChartTools | TabChartToolsFormatNew |
| ShapeHeight | control | TabSetChartTools | TabChartToolsFormatNew |
| ShapeWidth | control | TabSetChartTools | TabChartToolsFormatNew |
| ObjectSizeAndPropertiesDialog | button (dialogBoxLauncher) | TabSetChartTools | TabChartToolsFormatNew |
| TabChartToolsDesign | tab | TabSetChartTools | |
| GroupChartData | group | TabSetChartTools | TabChartToolsDesign |
| ChartSwitchRowColumn | button | TabSetChartTools | TabChartToolsDesign |
| ChartEditDataSource | button | TabSetChartTools | TabChartToolsDesign |
| GroupChartStyles | group | TabSetChartTools | TabChartToolsDesign |
| ChartColorsGallery | gallery | TabSetChartTools | TabChartToolsDesign |
| ChartStylesGallery | gallery | TabSetChartTools | TabChartToolsDesign |
| GroupChartLocation | group | TabSetChartTools | TabChartToolsDesign |
| ChartPlacement | button | TabSetChartTools | TabChartToolsDesign |
| TabChartToolsLayout | tab | TabSetChartTools | |
| GroupChartCurrentSelection | group | TabSetChartTools | TabChartToolsLayout |
| ChartElementSelector | comboBox | TabSetChartTools | TabChartToolsLayout |
| ChartFormatSelection | button | TabSetChartTools | TabChartToolsLayout |
| ChartResetToMatchStyle | button | TabSetChartTools | TabChartToolsLayout |
| GroupChartShapes | group | TabSetChartTools | TabChartToolsLayout |
| PictureInsertFromFile | button | TabSetChartTools | TabChartToolsLayout |
| ShapesInsertGallery | gallery | TabSetChartTools | TabChartToolsLayout |
| TextBoxInsertExcel | toggleButton | TabSetChartTools | TabChartToolsLayout |
| TextBoxInsertMenu | splitButton | TabSetChartTools | TabChartToolsLayout |
| TextBoxInsertHorizontal | toggleButton | TabSetChartTools | TabChartToolsLayout |
| TextBoxInsertVertical | toggleButton | TabSetChartTools | TabChartToolsLayout |
| GroupChartLabels | group | TabSetChartTools | TabChartToolsLayout |
| ChartTitle | gallery | TabSetChartTools | TabChartToolsLayout |
| ChartTitleOptionsDialog | button | TabSetChartTools | TabChartToolsLayout |
| ChartAxisTitles | menu | TabSetChartTools | TabChartToolsLayout |
| ChartPrimaryHorizontalAxisTitle | gallery | TabSetChartTools | TabChartToolsLayout |
| ChartPrimaryHorizontalAxisTitleOptionsDialog | button | TabSetChartTools | TabChartToolsLayout |
| ChartPrimaryVerticalAxisTitle | gallery | TabSetChartTools | TabChartToolsLayout |
| ChartPrimaryVerticalAxisTitleOptionsDialog | button | TabSetChartTools | TabChartToolsLayout |
| ChartSecondaryHorizontalAxisTitle | gallery | TabSetChartTools | TabChartToolsLayout |
| ChartSecondaryHorizontalAxisTitleOptionsDialog | button | TabSetChartTools | TabChartToolsLayout |
| ChartSecondaryVerticalAxisTitle | gallery | TabSetChartTools | TabChartToolsLayout |
| ChartSecondaryVerticalAxisTitleOptionsDialog | button | TabSetChartTools | TabChartToolsLayout |
| ChartDepthAxisTitle | gallery | TabSetChartTools | TabChartToolsLayout |
| ChartDepthAxisTitleOptionsDialog | button | TabSetChartTools | TabChartToolsLayout |
| ChartLegend | gallery | TabSetChartTools | TabChartToolsLayout |
| ChartLegendOptionsDialogDialog | button | TabSetChartTools | TabChartToolsLayout |
| ChartDataLabel | gallery | TabSetChartTools | TabChartToolsLayout |
| ChartDataLabelDialog | button | TabSetChartTools | TabChartToolsLayout |
| ChartDataTable | gallery | TabSetChartTools | TabChartToolsLayout |
| ChartDataTableOptionsDialog | button | TabSetChartTools | TabChartToolsLayout |
| GroupChartAxes | group | TabSetChartTools | TabChartToolsLayout |
| ChartAxes | menu | TabSetChartTools | TabChartToolsLayout |
| ChartPrimaryHorizontalAxis | gallery | TabSetChartTools | TabChartToolsLayout |
| ChartPrimaryHorizontalAxisOptionsDialog | button | TabSetChartTools | TabChartToolsLayout |
| ChartPrimaryVerticalAxis | gallery | TabSetChartTools | TabChartToolsLayout |
| ChartPrimaryVerticalAxisOptionsDialog | button | TabSetChartTools | TabChartToolsLayout |
| ChartSecondaryHorizontalAxis | gallery | TabSetChartTools | TabChartToolsLayout |
| ChartSecondaryHorizontalAxisOption | button | TabSetChartTools | TabChartToolsLayout |
| ChartSecondaryVerticalAxis | gallery | TabSetChartTools | TabChartToolsLayout |
| ChartSecondaryVerticalAxisOptionsDialog | button | TabSetChartTools | TabChartToolsLayout |
| ChartDepthAxis | gallery | TabSetChartTools | TabChartToolsLayout |
| ChartDepthAxisOptionsDialog | button | TabSetChartTools | TabChartToolsLayout |
| ChartGridlines | menu | TabSetChartTools | TabChartToolsLayout |
| ChartPrimaryHorizontalGridlines | gallery | TabSetChartTools | TabChartToolsLayout |
| ChartPrimaryHorizontalGridlinesOptionsDialog | button | TabSetChartTools | TabChartToolsLayout |
| ChartPrimaryVerticalGridlines | gallery | TabSetChartTools | TabChartToolsLayout |
| ChartPrimaryVerticalGridlinesOptionsDialog | button | TabSetChartTools | TabChartToolsLayout |
| ChartSecondaryHorizontalGridlines | gallery | TabSetChartTools | TabChartToolsLayout |
| ChartSecondaryHorizontalGridlinesOptionsDialog | button | TabSetChartTools | TabChartToolsLayout |
| ChartSecondaryVerticalGridlines | gallery | TabSetChartTools | TabChartToolsLayout |
| ChartSecondaryVerticalGridlinesOptionsDialog | button | TabSetChartTools | TabChartToolsLayout |
| ChartDepthGridlines | gallery | TabSetChartTools | TabChartToolsLayout |
| ChartDepthGridlinesOptionsDialog | button | TabSetChartTools | TabChartToolsLayout |
| GroupChartBackground | group | TabSetChartTools | TabChartToolsLayout |
| ChartPlotArea | gallery | TabSetChartTools | TabChartToolsLayout |
| ChartPlotAreaOptionsDialog | button | TabSetChartTools | TabChartToolsLayout |
| ChartWall | gallery | TabSetChartTools | TabChartToolsLayout |
| ChartWallOptionsDialog | button | TabSetChartTools | TabChartToolsLayout |
| ChartFloor | gallery | TabSetChartTools | TabChartToolsLayout |
| ChartFloorOptionsDialog | button | TabSetChartTools | TabChartToolsLayout |
| Chart3DView | button | TabSetChartTools | TabChartToolsLayout |
| GroupChartAnalysis | group | TabSetChartTools | TabChartToolsLayout |
| ChartTrendline | gallery | TabSetChartTools | TabChartToolsLayout |
| ChartTrendlineOptionsDialog | button | TabSetChartTools | TabChartToolsLayout |
| ChartLines | gallery | TabSetChartTools | TabChartToolsLayout |
| ChartUpDownBars | gallery | TabSetChartTools | TabChartToolsLayout |
| ChartUpDownBarsOptionsDialog | button | TabSetChartTools | TabChartToolsLayout |
| ChartErrorBars | gallery | TabSetChartTools | TabChartToolsLayout |
| ChartErrorBarsOptionsDialog | button | TabSetChartTools | TabChartToolsLayout |
| GroupChartProperties | group | TabSetChartTools | TabChartToolsLayout |
| ChartNameLabel | labelControl | TabSetChartTools | TabChartToolsLayout |
| ChartName | control | TabSetChartTools | TabChartToolsLayout |
| TabChartToolsFormat | tab | TabSetChartTools | |
| GroupChartCurrentSelection | group | TabSetChartTools | TabChartToolsFormat |
| ChartElementSelector | comboBox | TabSetChartTools | TabChartToolsFormat |
| ChartFormatSelection | button | TabSetChartTools | TabChartToolsFormat |
| ChartResetToMatchStyle | button | TabSetChartTools | TabChartToolsFormat |
| GroupShapeStyles | group | TabSetChartTools | TabChartToolsFormat |
| ShapeStylesGallery | gallery | TabSetChartTools | TabChartToolsFormat |
| ShapeStylesOtherThemeFillsGallery | gallery | TabSetChartTools | TabChartToolsFormat |
| ShapeFillColorPicker | gallery | TabSetChartTools | TabChartToolsFormat |
| ObjectFillMoreColorsDialog | button | TabSetChartTools | TabChartToolsFormat |
| ObjectPictureFill | button | TabSetChartTools | TabChartToolsFormat |
| GradientGallery | gallery | TabSetChartTools | TabChartToolsFormat |
| ShapeFillMoreGradientsDialog | button | TabSetChartTools | TabChartToolsFormat |
| ShapeFillTextureGallery | gallery | TabSetChartTools | TabChartToolsFormat |
| MoreTextureOptions | button | TabSetChartTools | TabChartToolsFormat |
| ShapeOutlineColorPicker | gallery | TabSetChartTools | TabChartToolsFormat |
| ObjectBorderOutlineColorMoreColorsDialog | button | TabSetChartTools | TabChartToolsFormat |
| OutlineWeightGallery | gallery | TabSetChartTools | TabChartToolsFormat |
| LineStylesDialog | button | TabSetChartTools | TabChartToolsFormat |
| OutlineDashesGallery | gallery | TabSetChartTools | TabChartToolsFormat |
| LineStylesDialog | button | TabSetChartTools | TabChartToolsFormat |
| ArrowStyleGallery | gallery | TabSetChartTools | TabChartToolsFormat |
| ArrowsMore | button | TabSetChartTools | TabChartToolsFormat |
| ShapeEffectsMenu | menu | TabSetChartTools | TabChartToolsFormat |
| ObjectEffectPresetGallery | gallery | TabSetChartTools | TabChartToolsFormat |
| _3DBevelOptionsDialog | button | TabSetChartTools | TabChartToolsFormat |
| ObjectEffectShadowGallery | gallery | TabSetChartTools | TabChartToolsFormat |
| ShadowOptionsDialog | button | TabSetChartTools | TabChartToolsFormat |
| ReflectionGallery | gallery | TabSetChartTools | TabChartToolsFormat |
| ReflectionsMoreOptions | button | TabSetChartTools | TabChartToolsFormat |
| ObjectEffectGlowGallery | gallery | TabSetChartTools | TabChartToolsFormat |
| GlowColorPicker | gallery | TabSetChartTools | TabChartToolsFormat |
| GlowColorMoreColorsDialog | button | TabSetChartTools | TabChartToolsFormat |
| GlowsMoreOptions | button | TabSetChartTools | TabChartToolsFormat |
| ObjectEffectSoftEdgesGallery | gallery | TabSetChartTools | TabChartToolsFormat |
| SoftEdgesMoreOptions | button | TabSetChartTools | TabChartToolsFormat |
| BevelShapeGallery | gallery | TabSetChartTools | TabChartToolsFormat |
| _3DBevelOptionsDialog | button | TabSetChartTools | TabChartToolsFormat |
| _3DRotationGallery | gallery | TabSetChartTools | TabChartToolsFormat |
| _3DRotationOptionsDialog | button | TabSetChartTools | TabChartToolsFormat |
| ObjectFormatDialog | button (dialogBoxLauncher) | TabSetChartTools | TabChartToolsFormat |
| GroupWordArtStyles | group | TabSetChartTools | TabChartToolsFormat |
| TextStylesGallery | gallery | TabSetChartTools | TabChartToolsFormat |
| WordArtClear | button | TabSetChartTools | TabChartToolsFormat |
| TextFillColorPicker | gallery | TabSetChartTools | TabChartToolsFormat |
| TextFillColorMoreColorsDialog | button | TabSetChartTools | TabChartToolsFormat |
| TextPictureFill | button | TabSetChartTools | TabChartToolsFormat |
| TextFillGradientGallery | gallery | TabSetChartTools | TabChartToolsFormat |
| TextFillMoreGradientsDialog | button | TabSetChartTools | TabChartToolsFormat |
| TextFillTextureGallery | gallery | TabSetChartTools | TabChartToolsFormat |
| TextFillMoreTextures | button | TabSetChartTools | TabChartToolsFormat |
| TextOutlineColorPicker | gallery | TabSetChartTools | TabChartToolsFormat |
| TextOutlineColorMoreColorsDialog | button | TabSetChartTools | TabChartToolsFormat |
| TextOutlineWeightGallery | gallery | TabSetChartTools | TabChartToolsFormat |
| TextOutlineMoreLinesDialog | button | TabSetChartTools | TabChartToolsFormat |
| TextOutlineDashesGallery | gallery | TabSetChartTools | TabChartToolsFormat |
| TextOutlineMoreLinesDialog | button | TabSetChartTools | TabChartToolsFormat |
| TextEffectsMenu | menu | TabSetChartTools | TabChartToolsFormat |
| TextEffectShadowGallery | gallery | TabSetChartTools | TabChartToolsFormat |
| TextEffectsMoreShadowsDialog | button | TabSetChartTools | TabChartToolsFormat |
| TextReflectionGallery | gallery | TabSetChartTools | TabChartToolsFormat |
| TextEffectsReflectionsMoreOptions | button | TabSetChartTools | TabChartToolsFormat |
| TextEffectGlowGallery | gallery | TabSetChartTools | TabChartToolsFormat |
| TextGlowColorPicker | gallery | TabSetChartTools | TabChartToolsFormat |
| TextGlowColorMoreColorsDialog | button | TabSetChartTools | TabChartToolsFormat |
| TextEffectsGlowsMoreOptions | button | TabSetChartTools | TabChartToolsFormat |
| BevelTextGallery | gallery | TabSetChartTools | TabChartToolsFormat |
| TextEffectsBevelMore3DOptionsDialog | button | TabSetChartTools | TabChartToolsFormat |
| TextEffects3DRotationGallery | gallery | TabSetChartTools | TabChartToolsFormat |
| TextEffects3DRotationOptionsDialog | button | TabSetChartTools | TabChartToolsFormat |
| TextEffectTransformGallery | gallery | TabSetChartTools | TabChartToolsFormat |
| WordArtFormatDialog | button (dialogBoxLauncher) | TabSetChartTools | TabChartToolsFormat |
| GroupArrange | group | TabSetChartTools | TabChartToolsFormat |
| ObjectBringForwardMenu | splitButton | TabSetChartTools | TabChartToolsFormat |
| ObjectBringForward | button | TabSetChartTools | TabChartToolsFormat |
| ObjectBringToFront | button | TabSetChartTools | TabChartToolsFormat |
| ObjectSendBackwardMenu | splitButton | TabSetChartTools | TabChartToolsFormat |
| ObjectSendBackward | button | TabSetChartTools | TabChartToolsFormat |
| ObjectSendToBack | button | TabSetChartTools | TabChartToolsFormat |
| SelectionPane | toggleButton | TabSetChartTools | TabChartToolsFormat |
| ObjectAlignMenu | menu | TabSetChartTools | TabChartToolsFormat |
| ObjectsAlignLeft | button | TabSetChartTools | TabChartToolsFormat |
| ObjectsAlignCenterHorizontal | button | TabSetChartTools | TabChartToolsFormat |
| ObjectsAlignRight | button | TabSetChartTools | TabChartToolsFormat |
| ObjectsAlignTop | button | TabSetChartTools | TabChartToolsFormat |
| ObjectsAlignMiddleVertical | button | TabSetChartTools | TabChartToolsFormat |
| ObjectsAlignBottom | button | TabSetChartTools | TabChartToolsFormat |
| AlignDistributeHorizontallyClassic | button | TabSetChartTools | TabChartToolsFormat |
| AlignDistributeVerticallyClassic | button | TabSetChartTools | TabChartToolsFormat |
| SnapToGrid | toggleButton | TabSetChartTools | TabChartToolsFormat |
| SnapToShapes | toggleButton | TabSetChartTools | TabChartToolsFormat |
| ViewGridlinesToggleExcel | toggleButton | TabSetChartTools | TabChartToolsFormat |
| ObjectsGroupMenu | menu | TabSetChartTools | TabChartToolsFormat |
| ObjectsGroup | button | TabSetChartTools | TabChartToolsFormat |
| ObjectsRegroup | button | TabSetChartTools | TabChartToolsFormat |
| ObjectsUngroup | button | TabSetChartTools | TabChartToolsFormat |
| ObjectRotateGallery | gallery | TabSetChartTools | TabChartToolsFormat |
| ObjectRotationOptionsDialog | button | TabSetChartTools | TabChartToolsFormat |
| GroupSize | group | TabSetChartTools | TabChartToolsFormat |
| ShapeHeight | control | TabSetChartTools | TabChartToolsFormat |
| ShapeWidth | control | TabSetChartTools | TabChartToolsFormat |
| ObjectSizeAndPropertiesDialog | button (dialogBoxLauncher) | TabSetChartTools | TabChartToolsFormat |
| TabSetDrawingTools | tabSet | | |
| TabDrawingToolsFormat | tab | TabSetDrawingTools | |
| GroupShapes | group | TabSetDrawingTools | TabDrawingToolsFormat |
| ShapesInsertGallery | gallery | TabSetDrawingTools | TabDrawingToolsFormat |
| ObjectEditShapeMenu | menu | TabSetDrawingTools | TabDrawingToolsFormat |
| ShapeChangeShapeGallery | gallery | TabSetDrawingTools | TabDrawingToolsFormat |
| ObjectEditPoints | toggleButton | TabSetDrawingTools | TabDrawingToolsFormat |
| ShapeRerouteConnectors | toggleButton | TabSetDrawingTools | TabDrawingToolsFormat |
| TextBoxInsertExcel | toggleButton | TabSetDrawingTools | TabDrawingToolsFormat |
| TextBoxInsertMenu | splitButton | TabSetDrawingTools | TabDrawingToolsFormat |
| TextBoxInsertHorizontal | toggleButton | TabSetDrawingTools | TabDrawingToolsFormat |
| TextBoxInsertVertical | toggleButton | TabSetDrawingTools | TabDrawingToolsFormat |
| GroupShapeStyles | group | TabSetDrawingTools | TabDrawingToolsFormat |
| ShapeStylesGallery | gallery | TabSetDrawingTools | TabDrawingToolsFormat |
| ShapeStylesOtherThemeFillsGallery | gallery | TabSetDrawingTools | TabDrawingToolsFormat |
| ShapeFillColorPicker | gallery | TabSetDrawingTools | TabDrawingToolsFormat |
| ObjectFillMoreColorsDialog | button | TabSetDrawingTools | TabDrawingToolsFormat |
| ObjectPictureFill | button | TabSetDrawingTools | TabDrawingToolsFormat |
| GradientGallery | gallery | TabSetDrawingTools | TabDrawingToolsFormat |
| ShapeFillMoreGradientsDialog | button | TabSetDrawingTools | TabDrawingToolsFormat |
| ShapeFillTextureGallery | gallery | TabSetDrawingTools | TabDrawingToolsFormat |
| MoreTextureOptions | button | TabSetDrawingTools | TabDrawingToolsFormat |
| ShapeOutlineColorPicker | gallery | TabSetDrawingTools | TabDrawingToolsFormat |
| ObjectBorderOutlineColorMoreColorsDialog | button | TabSetDrawingTools | TabDrawingToolsFormat |
| OutlineWeightGallery | gallery | TabSetDrawingTools | TabDrawingToolsFormat |
| LineStylesDialog | button | TabSetDrawingTools | TabDrawingToolsFormat |
| OutlineDashesGallery | gallery | TabSetDrawingTools | TabDrawingToolsFormat |
| LineStylesDialog | button | TabSetDrawingTools | TabDrawingToolsFormat |
| ArrowStyleGallery | gallery | TabSetDrawingTools | TabDrawingToolsFormat |
| ArrowsMore | button | TabSetDrawingTools | TabDrawingToolsFormat |
| ShapeEffectsMenu | menu | TabSetDrawingTools | TabDrawingToolsFormat |
| ObjectEffectPresetGallery | gallery | TabSetDrawingTools | TabDrawingToolsFormat |
| _3DBevelOptionsDialog | button | TabSetDrawingTools | TabDrawingToolsFormat |
| ObjectEffectShadowGallery | gallery | TabSetDrawingTools | TabDrawingToolsFormat |
| ShadowOptionsDialog | button | TabSetDrawingTools | TabDrawingToolsFormat |
| ReflectionGallery | gallery | TabSetDrawingTools | TabDrawingToolsFormat |
| ReflectionsMoreOptions | button | TabSetDrawingTools | TabDrawingToolsFormat |
| ObjectEffectGlowGallery | gallery | TabSetDrawingTools | TabDrawingToolsFormat |
| GlowColorPicker | gallery | TabSetDrawingTools | TabDrawingToolsFormat |
| GlowColorMoreColorsDialog | button | TabSetDrawingTools | TabDrawingToolsFormat |
| GlowsMoreOptions | button | TabSetDrawingTools | TabDrawingToolsFormat |
| ObjectEffectSoftEdgesGallery | gallery | TabSetDrawingTools | TabDrawingToolsFormat |
| SoftEdgesMoreOptions | button | TabSetDrawingTools | TabDrawingToolsFormat |
| BevelShapeGallery | gallery | TabSetDrawingTools | TabDrawingToolsFormat |
| _3DBevelOptionsDialog | button | TabSetDrawingTools | TabDrawingToolsFormat |
| _3DRotationGallery | gallery | TabSetDrawingTools | TabDrawingToolsFormat |
| _3DRotationOptionsDialog | button | TabSetDrawingTools | TabDrawingToolsFormat |
| ObjectFormatDialog | button (dialogBoxLauncher) | TabSetDrawingTools | TabDrawingToolsFormat |
| GroupWordArtStyles | group | TabSetDrawingTools | TabDrawingToolsFormat |
| TextStylesGallery | gallery | TabSetDrawingTools | TabDrawingToolsFormat |
| WordArtClear | button | TabSetDrawingTools | TabDrawingToolsFormat |
| TextFillColorPicker | gallery | TabSetDrawingTools | TabDrawingToolsFormat |
| TextFillColorMoreColorsDialog | button | TabSetDrawingTools | TabDrawingToolsFormat |
| TextPictureFill | button | TabSetDrawingTools | TabDrawingToolsFormat |
| TextFillGradientGallery | gallery | TabSetDrawingTools | TabDrawingToolsFormat |
| TextFillMoreGradientsDialog | button | TabSetDrawingTools | TabDrawingToolsFormat |
| TextFillTextureGallery | gallery | TabSetDrawingTools | TabDrawingToolsFormat |
| TextFillMoreTextures | button | TabSetDrawingTools | TabDrawingToolsFormat |
| TextOutlineColorPicker | gallery | TabSetDrawingTools | TabDrawingToolsFormat |
| TextOutlineColorMoreColorsDialog | button | TabSetDrawingTools | TabDrawingToolsFormat |
| TextOutlineWeightGallery | gallery | TabSetDrawingTools | TabDrawingToolsFormat |
| TextOutlineMoreLinesDialog | button | TabSetDrawingTools | TabDrawingToolsFormat |
| TextOutlineDashesGallery | gallery | TabSetDrawingTools | TabDrawingToolsFormat |
| TextOutlineMoreLinesDialog | button | TabSetDrawingTools | TabDrawingToolsFormat |
| TextEffectsMenu | menu | TabSetDrawingTools | TabDrawingToolsFormat |
| TextEffectShadowGallery | gallery | TabSetDrawingTools | TabDrawingToolsFormat |
| TextEffectsMoreShadowsDialog | button | TabSetDrawingTools | TabDrawingToolsFormat |
| TextReflectionGallery | gallery | TabSetDrawingTools | TabDrawingToolsFormat |
| TextEffectsReflectionsMoreOptions | button | TabSetDrawingTools | TabDrawingToolsFormat |
| TextEffectGlowGallery | gallery | TabSetDrawingTools | TabDrawingToolsFormat |
| TextGlowColorPicker | gallery | TabSetDrawingTools | TabDrawingToolsFormat |
| TextGlowColorMoreColorsDialog | button | TabSetDrawingTools | TabDrawingToolsFormat |
| TextEffectsGlowsMoreOptions | button | TabSetDrawingTools | TabDrawingToolsFormat |
| BevelTextGallery | gallery | TabSetDrawingTools | TabDrawingToolsFormat |
| TextEffectsBevelMore3DOptionsDialog | button | TabSetDrawingTools | TabDrawingToolsFormat |
| TextEffects3DRotationGallery | gallery | TabSetDrawingTools | TabDrawingToolsFormat |
| TextEffects3DRotationOptionsDialog | button | TabSetDrawingTools | TabDrawingToolsFormat |
| TextEffectTransformGallery | gallery | TabSetDrawingTools | TabDrawingToolsFormat |
| WordArtFormatDialog | button (dialogBoxLauncher) | TabSetDrawingTools | TabDrawingToolsFormat |
| GroupArrange | group | TabSetDrawingTools | TabDrawingToolsFormat |
| ObjectBringForwardMenu | splitButton | TabSetDrawingTools | TabDrawingToolsFormat |
| ObjectBringForward | button | TabSetDrawingTools | TabDrawingToolsFormat |
| ObjectBringToFront | button | TabSetDrawingTools | TabDrawingToolsFormat |
| ObjectSendBackwardMenu | splitButton | TabSetDrawingTools | TabDrawingToolsFormat |
| ObjectSendBackward | button | TabSetDrawingTools | TabDrawingToolsFormat |
| ObjectSendToBack | button | TabSetDrawingTools | TabDrawingToolsFormat |
| SelectionPane | toggleButton | TabSetDrawingTools | TabDrawingToolsFormat |
| ObjectAlignMenu | menu | TabSetDrawingTools | TabDrawingToolsFormat |
| ObjectsAlignLeft | button | TabSetDrawingTools | TabDrawingToolsFormat |
| ObjectsAlignCenterHorizontal | button | TabSetDrawingTools | TabDrawingToolsFormat |
| ObjectsAlignRight | button | TabSetDrawingTools | TabDrawingToolsFormat |
| ObjectsAlignTop | button | TabSetDrawingTools | TabDrawingToolsFormat |
| ObjectsAlignMiddleVertical | button | TabSetDrawingTools | TabDrawingToolsFormat |
| ObjectsAlignBottom | button | TabSetDrawingTools | TabDrawingToolsFormat |
| AlignDistributeHorizontallyClassic | button | TabSetDrawingTools | TabDrawingToolsFormat |
| AlignDistributeVerticallyClassic | button | TabSetDrawingTools | TabDrawingToolsFormat |
| SnapToGrid | toggleButton | TabSetDrawingTools | TabDrawingToolsFormat |
| SnapToShapes | toggleButton | TabSetDrawingTools | TabDrawingToolsFormat |
| ViewGridlinesToggleExcel | toggleButton | TabSetDrawingTools | TabDrawingToolsFormat |
| ObjectsGroupMenu | menu | TabSetDrawingTools | TabDrawingToolsFormat |
| ObjectsGroup | button | TabSetDrawingTools | TabDrawingToolsFormat |
| ObjectsRegroup | button | TabSetDrawingTools | TabDrawingToolsFormat |
| ObjectsUngroup | button | TabSetDrawingTools | TabDrawingToolsFormat |
| ObjectRotateGallery | gallery | TabSetDrawingTools | TabDrawingToolsFormat |
| ObjectRotationOptionsDialog | button | TabSetDrawingTools | TabDrawingToolsFormat |
| GroupSize | group | TabSetDrawingTools | TabDrawingToolsFormat |
| ShapeHeight | control | TabSetDrawingTools | TabDrawingToolsFormat |
| ShapeWidth | control | TabSetDrawingTools | TabDrawingToolsFormat |
| ObjectSizeAndPropertiesDialog | button (dialogBoxLauncher) | TabSetDrawingTools | TabDrawingToolsFormat |
| TabSetPictureTools | tabSet | | |
| TabPictureToolsFormat | tab | TabSetPictureTools | |
| GroupPictureTools | group | TabSetPictureTools | TabPictureToolsFormat |
| PictureBackgroundRemoval | toggleButton | TabSetPictureTools | TabPictureToolsFormat |
| PictureCorrectionsMenu | menu | TabSetPictureTools | TabPictureToolsFormat |
| PictureSharpenSoftenGallery | gallery | TabSetPictureTools | TabPictureToolsFormat |
| PictureBrightnessAndContrastGallery | gallery | TabSetPictureTools | TabPictureToolsFormat |
| PictureCorrectionsDialog | button | TabSetPictureTools | TabPictureToolsFormat |
| PictureColorMenu | menu | TabSetPictureTools | TabPictureToolsFormat |
| PictureSaturationGallery | gallery | TabSetPictureTools | TabPictureToolsFormat |
| PictureColorTempertatureGallery | gallery | TabSetPictureTools | TabPictureToolsFormat |
| PictureRecolorGallery | gallery | TabSetPictureTools | TabPictureToolsFormat |
| RecolorColorPicker | gallery | TabSetPictureTools | TabPictureToolsFormat |
| PictureRecolorMoreColorsDialog | button | TabSetPictureTools | TabPictureToolsFormat |
| PictureSetTransparentColor | toggleButton | TabSetPictureTools | TabPictureToolsFormat |
| PictureColorDialog | button | TabSetPictureTools | TabPictureToolsFormat |
| PictureArtisticEffectsGallery | gallery | TabSetPictureTools | TabPictureToolsFormat |
| ArtisticEffectsDialog | button | TabSetPictureTools | TabPictureToolsFormat |
| PicturesCompress | button | TabSetPictureTools | TabPictureToolsFormat |
| PictureChange | button | TabSetPictureTools | TabPictureToolsFormat |
| PictureResetSplitButton | splitButton | TabSetPictureTools | TabPictureToolsFormat |
| PictureReset | button | TabSetPictureTools | TabPictureToolsFormat |
| PictureResetAndSize | button | TabSetPictureTools | TabPictureToolsFormat |
| GroupPictureStyles | group | TabSetPictureTools | TabPictureToolsFormat |
| PictureStylesGallery | gallery | TabSetPictureTools | TabPictureToolsFormat |
| OutlineColorPicker | gallery | TabSetPictureTools | TabPictureToolsFormat |
| ObjectBorderOutlineColorMoreColorsDialog | button | TabSetPictureTools | TabPictureToolsFormat |
| OutlineWeightGallery | gallery | TabSetPictureTools | TabPictureToolsFormat |
| LineStylesDialog | button | TabSetPictureTools | TabPictureToolsFormat |
| OutlineDashesGallery | gallery | TabSetPictureTools | TabPictureToolsFormat |
| LineStylesDialog | button | TabSetPictureTools | TabPictureToolsFormat |
| PictureEffectsMenu | menu | TabSetPictureTools | TabPictureToolsFormat |
| PictureEffectsPresetGallery | gallery | TabSetPictureTools | TabPictureToolsFormat |
| _3DBevelOptionsDialog | button | TabSetPictureTools | TabPictureToolsFormat |
| PictureEffectsShadowGallery | gallery | TabSetPictureTools | TabPictureToolsFormat |
| ShadowOptionsDialog | button | TabSetPictureTools | TabPictureToolsFormat |
| PictureReflectionGallery | gallery | TabSetPictureTools | TabPictureToolsFormat |
| ReflectionsMoreOptions | button | TabSetPictureTools | TabPictureToolsFormat |
| PictureEffectsGlowGallery | gallery | TabSetPictureTools | TabPictureToolsFormat |
| GlowColorPicker | gallery | TabSetPictureTools | TabPictureToolsFormat |
| GlowColorMoreColorsDialog | button | TabSetPictureTools | TabPictureToolsFormat |
| GlowsMoreOptions | button | TabSetPictureTools | TabPictureToolsFormat |
| PictureEffectsSoftEdgesGallery | gallery | TabSetPictureTools | TabPictureToolsFormat |
| SoftEdgesMoreOptions | button | TabSetPictureTools | TabPictureToolsFormat |
| _3DBevelPictureTopGallery | gallery | TabSetPictureTools | TabPictureToolsFormat |
| _3DBevelOptionsDialog | button | TabSetPictureTools | TabPictureToolsFormat |
| PictureRotationGallery | gallery | TabSetPictureTools | TabPictureToolsFormat |
| _3DRotationOptionsDialog | button | TabSetPictureTools | TabPictureToolsFormat |
| PicturesConvertToSmartArt | gallery | TabSetPictureTools | TabPictureToolsFormat |
| ObjectFormatDialog | button (dialogBoxLauncher) | TabSetPictureTools | TabPictureToolsFormat |
| GroupArrange | group | TabSetPictureTools | TabPictureToolsFormat |
| ObjectBringForwardMenu | splitButton | TabSetPictureTools | TabPictureToolsFormat |
| ObjectBringForward | button | TabSetPictureTools | TabPictureToolsFormat |
| ObjectBringToFront | button | TabSetPictureTools | TabPictureToolsFormat |
| ObjectSendBackwardMenu | splitButton | TabSetPictureTools | TabPictureToolsFormat |
| ObjectSendBackward | button | TabSetPictureTools | TabPictureToolsFormat |
| ObjectSendToBack | button | TabSetPictureTools | TabPictureToolsFormat |
| SelectionPane | toggleButton | TabSetPictureTools | TabPictureToolsFormat |
| ObjectAlignMenu | menu | TabSetPictureTools | TabPictureToolsFormat |
| ObjectsAlignLeft | button | TabSetPictureTools | TabPictureToolsFormat |
| ObjectsAlignCenterHorizontal | button | TabSetPictureTools | TabPictureToolsFormat |
| ObjectsAlignRight | button | TabSetPictureTools | TabPictureToolsFormat |
| ObjectsAlignTop | button | TabSetPictureTools | TabPictureToolsFormat |
| ObjectsAlignMiddleVertical | button | TabSetPictureTools | TabPictureToolsFormat |
| ObjectsAlignBottom | button | TabSetPictureTools | TabPictureToolsFormat |
| AlignDistributeHorizontallyClassic | button | TabSetPictureTools | TabPictureToolsFormat |
| AlignDistributeVerticallyClassic | button | TabSetPictureTools | TabPictureToolsFormat |
| SnapToGrid | toggleButton | TabSetPictureTools | TabPictureToolsFormat |
| SnapToShapes | toggleButton | TabSetPictureTools | TabPictureToolsFormat |
| ViewGridlinesToggleExcel | toggleButton | TabSetPictureTools | TabPictureToolsFormat |
| ObjectsGroupMenu | menu | TabSetPictureTools | TabPictureToolsFormat |
| ObjectsGroup | button | TabSetPictureTools | TabPictureToolsFormat |
| ObjectsRegroup | button | TabSetPictureTools | TabPictureToolsFormat |
| ObjectsUngroup | button | TabSetPictureTools | TabPictureToolsFormat |
| ObjectRotateGallery | gallery | TabSetPictureTools | TabPictureToolsFormat |
| ObjectRotationOptionsDialog | button | TabSetPictureTools | TabPictureToolsFormat |
| GroupPictureSize | group | TabSetPictureTools | TabPictureToolsFormat |
| PictureCropTools | splitButton | TabSetPictureTools | TabPictureToolsFormat |
| PictureCrop | toggleButton | TabSetPictureTools | TabPictureToolsFormat |
| PictureShapeGallery | gallery | TabSetPictureTools | TabPictureToolsFormat |
| PictureCropAspectRatioMenu | menu | TabSetPictureTools | TabPictureToolsFormat |
| PictureCropAspectRatio1To1 | button | TabSetPictureTools | TabPictureToolsFormat |
| PictureCropAspectRatio2To3 | button | TabSetPictureTools | TabPictureToolsFormat |
| PictureCropAspectRatio3To4 | button | TabSetPictureTools | TabPictureToolsFormat |
| PictureCropAspectRatio3To5 | button | TabSetPictureTools | TabPictureToolsFormat |
| PictureCropAspectRatio4To5 | button | TabSetPictureTools | TabPictureToolsFormat |
| PictureCropAspectRatio3To2 | button | TabSetPictureTools | TabPictureToolsFormat |
| PictureCropAspectRatio4To3 | button | TabSetPictureTools | TabPictureToolsFormat |
| PictureCropAspectRatio5To3 | button | TabSetPictureTools | TabPictureToolsFormat |
| PictureCropAspectRatio5To4 | button | TabSetPictureTools | TabPictureToolsFormat |
| PictureCropAspectRatio16To9 | button | TabSetPictureTools | TabPictureToolsFormat |
| PictureCropAspectRatio16To10 | button | TabSetPictureTools | TabPictureToolsFormat |
| PictureFillCrop | button | TabSetPictureTools | TabPictureToolsFormat |
| PictureFitCrop | button | TabSetPictureTools | TabPictureToolsFormat |
| ShapeHeight | control | TabSetPictureTools | TabPictureToolsFormat |
| ShapeWidth | control | TabSetPictureTools | TabPictureToolsFormat |
| ObjectSizeAndPropertiesDialog | button (dialogBoxLauncher) | TabSetPictureTools | TabPictureToolsFormat |
| TabSetPivotTableTools | tabSet | | |
| TabPivotTableToolsOptions | tab | TabSetPivotTableTools | |
| GroupPivotTableOptions | group | TabSetPivotTableTools | TabPivotTableToolsOptions |
| PivotTableNameLabel | labelControl | TabSetPivotTableTools | TabPivotTableToolsOptions |
| PivotTableName | control | TabSetPivotTableTools | TabPivotTableToolsOptions |
| PivotTableOptionsMenu | splitButton | TabSetPivotTableTools | TabPivotTableToolsOptions |
| PivotTableOptions | button | TabSetPivotTableTools | TabPivotTableToolsOptions |
| PivotTableShowPages | button | TabSetPivotTableTools | TabPivotTableToolsOptions |
| PivotTableGenerateGetPivotData | checkBox | TabSetPivotTableTools | TabPivotTableToolsOptions |
| GroupPivotTableActiveField | group | TabSetPivotTableTools | TabPivotTableToolsOptions |
| LabelActiveField | labelControl | TabSetPivotTableTools | TabPivotTableToolsOptions |
| PivotFieldName | control | TabSetPivotTableTools | TabPivotTableToolsOptions |
| PivotTableFieldSettings | button | TabSetPivotTableTools | TabPivotTableToolsOptions |
| SelectedItemNavDrillDown | button | TabSetPivotTableTools | TabPivotTableToolsOptions |
| SelectedItemNavDrillUpSplitButton | splitButton | TabSetPivotTableTools | TabPivotTableToolsOptions |
| SelectedItemNavDrillUp | button | TabSetPivotTableTools | TabPivotTableToolsOptions |
| | button | TabSetPivotTableTools | TabPivotTableToolsOptions |
| PivotTableExpandField | button | TabSetPivotTableTools | TabPivotTableToolsOptions |
| PivotCollapseField | button | TabSetPivotTableTools | TabPivotTableToolsOptions |
| GroupPivotTableGroup | group | TabSetPivotTableTools | TabPivotTableToolsOptions |
| PivotTableGroupSelection | button | TabSetPivotTableTools | TabPivotTableToolsOptions |
| OutlineUngroup | button | TabSetPivotTableTools | TabPivotTableToolsOptions |
| PivotTableGroupField | button | TabSetPivotTableTools | TabPivotTableToolsOptions |
| GroupPivotTableSort | group | TabSetPivotTableTools | TabPivotTableToolsOptions |
| SlicerCreate | button | TabSetPivotTableTools | TabPivotTableToolsOptions |
| TimeSlicerCreate | button | TabSetPivotTableTools | TabPivotTableToolsOptions |
| SlicerShare | button | TabSetPivotTableTools | TabPivotTableToolsOptions |
| GroupPivotTableData | group | TabSetPivotTableTools | TabPivotTableToolsOptions |
| RefreshMenu | splitButton | TabSetPivotTableTools | TabPivotTableToolsOptions |
| Refresh | button | TabSetPivotTableTools | TabPivotTableToolsOptions |
| RefreshAll | button | TabSetPivotTableTools | TabPivotTableToolsOptions |
| RefreshStatus | button | TabSetPivotTableTools | TabPivotTableToolsOptions |
| RefreshCancel | button | TabSetPivotTableTools | TabPivotTableToolsOptions |
| ConnectionProperties | button | TabSetPivotTableTools | TabPivotTableToolsOptions |
| PivotTableEditDataSource | splitButton | TabSetPivotTableTools | TabPivotTableToolsOptions |
| PivotTableChangeDataSource | button | TabSetPivotTableTools | TabPivotTableToolsOptions |
| ConnectionProperties | button | TabSetPivotTableTools | TabPivotTableToolsOptions |
| GroupPivotActions | group | TabSetPivotTableTools | TabPivotTableToolsOptions |
| PivotTableClearMenu | menu | TabSetPivotTableTools | TabPivotTableToolsOptions |
| PivotClearAll | button | TabSetPivotTableTools | TabPivotTableToolsOptions |
| PivotClearFilters | button | TabSetPivotTableTools | TabPivotTableToolsOptions |
| PivotTableSelectFlyout | menu | TabSetPivotTableTools | TabPivotTableToolsOptions |
| PivotTableSelectLabelAndData | button | TabSetPivotTableTools | TabPivotTableToolsOptions |
| PivotTableSelectData | button | TabSetPivotTableTools | TabPivotTableToolsOptions |
| PivotTableSelectLabel | button | TabSetPivotTableTools | TabPivotTableToolsOptions |
| PivotTableSelectEntireTable | button | TabSetPivotTableTools | TabPivotTableToolsOptions |
| PivotTableEnableSelection | toggleButton | TabSetPivotTableTools | TabPivotTableToolsOptions |
| PivotTableMove | button | TabSetPivotTableTools | TabPivotTableToolsOptions |
| GroupPivotTableCalculations | group | TabSetPivotTableTools | TabPivotTableToolsOptions |
| PivotTableFormulasMenu | menu | TabSetPivotTableTools | TabPivotTableToolsOptions |
| PivotTableFieldInsert | button | TabSetPivotTableTools | TabPivotTableToolsOptions |
| PivotTableCalculatedItem | button | TabSetPivotTableTools | TabPivotTableToolsOptions |
| PivotTableSolveOrder | button | TabSetPivotTableTools | TabPivotTableToolsOptions |
| PivotTableListFormulas | button | TabSetPivotTableTools | TabPivotTableToolsOptions |
| PivotTableCreateTableBasedOnRow | button | TabSetPivotTableTools | TabPivotTableToolsOptions |
| PivotTableCreateTableBasedOnColumn | button | TabSetPivotTableTools | TabPivotTableToolsOptions |
| NamedSetManager | button | TabSetPivotTableTools | TabPivotTableToolsOptions |
| PivotTableOlapTools | menu | TabSetPivotTableTools | TabPivotTableToolsOptions |
| PivotTableOlapPropertyFields | button | TabSetPivotTableTools | TabPivotTableToolsOptions |
| PivotTableOlapOffline | button | TabSetPivotTableTools | TabPivotTableToolsOptions |
| PivotTableOlapConvertToFormulas | button | TabSetPivotTableTools | TabPivotTableToolsOptions |
| PivotTableWhatIfAnalysisMenu | menu | TabSetPivotTableTools | TabPivotTableToolsOptions |
| PivotTableEnableWhatIfAnalysis | toggleButton | TabSetPivotTableTools | TabPivotTableToolsOptions |
| PivotTableCalculateChanges | button | TabSetPivotTableTools | TabPivotTableToolsOptions |
| PivotTableAutoCalculate | toggleButton | TabSetPivotTableTools | TabPivotTableToolsOptions |
| PivotTableDiscardChanges | button | TabSetPivotTableTools | TabPivotTableToolsOptions |
| PivotTablePublishChanges | button | TabSetPivotTableTools | TabPivotTableToolsOptions |
| PivotTableRefreshDataSourceValue | button | TabSetPivotTableTools | TabPivotTableToolsOptions |
| PivotTableWhatIfAnalysisSettings | button | TabSetPivotTableTools | TabPivotTableToolsOptions |
| PivotTableCreateMeasures | button | TabSetPivotTableTools | TabPivotTableToolsOptions |
| PivotTableCreateMembers | button | TabSetPivotTableTools | TabPivotTableToolsOptions |
| PivotTableManageCalculations | button | TabSetPivotTableTools | TabPivotTableToolsOptions |
| AsppRelationships | button | TabSetPivotTableTools | TabPivotTableToolsOptions |
| GroupPivotTableTools | group | TabSetPivotTableTools | TabPivotTableToolsOptions |
| PivotChartInsertClassic | button | TabSetPivotTableTools | TabPivotTableToolsOptions |
| SuggestPivot | button | TabSetPivotTableTools | TabPivotTableToolsOptions |
| GroupPivotTableShowHide | group | TabSetPivotTableTools | TabPivotTableToolsOptions |
| PivotFieldListShowHide | toggleButton | TabSetPivotTableTools | TabPivotTableToolsOptions |
| PivotPlusMinusButtonsShowHide | toggleButton | TabSetPivotTableTools | TabPivotTableToolsOptions |
| PivotPlusMinusFieldHeadersShowHide | toggleButton | TabSetPivotTableTools | TabPivotTableToolsOptions |
| TabPivotTableToolsDesign | tab | TabSetPivotTableTools | |
| GroupPivotTableLayout | group | TabSetPivotTableTools | TabPivotTableToolsDesign |
| PivotTableLayoutSubtotals | menu | TabSetPivotTableTools | TabPivotTableToolsDesign |
| PivotTableSubtotalsDoNotShow | button | TabSetPivotTableTools | TabPivotTableToolsDesign |
| PivotTableSubtotalsOnBottom | button | TabSetPivotTableTools | TabPivotTableToolsDesign |
| PivotTableSubtotalsOnTop | button | TabSetPivotTableTools | TabPivotTableToolsDesign |
| PivotTableNonVisualTotals | toggleButton | TabSetPivotTableTools | TabPivotTableToolsDesign |
| PivotTableLayoutGrandTotals | menu | TabSetPivotTableTools | TabPivotTableToolsDesign |
| PivotTableGrandTotalsOffForRowsAndColumns | button | TabSetPivotTableTools | TabPivotTableToolsDesign |
| PivotTableGrandTotalsOnForRowsAndColumns | button | TabSetPivotTableTools | TabPivotTableToolsDesign |
| PivotTableGrandTotalsOnForRowsOnly | button | TabSetPivotTableTools | TabPivotTableToolsDesign |
| PivotTableGrandTotalsOnForColumnsOnly | button | TabSetPivotTableTools | TabPivotTableToolsDesign |
| PivotTableLayoutReportLayout | menu | TabSetPivotTableTools | TabPivotTableToolsDesign |
| PivotTableLayoutShowInCompactForm | button | TabSetPivotTableTools | TabPivotTableToolsDesign |
| PivotTableLayoutShowInOutlineForm | button | TabSetPivotTableTools | TabPivotTableToolsDesign |
| PivotTableLayoutShowInTabularForm | button | TabSetPivotTableTools | TabPivotTableToolsDesign |
| PivotTableRepeatItemLabels | button | TabSetPivotTableTools | TabPivotTableToolsDesign |
| PivotTableDoNotRepeatItemLabels | button | TabSetPivotTableTools | TabPivotTableToolsDesign |
| PivotTableLayoutBlankRows | menu | TabSetPivotTableTools | TabPivotTableToolsDesign |
| PivotTableBlankRowsInsert | button | TabSetPivotTableTools | TabPivotTableToolsDesign |
| PivotTableBlankRowsRemove | button | TabSetPivotTableTools | TabPivotTableToolsDesign |
| GroupPivotTableStyleOptions | group | TabSetPivotTableTools | TabPivotTableToolsDesign |
| TableStyleRowHeaders | checkBox | TabSetPivotTableTools | TabPivotTableToolsDesign |
| TableStyleColumnHeaders | checkBox | TabSetPivotTableTools | TabPivotTableToolsDesign |
| TableStyleBandedRows | checkBox | TabSetPivotTableTools | TabPivotTableToolsDesign |
| TableStyleBandedColumns | checkBox | TabSetPivotTableTools | TabPivotTableToolsDesign |
| GroupPivotTableStyles | group | TabSetPivotTableTools | TabPivotTableToolsDesign |
| PivotTableStylesGallery | gallery | TabSetPivotTableTools | TabPivotTableToolsDesign |
| PivotTableNewStyle | button | TabSetPivotTableTools | TabPivotTableToolsDesign |
| TableStyleClear | button | TabSetPivotTableTools | TabPivotTableToolsDesign |
| TabPivotTableToolsDesignDeprecated | tab | TabSetPivotTableTools | |
| GroupPivotTableCalculationsDeprecated | group | TabSetPivotTableTools | TabPivotTableToolsDesignDeprecated |
| PivotTableSummarizeByMenu | menu | TabSetPivotTableTools | TabPivotTableToolsDesignDeprecated |
| PivotTableSummarizeBySum | toggleButton | TabSetPivotTableTools | TabPivotTableToolsDesignDeprecated |
| PivotTableSummarizeByCount | toggleButton | TabSetPivotTableTools | TabPivotTableToolsDesignDeprecated |
| PivotTableSummarizeByAverage | toggleButton | TabSetPivotTableTools | TabPivotTableToolsDesignDeprecated |
| PivotTableSummarizeByMaximum | toggleButton | TabSetPivotTableTools | TabPivotTableToolsDesignDeprecated |
| PivotTableSummarizeByMinimum | toggleButton | TabSetPivotTableTools | TabPivotTableToolsDesignDeprecated |
| PivotTableSummarizeByProduct | toggleButton | TabSetPivotTableTools | TabPivotTableToolsDesignDeprecated |
| PivotTableSummarizeByMore | button | TabSetPivotTableTools | TabPivotTableToolsDesignDeprecated |
| PivotTableShowAsMenu | menu | TabSetPivotTableTools | TabPivotTableToolsDesignDeprecated |
| PivotTableShowAs | toggleButton | TabSetPivotTableTools | TabPivotTableToolsDesignDeprecated |
| PivotTableShowAsPercentOfTotal | toggleButton | TabSetPivotTableTools | TabPivotTableToolsDesignDeprecated |
| PivotTableShowAsPercentOfColumn | toggleButton | TabSetPivotTableTools | TabPivotTableToolsDesignDeprecated |
| PivotTableShowAsPercentOfRow | toggleButton | TabSetPivotTableTools | TabPivotTableToolsDesignDeprecated |
| PivotTableShowAsPercentOf | toggleButton | TabSetPivotTableTools | TabPivotTableToolsDesignDeprecated |
| PivotTableShowAsPercentOfParentRow | toggleButton | TabSetPivotTableTools | TabPivotTableToolsDesignDeprecated |
| PivotTableShowAsPercentOfParentColumn | toggleButton | TabSetPivotTableTools | TabPivotTableToolsDesignDeprecated |
| PivotTableShowAsPercentOfParent | toggleButton | TabSetPivotTableTools | TabPivotTableToolsDesignDeprecated |
| PivotTableShowAsDifference | toggleButton | TabSetPivotTableTools | TabPivotTableToolsDesignDeprecated |
| PivotTableShowAsPercentDifference | toggleButton | TabSetPivotTableTools | TabPivotTableToolsDesignDeprecated |
| PivotTableShowAsRunningTotal | toggleButton | TabSetPivotTableTools | TabPivotTableToolsDesignDeprecated |
| PivotTableShowAsPercentRunningTotal | toggleButton | TabSetPivotTableTools | TabPivotTableToolsDesignDeprecated |
| PivotTableShowAsRangAscending | toggleButton | TabSetPivotTableTools | TabPivotTableToolsDesignDeprecated |
| PivotTableShowAsRankDescending | toggleButton | TabSetPivotTableTools | TabPivotTableToolsDesignDeprecated |
| PivotTableShowAsIndex | toggleButton | TabSetPivotTableTools | TabPivotTableToolsDesignDeprecated |
| PivotTableShowAsMore | button | TabSetPivotTableTools | TabPivotTableToolsDesignDeprecated |
| TabSetHeaderAndFooterTools | tabSet | | |
| TabHeaderAndFooterToolsDesign | tab | TabSetHeaderAndFooterTools | |
| GroupHeaderFooter | group | TabSetHeaderAndFooterTools | TabHeaderAndFooterToolsDesign |
| HeaderFooterHeaderGallery | gallery | TabSetHeaderAndFooterTools | TabHeaderAndFooterToolsDesign |
| HeaderFooterFooterGallery | gallery | TabSetHeaderAndFooterTools | TabHeaderAndFooterToolsDesign |
| GroupHeaderFooterElements | group | TabSetHeaderAndFooterTools | TabHeaderAndFooterToolsDesign |
| HeaderFooterPageNumberInsertExcel | button | TabSetHeaderAndFooterTools | TabHeaderAndFooterToolsDesign |
| HeaderFooterNumberOfPagesInsert | button | TabSetHeaderAndFooterTools | TabHeaderAndFooterToolsDesign |
| HeaderFooterCurrentDate | button | TabSetHeaderAndFooterTools | TabHeaderAndFooterToolsDesign |
| HeaderFooterCurrentTimeInsert | button | TabSetHeaderAndFooterTools | TabHeaderAndFooterToolsDesign |
| HeaderFooterFilePathInsert | button | TabSetHeaderAndFooterTools | TabHeaderAndFooterToolsDesign |
| HeaderFooterFileNameInsert | button | TabSetHeaderAndFooterTools | TabHeaderAndFooterToolsDesign |
| HeaderFooterSheetNameInsert | button | TabSetHeaderAndFooterTools | TabHeaderAndFooterToolsDesign |
| HeaderFooterPictureInsert | button | TabSetHeaderAndFooterTools | TabHeaderAndFooterToolsDesign |
| HeaderFooterFormatPicture | button | TabSetHeaderAndFooterTools | TabHeaderAndFooterToolsDesign |
| GroupHeaderFooterNavigation | group | TabSetHeaderAndFooterTools | TabHeaderAndFooterToolsDesign |
| GoToHeader | button | TabSetHeaderAndFooterTools | TabHeaderAndFooterToolsDesign |
| GoToFooter | button | TabSetHeaderAndFooterTools | TabHeaderAndFooterToolsDesign |
| GroupHeaderFooterOptions | group | TabSetHeaderAndFooterTools | TabHeaderAndFooterToolsDesign |
| HeaderFooterDifferentFirstPageExcel | checkBox | TabSetHeaderAndFooterTools | TabHeaderAndFooterToolsDesign |
| HeaderFooterDifferentOddEvenPageExcel | checkBox | TabSetHeaderAndFooterTools | TabHeaderAndFooterToolsDesign |
| HeaderFooterScaleWithDocument | checkBox | TabSetHeaderAndFooterTools | TabHeaderAndFooterToolsDesign |
| HeaderFooterAlignMargins | checkBox | TabSetHeaderAndFooterTools | TabHeaderAndFooterToolsDesign |
| TabSetTableToolsExcel | tabSet | | |
| TabTableToolsDesignExcel | tab | TabSetTableToolsExcel | |
| GroupTableProperties | group | TabSetTableToolsExcel | TabTableToolsDesignExcel |
| TableNameLabel | labelControl | TabSetTableToolsExcel | TabTableToolsDesignExcel |
| TableName | control | TabSetTableToolsExcel | TabTableToolsDesignExcel |
| TableResize | button | TabSetTableToolsExcel | TabTableToolsDesignExcel |
| GroupTableTools | group | TabSetTableToolsExcel | TabTableToolsDesignExcel |
| TableSummarizeWithPivot | button | TabSetTableToolsExcel | TabTableToolsDesignExcel |
| RemoveDuplicates | button | TabSetTableToolsExcel | TabTableToolsDesignExcel |
| TableConvertToRange | button | TabSetTableToolsExcel | TabTableToolsDesignExcel |
| TableSlicerInsert | button | TabSetTableToolsExcel | TabTableToolsDesignExcel |
| GroupTableExternalData | group | TabSetTableToolsExcel | TabTableToolsDesignExcel |
| TableExportMenu | menu | TabSetTableToolsExcel | TabTableToolsDesignExcel |
| TableExportTableToSharePointList | button | TabSetTableToolsExcel | TabTableToolsDesignExcel |
| TableExportTableToVisioPivotDiagram | button | TabSetTableToolsExcel | TabTableToolsDesignExcel |
| RefreshMenu | splitButton | TabSetTableToolsExcel | TabTableToolsDesignExcel |
| Refresh | button | TabSetTableToolsExcel | TabTableToolsDesignExcel |
| RefreshAll | button | TabSetTableToolsExcel | TabTableToolsDesignExcel |
| RefreshStatus | button | TabSetTableToolsExcel | TabTableToolsDesignExcel |
| RefreshCancel | button | TabSetTableToolsExcel | TabTableToolsDesignExcel |
| ConnectionProperties | button | TabSetTableToolsExcel | TabTableToolsDesignExcel |
| DataRangeProperties | button | TabSetTableToolsExcel | TabTableToolsDesignExcel |
| TableOpenInBrowser | button | TabSetTableToolsExcel | TabTableToolsDesignExcel |
| TableUnlinkExternalData | button | TabSetTableToolsExcel | TabTableToolsDesignExcel |
| GroupTableStyleOptions | group | TabSetTableToolsExcel | TabTableToolsDesignExcel |
| TableStyleHeaderRow | checkBox | TabSetTableToolsExcel | TabTableToolsDesignExcel |
| TableStyleTotalsRow | checkBox | TabSetTableToolsExcel | TabTableToolsDesignExcel |
| TableStyleBandedRows | checkBox | TabSetTableToolsExcel | TabTableToolsDesignExcel |
| TableStyleFirstColumn | checkBox | TabSetTableToolsExcel | TabTableToolsDesignExcel |
| TableStyleLastColumn | checkBox | TabSetTableToolsExcel | TabTableToolsDesignExcel |
| TableStyleBandedColumns | checkBox | TabSetTableToolsExcel | TabTableToolsDesignExcel |
| TableStyleFilterButton | checkBox | TabSetTableToolsExcel | TabTableToolsDesignExcel |
| GroupTableStylesExcel | group | TabSetTableToolsExcel | TabTableToolsDesignExcel |
| TableStylesGalleryExcel | gallery | TabSetTableToolsExcel | TabTableToolsDesignExcel |
| TableStyleNew | button | TabSetTableToolsExcel | TabTableToolsDesignExcel |
| TableStyleClear | button | TabSetTableToolsExcel | TabTableToolsDesignExcel |
| TabSetPivotChartTools | tabSet | | |
| TabPivotChartToolsAnalyze | tab | TabSetPivotChartTools | |
| GroupPivotChartOptions | group | TabSetPivotChartTools | TabPivotChartToolsAnalyze |
| ChartNameLabel | labelControl | TabSetPivotChartTools | TabPivotChartToolsAnalyze |
| ChartName | control | TabSetPivotChartTools | TabPivotChartToolsAnalyze |
| PivotTableOptions | button | TabSetPivotChartTools | TabPivotChartToolsAnalyze |
| GroupPivotChartActiveField | group | TabSetPivotChartTools | TabPivotChartToolsAnalyze |
| LabelActiveField | labelControl | TabSetPivotChartTools | TabPivotChartToolsAnalyze |
| PivotFieldName | control | TabSetPivotChartTools | TabPivotChartToolsAnalyze |
| PivotTableFieldSettings | button | TabSetPivotChartTools | TabPivotChartToolsAnalyze |
| SelectedItemNavDrillDown | button | TabSetPivotChartTools | TabPivotChartToolsAnalyze |
| SelectedItemNavDrillUpSplitButton | splitButton | TabSetPivotChartTools | TabPivotChartToolsAnalyze |
| SelectedItemNavDrillUp | button | TabSetPivotChartTools | TabPivotChartToolsAnalyze |
| | button | TabSetPivotChartTools | TabPivotChartToolsAnalyze |
| PivotTableExpandField | button | TabSetPivotChartTools | TabPivotChartToolsAnalyze |
| PivotCollapseField | button | TabSetPivotChartTools | TabPivotChartToolsAnalyze |
| GroupPivotChartFilter | group | TabSetPivotChartTools | TabPivotChartToolsAnalyze |
| SlicerCreate | button | TabSetPivotChartTools | TabPivotChartToolsAnalyze |
| TimeSlicerCreate | button | TabSetPivotChartTools | TabPivotChartToolsAnalyze |
| PivotChartSlicerShare | button | TabSetPivotChartTools | TabPivotChartToolsAnalyze |
| GroupPivotChartData | group | TabSetPivotChartTools | TabPivotChartToolsAnalyze |
| RefreshMenu | splitButton | TabSetPivotChartTools | TabPivotChartToolsAnalyze |
| Refresh | button | TabSetPivotChartTools | TabPivotChartToolsAnalyze |
| RefreshAll | button | TabSetPivotChartTools | TabPivotChartToolsAnalyze |
| RefreshStatus | button | TabSetPivotChartTools | TabPivotChartToolsAnalyze |
| RefreshCancel | button | TabSetPivotChartTools | TabPivotChartToolsAnalyze |
| ConnectionProperties | button | TabSetPivotChartTools | TabPivotChartToolsAnalyze |
| PivotTableEditDataSource | splitButton | TabSetPivotChartTools | TabPivotChartToolsAnalyze |
| PivotTableChangeDataSource | button | TabSetPivotChartTools | TabPivotChartToolsAnalyze |
| ConnectionProperties | button | TabSetPivotChartTools | TabPivotChartToolsAnalyze |
| GroupPivotChartActions | group | TabSetPivotChartTools | TabPivotChartToolsAnalyze |
| PivotTableClearMenu | menu | TabSetPivotChartTools | TabPivotChartToolsAnalyze |
| PivotClearAll | button | TabSetPivotChartTools | TabPivotChartToolsAnalyze |
| PivotClearFilters | button | TabSetPivotChartTools | TabPivotChartToolsAnalyze |
| ChartPlacement | button | TabSetPivotChartTools | TabPivotChartToolsAnalyze |
| GroupPivotChartCalculations | group | TabSetPivotChartTools | TabPivotChartToolsAnalyze |
| PivotChartFormulasMenu | menu | TabSetPivotChartTools | TabPivotChartToolsAnalyze |
| PivotTableFieldInsert | button | TabSetPivotChartTools | TabPivotChartToolsAnalyze |
| PivotTableCalculatedItem | button | TabSetPivotChartTools | TabPivotChartToolsAnalyze |
| PivotTableSolveOrder | button | TabSetPivotChartTools | TabPivotChartToolsAnalyze |
| PivotTableListFormulas | button | TabSetPivotChartTools | TabPivotChartToolsAnalyze |
| PivotChartCreateTableBasedOnAxisMenu | button | TabSetPivotChartTools | TabPivotChartToolsAnalyze |
| PivotTableCreateTableBasedOnLegendMenu | button | TabSetPivotChartTools | TabPivotChartToolsAnalyze |
| NamedSetManager | button | TabSetPivotChartTools | TabPivotChartToolsAnalyze |
| PivotChartOlapTools | menu | TabSetPivotChartTools | TabPivotChartToolsAnalyze |
| PivotTableOlapPropertyFields | button | TabSetPivotChartTools | TabPivotChartToolsAnalyze |
| PivotTableOlapOffline | button | TabSetPivotChartTools | TabPivotChartToolsAnalyze |
| PivotTableCreateMeasures | button | TabSetPivotChartTools | TabPivotChartToolsAnalyze |
| PivotTableCreateMembers | button | TabSetPivotChartTools | TabPivotChartToolsAnalyze |
| PivotTableManageCalculations | button | TabSetPivotChartTools | TabPivotChartToolsAnalyze |
| AsppRelationships | button | TabSetPivotChartTools | TabPivotChartToolsAnalyze |
| GroupPivotChartShowOrHide | group | TabSetPivotChartTools | TabPivotChartToolsAnalyze |
| PivotFieldListShowHide | toggleButton | TabSetPivotChartTools | TabPivotChartToolsAnalyze |
| PivotChartShowFieldButtonsMenu | splitButton | TabSetPivotChartTools | TabPivotChartToolsAnalyze |
| PivotChartShowFieldButtons | toggleButton | TabSetPivotChartTools | TabPivotChartToolsAnalyze |
| PivotChartShowReportFilterFieldButtons | toggleButton | TabSetPivotChartTools | TabPivotChartToolsAnalyze |
| PivotChartShowLegendFieldButtons | toggleButton | TabSetPivotChartTools | TabPivotChartToolsAnalyze |
| PivotChartShowAxisFieldButtons | toggleButton | TabSetPivotChartTools | TabPivotChartToolsAnalyze |
| PivotChartShowValueFieldButtons | toggleButton | TabSetPivotChartTools | TabPivotChartToolsAnalyze |
| PivotChartShowExpandCollapseButtons | toggleButton | TabSetPivotChartTools | TabPivotChartToolsAnalyze |
| PivotChartHideButtons | toggleButton | TabSetPivotChartTools | TabPivotChartToolsAnalyze |
| TabChartToolsDesignPivotChart | tab | TabSetPivotChartTools | |
| GroupChartLayouts | group | TabSetPivotChartTools | TabChartToolsDesignPivotChart |
| AddChartElementMenu | menu | TabSetPivotChartTools | TabChartToolsDesignPivotChart |
| ChartAxesGallery | gallery | TabSetPivotChartTools | TabChartToolsDesignPivotChart |
| ChartAxesOptionsDialog | button | TabSetPivotChartTools | TabChartToolsDesignPivotChart |
| ChartAxisTitlesGallery | gallery | TabSetPivotChartTools | TabChartToolsDesignPivotChart |
| ChartAxesTitlesOptionsDialog | button | TabSetPivotChartTools | TabChartToolsDesignPivotChart |
| ChartTitle | gallery | TabSetPivotChartTools | TabChartToolsDesignPivotChart |
| ChartTitleOptionsDialog | button | TabSetPivotChartTools | TabChartToolsDesignPivotChart |
| ChartDataLabel | gallery | TabSetPivotChartTools | TabChartToolsDesignPivotChart |
| ChartDataLabelDialog | button | TabSetPivotChartTools | TabChartToolsDesignPivotChart |
| ChartDataTable | gallery | TabSetPivotChartTools | TabChartToolsDesignPivotChart |
| ChartDataTableOptionsDialog | button | TabSetPivotChartTools | TabChartToolsDesignPivotChart |
| ChartErrorBars | gallery | TabSetPivotChartTools | TabChartToolsDesignPivotChart |
| ChartErrorBarsOptionsDialog | button | TabSetPivotChartTools | TabChartToolsDesignPivotChart |
| ChartGridlinesGallery | gallery | TabSetPivotChartTools | TabChartToolsDesignPivotChart |
| ChartGridlineOptionsDialog | button | TabSetPivotChartTools | TabChartToolsDesignPivotChart |
| ChartLegend | gallery | TabSetPivotChartTools | TabChartToolsDesignPivotChart |
| ChartLegendOptionsDialogDialog | button | TabSetPivotChartTools | TabChartToolsDesignPivotChart |
| ChartLines | gallery | TabSetPivotChartTools | TabChartToolsDesignPivotChart |
| ChartTrendline | gallery | TabSetPivotChartTools | TabChartToolsDesignPivotChart |
| ChartTrendlineOptionsDialog | button | TabSetPivotChartTools | TabChartToolsDesignPivotChart |
| ChartUpDownBars | gallery | TabSetPivotChartTools | TabChartToolsDesignPivotChart |
| ChartUpDownBarsOptionsDialog | button | TabSetPivotChartTools | TabChartToolsDesignPivotChart |
| ChartLayoutGallery | gallery | TabSetPivotChartTools | TabChartToolsDesignPivotChart |
| GroupChartStyles | group | TabSetPivotChartTools | TabChartToolsDesignPivotChart |
| ChartColorsGallery | gallery | TabSetPivotChartTools | TabChartToolsDesignPivotChart |
| ChartStylesGallery | gallery | TabSetPivotChartTools | TabChartToolsDesignPivotChart |
| GroupChartData | group | TabSetPivotChartTools | TabChartToolsDesignPivotChart |
| ChartSwitchRowColumn | button | TabSetPivotChartTools | TabChartToolsDesignPivotChart |
| ChartEditDataSource | button | TabSetPivotChartTools | TabChartToolsDesignPivotChart |
| GroupChartType | group | TabSetPivotChartTools | TabChartToolsDesignPivotChart |
| ChartChangeType | button | TabSetPivotChartTools | TabChartToolsDesignPivotChart |
| GroupChartLocation | group | TabSetPivotChartTools | TabChartToolsDesignPivotChart |
| ChartPlacement | button | TabSetPivotChartTools | TabChartToolsDesignPivotChart |
| TabChartToolsFormatPivotChart | tab | TabSetPivotChartTools | |
| GroupChartCurrentSelection | group | TabSetPivotChartTools | TabChartToolsFormatPivotChart |
| ChartElementSelector | comboBox | TabSetPivotChartTools | TabChartToolsFormatPivotChart |
| ChartFormatSelection | button | TabSetPivotChartTools | TabChartToolsFormatPivotChart |
| ChartResetToMatchStyle | button | TabSetPivotChartTools | TabChartToolsFormatPivotChart |
| GroupShapesChart | group | TabSetPivotChartTools | TabChartToolsFormatPivotChart |
| ShapesInsertGallery | gallery | TabSetPivotChartTools | TabChartToolsFormatPivotChart |
| ShapeChangeShapeGallery | gallery | TabSetPivotChartTools | TabChartToolsFormatPivotChart |
| GroupShapeStyles | group | TabSetPivotChartTools | TabChartToolsFormatPivotChart |
| ShapeStylesGallery | gallery | TabSetPivotChartTools | TabChartToolsFormatPivotChart |
| ShapeStylesOtherThemeFillsGallery | gallery | TabSetPivotChartTools | TabChartToolsFormatPivotChart |
| ShapeFillColorPicker | gallery | TabSetPivotChartTools | TabChartToolsFormatPivotChart |
| ObjectFillMoreColorsDialog | button | TabSetPivotChartTools | TabChartToolsFormatPivotChart |
| ObjectPictureFill | button | TabSetPivotChartTools | TabChartToolsFormatPivotChart |
| GradientGallery | gallery | TabSetPivotChartTools | TabChartToolsFormatPivotChart |
| ShapeFillMoreGradientsDialog | button | TabSetPivotChartTools | TabChartToolsFormatPivotChart |
| ShapeFillTextureGallery | gallery | TabSetPivotChartTools | TabChartToolsFormatPivotChart |
| MoreTextureOptions | button | TabSetPivotChartTools | TabChartToolsFormatPivotChart |
| ShapeOutlineColorPicker | gallery | TabSetPivotChartTools | TabChartToolsFormatPivotChart |
| ObjectBorderOutlineColorMoreColorsDialog | button | TabSetPivotChartTools | TabChartToolsFormatPivotChart |
| OutlineWeightGallery | gallery | TabSetPivotChartTools | TabChartToolsFormatPivotChart |
| LineStylesDialog | button | TabSetPivotChartTools | TabChartToolsFormatPivotChart |
| OutlineDashesGallery | gallery | TabSetPivotChartTools | TabChartToolsFormatPivotChart |
| LineStylesDialog | button | TabSetPivotChartTools | TabChartToolsFormatPivotChart |
| ArrowStyleGallery | gallery | TabSetPivotChartTools | TabChartToolsFormatPivotChart |
| ArrowsMore | button | TabSetPivotChartTools | TabChartToolsFormatPivotChart |
| ShapeEffectsMenu | menu | TabSetPivotChartTools | TabChartToolsFormatPivotChart |
| ObjectEffectPresetGallery | gallery | TabSetPivotChartTools | TabChartToolsFormatPivotChart |
| _3DBevelOptionsDialog | button | TabSetPivotChartTools | TabChartToolsFormatPivotChart |
| ObjectEffectShadowGallery | gallery | TabSetPivotChartTools | TabChartToolsFormatPivotChart |
| ShadowOptionsDialog | button | TabSetPivotChartTools | TabChartToolsFormatPivotChart |
| ReflectionGallery | gallery | TabSetPivotChartTools | TabChartToolsFormatPivotChart |
| ReflectionsMoreOptions | button | TabSetPivotChartTools | TabChartToolsFormatPivotChart |
| ObjectEffectGlowGallery | gallery | TabSetPivotChartTools | TabChartToolsFormatPivotChart |
| GlowColorPicker | gallery | TabSetPivotChartTools | TabChartToolsFormatPivotChart |
| GlowColorMoreColorsDialog | button | TabSetPivotChartTools | TabChartToolsFormatPivotChart |
| GlowsMoreOptions | button | TabSetPivotChartTools | TabChartToolsFormatPivotChart |
| ObjectEffectSoftEdgesGallery | gallery | TabSetPivotChartTools | TabChartToolsFormatPivotChart |
| SoftEdgesMoreOptions | button | TabSetPivotChartTools | TabChartToolsFormatPivotChart |
| BevelShapeGallery | gallery | TabSetPivotChartTools | TabChartToolsFormatPivotChart |
| _3DBevelOptionsDialog | button | TabSetPivotChartTools | TabChartToolsFormatPivotChart |
| _3DRotationGallery | gallery | TabSetPivotChartTools | TabChartToolsFormatPivotChart |
| _3DRotationOptionsDialog | button | TabSetPivotChartTools | TabChartToolsFormatPivotChart |
| ObjectFormatDialog | button (dialogBoxLauncher) | TabSetPivotChartTools | TabChartToolsFormatPivotChart |
| GroupWordArtStyles | group | TabSetPivotChartTools | TabChartToolsFormatPivotChart |
| TextStylesGallery | gallery | TabSetPivotChartTools | TabChartToolsFormatPivotChart |
| WordArtClear | button | TabSetPivotChartTools | TabChartToolsFormatPivotChart |
| TextFillColorPicker | gallery | TabSetPivotChartTools | TabChartToolsFormatPivotChart |
| TextFillColorMoreColorsDialog | button | TabSetPivotChartTools | TabChartToolsFormatPivotChart |
| TextPictureFill | button | TabSetPivotChartTools | TabChartToolsFormatPivotChart |
| TextFillGradientGallery | gallery | TabSetPivotChartTools | TabChartToolsFormatPivotChart |
| TextFillMoreGradientsDialog | button | TabSetPivotChartTools | TabChartToolsFormatPivotChart |
| TextFillTextureGallery | gallery | TabSetPivotChartTools | TabChartToolsFormatPivotChart |
| TextFillMoreTextures | button | TabSetPivotChartTools | TabChartToolsFormatPivotChart |
| TextOutlineColorPicker | gallery | TabSetPivotChartTools | TabChartToolsFormatPivotChart |
| TextOutlineColorMoreColorsDialog | button | TabSetPivotChartTools | TabChartToolsFormatPivotChart |
| TextOutlineWeightGallery | gallery | TabSetPivotChartTools | TabChartToolsFormatPivotChart |
| TextOutlineMoreLinesDialog | button | TabSetPivotChartTools | TabChartToolsFormatPivotChart |
| TextOutlineDashesGallery | gallery | TabSetPivotChartTools | TabChartToolsFormatPivotChart |
| TextOutlineMoreLinesDialog | button | TabSetPivotChartTools | TabChartToolsFormatPivotChart |
| TextEffectsMenu | menu | TabSetPivotChartTools | TabChartToolsFormatPivotChart |
| TextEffectShadowGallery | gallery | TabSetPivotChartTools | TabChartToolsFormatPivotChart |
| TextEffectsMoreShadowsDialog | button | TabSetPivotChartTools | TabChartToolsFormatPivotChart |
| TextReflectionGallery | gallery | TabSetPivotChartTools | TabChartToolsFormatPivotChart |
| TextEffectsReflectionsMoreOptions | button | TabSetPivotChartTools | TabChartToolsFormatPivotChart |
| TextEffectGlowGallery | gallery | TabSetPivotChartTools | TabChartToolsFormatPivotChart |
| TextGlowColorPicker | gallery | TabSetPivotChartTools | TabChartToolsFormatPivotChart |
| TextGlowColorMoreColorsDialog | button | TabSetPivotChartTools | TabChartToolsFormatPivotChart |
| TextEffectsGlowsMoreOptions | button | TabSetPivotChartTools | TabChartToolsFormatPivotChart |
| BevelTextGallery | gallery | TabSetPivotChartTools | TabChartToolsFormatPivotChart |
| TextEffectsBevelMore3DOptionsDialog | button | TabSetPivotChartTools | TabChartToolsFormatPivotChart |
| TextEffects3DRotationGallery | gallery | TabSetPivotChartTools | TabChartToolsFormatPivotChart |
| TextEffects3DRotationOptionsDialog | button | TabSetPivotChartTools | TabChartToolsFormatPivotChart |
| TextEffectTransformGallery | gallery | TabSetPivotChartTools | TabChartToolsFormatPivotChart |
| WordArtFormatDialog | button (dialogBoxLauncher) | TabSetPivotChartTools | TabChartToolsFormatPivotChart |
| GroupArrange | group | TabSetPivotChartTools | TabChartToolsFormatPivotChart |
| ObjectBringForwardMenu | splitButton | TabSetPivotChartTools | TabChartToolsFormatPivotChart |
| ObjectBringForward | button | TabSetPivotChartTools | TabChartToolsFormatPivotChart |
| ObjectBringToFront | button | TabSetPivotChartTools | TabChartToolsFormatPivotChart |
| ObjectSendBackwardMenu | splitButton | TabSetPivotChartTools | TabChartToolsFormatPivotChart |
| ObjectSendBackward | button | TabSetPivotChartTools | TabChartToolsFormatPivotChart |
| ObjectSendToBack | button | TabSetPivotChartTools | TabChartToolsFormatPivotChart |
| SelectionPane | toggleButton | TabSetPivotChartTools | TabChartToolsFormatPivotChart |
| ObjectAlignMenu | menu | TabSetPivotChartTools | TabChartToolsFormatPivotChart |
| ObjectsAlignLeft | button | TabSetPivotChartTools | TabChartToolsFormatPivotChart |
| ObjectsAlignCenterHorizontal | button | TabSetPivotChartTools | TabChartToolsFormatPivotChart |
| ObjectsAlignRight | button | TabSetPivotChartTools | TabChartToolsFormatPivotChart |
| ObjectsAlignTop | button | TabSetPivotChartTools | TabChartToolsFormatPivotChart |
| ObjectsAlignMiddleVertical | button | TabSetPivotChartTools | TabChartToolsFormatPivotChart |
| ObjectsAlignBottom | button | TabSetPivotChartTools | TabChartToolsFormatPivotChart |
| AlignDistributeHorizontallyClassic | button | TabSetPivotChartTools | TabChartToolsFormatPivotChart |
| AlignDistributeVerticallyClassic | button | TabSetPivotChartTools | TabChartToolsFormatPivotChart |
| SnapToGrid | toggleButton | TabSetPivotChartTools | TabChartToolsFormatPivotChart |
| SnapToShapes | toggleButton | TabSetPivotChartTools | TabChartToolsFormatPivotChart |
| ViewGridlinesToggleExcel | toggleButton | TabSetPivotChartTools | TabChartToolsFormatPivotChart |
| ObjectsGroupMenu | menu | TabSetPivotChartTools | TabChartToolsFormatPivotChart |
| ObjectsGroup | button | TabSetPivotChartTools | TabChartToolsFormatPivotChart |
| ObjectsRegroup | button | TabSetPivotChartTools | TabChartToolsFormatPivotChart |
| ObjectsUngroup | button | TabSetPivotChartTools | TabChartToolsFormatPivotChart |
| ObjectRotateGallery | gallery | TabSetPivotChartTools | TabChartToolsFormatPivotChart |
| ObjectRotationOptionsDialog | button | TabSetPivotChartTools | TabChartToolsFormatPivotChart |
| GroupSize | group | TabSetPivotChartTools | TabChartToolsFormatPivotChart |
| ShapeHeight | control | TabSetPivotChartTools | TabChartToolsFormatPivotChart |
| ShapeWidth | control | TabSetPivotChartTools | TabChartToolsFormatPivotChart |
| ObjectSizeAndPropertiesDialog | button (dialogBoxLauncher) | TabSetPivotChartTools | TabChartToolsFormatPivotChart |
| TabPivotChartToolsDesign | tab | TabSetPivotChartTools | |
| GroupChartData | group | TabSetPivotChartTools | TabPivotChartToolsDesign |
| ChartSwitchRowColumn | button | TabSetPivotChartTools | TabPivotChartToolsDesign |
| ChartEditDataSource | button | TabSetPivotChartTools | TabPivotChartToolsDesign |
| GroupChartStyles | group | TabSetPivotChartTools | TabPivotChartToolsDesign |
| ChartColorsGallery | gallery | TabSetPivotChartTools | TabPivotChartToolsDesign |
| ChartStylesGallery | gallery | TabSetPivotChartTools | TabPivotChartToolsDesign |
| GroupChartLocation | group | TabSetPivotChartTools | TabPivotChartToolsDesign |
| ChartPlacement | button | TabSetPivotChartTools | TabPivotChartToolsDesign |
| TabPivotChartToolsLayout | tab | TabSetPivotChartTools | |
| GroupChartCurrentSelection | group | TabSetPivotChartTools | TabPivotChartToolsLayout |
| ChartElementSelector | comboBox | TabSetPivotChartTools | TabPivotChartToolsLayout |
| ChartFormatSelection | button | TabSetPivotChartTools | TabPivotChartToolsLayout |
| ChartResetToMatchStyle | button | TabSetPivotChartTools | TabPivotChartToolsLayout |
| GroupChartShapes | group | TabSetPivotChartTools | TabPivotChartToolsLayout |
| PictureInsertFromFile | button | TabSetPivotChartTools | TabPivotChartToolsLayout |
| ShapesInsertGallery | gallery | TabSetPivotChartTools | TabPivotChartToolsLayout |
| TextBoxInsertExcel | toggleButton | TabSetPivotChartTools | TabPivotChartToolsLayout |
| TextBoxInsertMenu | splitButton | TabSetPivotChartTools | TabPivotChartToolsLayout |
| TextBoxInsertHorizontal | toggleButton | TabSetPivotChartTools | TabPivotChartToolsLayout |
| TextBoxInsertVertical | toggleButton | TabSetPivotChartTools | TabPivotChartToolsLayout |
| GroupChartLabels | group | TabSetPivotChartTools | TabPivotChartToolsLayout |
| ChartTitle | gallery | TabSetPivotChartTools | TabPivotChartToolsLayout |
| ChartTitleOptionsDialog | button | TabSetPivotChartTools | TabPivotChartToolsLayout |
| ChartAxisTitles | menu | TabSetPivotChartTools | TabPivotChartToolsLayout |
| ChartPrimaryHorizontalAxisTitle | gallery | TabSetPivotChartTools | TabPivotChartToolsLayout |
| ChartPrimaryHorizontalAxisTitleOptionsDialog | button | TabSetPivotChartTools | TabPivotChartToolsLayout |
| ChartPrimaryVerticalAxisTitle | gallery | TabSetPivotChartTools | TabPivotChartToolsLayout |
| ChartPrimaryVerticalAxisTitleOptionsDialog | button | TabSetPivotChartTools | TabPivotChartToolsLayout |
| ChartSecondaryHorizontalAxisTitle | gallery | TabSetPivotChartTools | TabPivotChartToolsLayout |
| ChartSecondaryHorizontalAxisTitleOptionsDialog | button | TabSetPivotChartTools | TabPivotChartToolsLayout |
| ChartSecondaryVerticalAxisTitle | gallery | TabSetPivotChartTools | TabPivotChartToolsLayout |
| ChartSecondaryVerticalAxisTitleOptionsDialog | button | TabSetPivotChartTools | TabPivotChartToolsLayout |
| ChartDepthAxisTitle | gallery | TabSetPivotChartTools | TabPivotChartToolsLayout |
| ChartDepthAxisTitleOptionsDialog | button | TabSetPivotChartTools | TabPivotChartToolsLayout |
| ChartLegend | gallery | TabSetPivotChartTools | TabPivotChartToolsLayout |
| ChartLegendOptionsDialogDialog | button | TabSetPivotChartTools | TabPivotChartToolsLayout |
| ChartDataLabel | gallery | TabSetPivotChartTools | TabPivotChartToolsLayout |
| ChartDataLabelDialog | button | TabSetPivotChartTools | TabPivotChartToolsLayout |
| ChartDataTable | gallery | TabSetPivotChartTools | TabPivotChartToolsLayout |
| ChartDataTableOptionsDialog | button | TabSetPivotChartTools | TabPivotChartToolsLayout |
| GroupChartAxes | group | TabSetPivotChartTools | TabPivotChartToolsLayout |
| ChartAxes | menu | TabSetPivotChartTools | TabPivotChartToolsLayout |
| ChartPrimaryHorizontalAxis | gallery | TabSetPivotChartTools | TabPivotChartToolsLayout |
| ChartPrimaryHorizontalAxisOptionsDialog | button | TabSetPivotChartTools | TabPivotChartToolsLayout |
| ChartPrimaryVerticalAxis | gallery | TabSetPivotChartTools | TabPivotChartToolsLayout |
| ChartPrimaryVerticalAxisOptionsDialog | button | TabSetPivotChartTools | TabPivotChartToolsLayout |
| ChartSecondaryHorizontalAxis | gallery | TabSetPivotChartTools | TabPivotChartToolsLayout |
| ChartSecondaryHorizontalAxisOption | button | TabSetPivotChartTools | TabPivotChartToolsLayout |
| ChartSecondaryVerticalAxis | gallery | TabSetPivotChartTools | TabPivotChartToolsLayout |
| ChartSecondaryVerticalAxisOptionsDialog | button | TabSetPivotChartTools | TabPivotChartToolsLayout |
| ChartDepthAxis | gallery | TabSetPivotChartTools | TabPivotChartToolsLayout |
| ChartDepthAxisOptionsDialog | button | TabSetPivotChartTools | TabPivotChartToolsLayout |
| ChartGridlines | menu | TabSetPivotChartTools | TabPivotChartToolsLayout |
| ChartPrimaryHorizontalGridlines | gallery | TabSetPivotChartTools | TabPivotChartToolsLayout |
| ChartPrimaryHorizontalGridlinesOptionsDialog | button | TabSetPivotChartTools | TabPivotChartToolsLayout |
| ChartPrimaryVerticalGridlines | gallery | TabSetPivotChartTools | TabPivotChartToolsLayout |
| ChartPrimaryVerticalGridlinesOptionsDialog | button | TabSetPivotChartTools | TabPivotChartToolsLayout |
| ChartSecondaryHorizontalGridlines | gallery | TabSetPivotChartTools | TabPivotChartToolsLayout |
| ChartSecondaryHorizontalGridlinesOptionsDialog | button | TabSetPivotChartTools | TabPivotChartToolsLayout |
| ChartSecondaryVerticalGridlines | gallery | TabSetPivotChartTools | TabPivotChartToolsLayout |
| ChartSecondaryVerticalGridlinesOptionsDialog | button | TabSetPivotChartTools | TabPivotChartToolsLayout |
| ChartDepthGridlines | gallery | TabSetPivotChartTools | TabPivotChartToolsLayout |
| ChartDepthGridlinesOptionsDialog | button | TabSetPivotChartTools | TabPivotChartToolsLayout |
| GroupChartBackground | group | TabSetPivotChartTools | TabPivotChartToolsLayout |
| ChartPlotArea | gallery | TabSetPivotChartTools | TabPivotChartToolsLayout |
| ChartPlotAreaOptionsDialog | button | TabSetPivotChartTools | TabPivotChartToolsLayout |
| ChartWall | gallery | TabSetPivotChartTools | TabPivotChartToolsLayout |
| ChartWallOptionsDialog | button | TabSetPivotChartTools | TabPivotChartToolsLayout |
| ChartFloor | gallery | TabSetPivotChartTools | TabPivotChartToolsLayout |
| ChartFloorOptionsDialog | button | TabSetPivotChartTools | TabPivotChartToolsLayout |
| Chart3DView | button | TabSetPivotChartTools | TabPivotChartToolsLayout |
| GroupChartAnalysis | group | TabSetPivotChartTools | TabPivotChartToolsLayout |
| ChartTrendline | gallery | TabSetPivotChartTools | TabPivotChartToolsLayout |
| ChartTrendlineOptionsDialog | button | TabSetPivotChartTools | TabPivotChartToolsLayout |
| ChartLines | gallery | TabSetPivotChartTools | TabPivotChartToolsLayout |
| ChartUpDownBars | gallery | TabSetPivotChartTools | TabPivotChartToolsLayout |
| ChartUpDownBarsOptionsDialog | button | TabSetPivotChartTools | TabPivotChartToolsLayout |
| ChartErrorBars | gallery | TabSetPivotChartTools | TabPivotChartToolsLayout |
| ChartErrorBarsOptionsDialog | button | TabSetPivotChartTools | TabPivotChartToolsLayout |
| GroupChartProperties | group | TabSetPivotChartTools | TabPivotChartToolsLayout |
| ChartNameLabel | labelControl | TabSetPivotChartTools | TabPivotChartToolsLayout |
| ChartName | control | TabSetPivotChartTools | TabPivotChartToolsLayout |
| TabPivotChartToolsFormat | tab | TabSetPivotChartTools | |
| GroupChartCurrentSelection | group | TabSetPivotChartTools | TabPivotChartToolsFormat |
| ChartElementSelector | comboBox | TabSetPivotChartTools | TabPivotChartToolsFormat |
| ChartFormatSelection | button | TabSetPivotChartTools | TabPivotChartToolsFormat |
| ChartResetToMatchStyle | button | TabSetPivotChartTools | TabPivotChartToolsFormat |
| GroupShapeStyles | group | TabSetPivotChartTools | TabPivotChartToolsFormat |
| ShapeStylesGallery | gallery | TabSetPivotChartTools | TabPivotChartToolsFormat |
| ShapeStylesOtherThemeFillsGallery | gallery | TabSetPivotChartTools | TabPivotChartToolsFormat |
| ShapeFillColorPicker | gallery | TabSetPivotChartTools | TabPivotChartToolsFormat |
| ObjectFillMoreColorsDialog | button | TabSetPivotChartTools | TabPivotChartToolsFormat |
| ObjectPictureFill | button | TabSetPivotChartTools | TabPivotChartToolsFormat |
| GradientGallery | gallery | TabSetPivotChartTools | TabPivotChartToolsFormat |
| ShapeFillMoreGradientsDialog | button | TabSetPivotChartTools | TabPivotChartToolsFormat |
| ShapeFillTextureGallery | gallery | TabSetPivotChartTools | TabPivotChartToolsFormat |
| MoreTextureOptions | button | TabSetPivotChartTools | TabPivotChartToolsFormat |
| ShapeOutlineColorPicker | gallery | TabSetPivotChartTools | TabPivotChartToolsFormat |
| ObjectBorderOutlineColorMoreColorsDialog | button | TabSetPivotChartTools | TabPivotChartToolsFormat |
| OutlineWeightGallery | gallery | TabSetPivotChartTools | TabPivotChartToolsFormat |
| LineStylesDialog | button | TabSetPivotChartTools | TabPivotChartToolsFormat |
| OutlineDashesGallery | gallery | TabSetPivotChartTools | TabPivotChartToolsFormat |
| LineStylesDialog | button | TabSetPivotChartTools | TabPivotChartToolsFormat |
| ArrowStyleGallery | gallery | TabSetPivotChartTools | TabPivotChartToolsFormat |
| ArrowsMore | button | TabSetPivotChartTools | TabPivotChartToolsFormat |
| ShapeEffectsMenu | menu | TabSetPivotChartTools | TabPivotChartToolsFormat |
| ObjectEffectPresetGallery | gallery | TabSetPivotChartTools | TabPivotChartToolsFormat |
| _3DBevelOptionsDialog | button | TabSetPivotChartTools | TabPivotChartToolsFormat |
| ObjectEffectShadowGallery | gallery | TabSetPivotChartTools | TabPivotChartToolsFormat |
| ShadowOptionsDialog | button | TabSetPivotChartTools | TabPivotChartToolsFormat |
| ReflectionGallery | gallery | TabSetPivotChartTools | TabPivotChartToolsFormat |
| ReflectionsMoreOptions | button | TabSetPivotChartTools | TabPivotChartToolsFormat |
| ObjectEffectGlowGallery | gallery | TabSetPivotChartTools | TabPivotChartToolsFormat |
| GlowColorPicker | gallery | TabSetPivotChartTools | TabPivotChartToolsFormat |
| GlowColorMoreColorsDialog | button | TabSetPivotChartTools | TabPivotChartToolsFormat |
| GlowsMoreOptions | button | TabSetPivotChartTools | TabPivotChartToolsFormat |
| ObjectEffectSoftEdgesGallery | gallery | TabSetPivotChartTools | TabPivotChartToolsFormat |
| SoftEdgesMoreOptions | button | TabSetPivotChartTools | TabPivotChartToolsFormat |
| BevelShapeGallery | gallery | TabSetPivotChartTools | TabPivotChartToolsFormat |
| _3DBevelOptionsDialog | button | TabSetPivotChartTools | TabPivotChartToolsFormat |
| _3DRotationGallery | gallery | TabSetPivotChartTools | TabPivotChartToolsFormat |
| _3DRotationOptionsDialog | button | TabSetPivotChartTools | TabPivotChartToolsFormat |
| ObjectFormatDialog | button (dialogBoxLauncher) | TabSetPivotChartTools | TabPivotChartToolsFormat |
| GroupWordArtStyles | group | TabSetPivotChartTools | TabPivotChartToolsFormat |
| TextStylesGallery | gallery | TabSetPivotChartTools | TabPivotChartToolsFormat |
| WordArtClear | button | TabSetPivotChartTools | TabPivotChartToolsFormat |
| TextFillColorPicker | gallery | TabSetPivotChartTools | TabPivotChartToolsFormat |
| TextFillColorMoreColorsDialog | button | TabSetPivotChartTools | TabPivotChartToolsFormat |
| TextPictureFill | button | TabSetPivotChartTools | TabPivotChartToolsFormat |
| TextFillGradientGallery | gallery | TabSetPivotChartTools | TabPivotChartToolsFormat |
| TextFillMoreGradientsDialog | button | TabSetPivotChartTools | TabPivotChartToolsFormat |
| TextFillTextureGallery | gallery | TabSetPivotChartTools | TabPivotChartToolsFormat |
| TextFillMoreTextures | button | TabSetPivotChartTools | TabPivotChartToolsFormat |
| TextOutlineColorPicker | gallery | TabSetPivotChartTools | TabPivotChartToolsFormat |
| TextOutlineColorMoreColorsDialog | button | TabSetPivotChartTools | TabPivotChartToolsFormat |
| TextOutlineWeightGallery | gallery | TabSetPivotChartTools | TabPivotChartToolsFormat |
| TextOutlineMoreLinesDialog | button | TabSetPivotChartTools | TabPivotChartToolsFormat |
| TextOutlineDashesGallery | gallery | TabSetPivotChartTools | TabPivotChartToolsFormat |
| TextOutlineMoreLinesDialog | button | TabSetPivotChartTools | TabPivotChartToolsFormat |
| TextEffectsMenu | menu | TabSetPivotChartTools | TabPivotChartToolsFormat |
| TextEffectShadowGallery | gallery | TabSetPivotChartTools | TabPivotChartToolsFormat |
| TextEffectsMoreShadowsDialog | button | TabSetPivotChartTools | TabPivotChartToolsFormat |
| TextReflectionGallery | gallery | TabSetPivotChartTools | TabPivotChartToolsFormat |
| TextEffectsReflectionsMoreOptions | button | TabSetPivotChartTools | TabPivotChartToolsFormat |
| TextEffectGlowGallery | gallery | TabSetPivotChartTools | TabPivotChartToolsFormat |
| TextGlowColorPicker | gallery | TabSetPivotChartTools | TabPivotChartToolsFormat |
| TextGlowColorMoreColorsDialog | button | TabSetPivotChartTools | TabPivotChartToolsFormat |
| TextEffectsGlowsMoreOptions | button | TabSetPivotChartTools | TabPivotChartToolsFormat |
| BevelTextGallery | gallery | TabSetPivotChartTools | TabPivotChartToolsFormat |
| TextEffectsBevelMore3DOptionsDialog | button | TabSetPivotChartTools | TabPivotChartToolsFormat |
| TextEffects3DRotationGallery | gallery | TabSetPivotChartTools | TabPivotChartToolsFormat |
| TextEffects3DRotationOptionsDialog | button | TabSetPivotChartTools | TabPivotChartToolsFormat |
| TextEffectTransformGallery | gallery | TabSetPivotChartTools | TabPivotChartToolsFormat |
| WordArtFormatDialog | button (dialogBoxLauncher) | TabSetPivotChartTools | TabPivotChartToolsFormat |
| GroupArrange | group | TabSetPivotChartTools | TabPivotChartToolsFormat |
| ObjectBringForwardMenu | splitButton | TabSetPivotChartTools | TabPivotChartToolsFormat |
| ObjectBringForward | button | TabSetPivotChartTools | TabPivotChartToolsFormat |
| ObjectBringToFront | button | TabSetPivotChartTools | TabPivotChartToolsFormat |
| ObjectSendBackwardMenu | splitButton | TabSetPivotChartTools | TabPivotChartToolsFormat |
| ObjectSendBackward | button | TabSetPivotChartTools | TabPivotChartToolsFormat |
| ObjectSendToBack | button | TabSetPivotChartTools | TabPivotChartToolsFormat |
| SelectionPane | toggleButton | TabSetPivotChartTools | TabPivotChartToolsFormat |
| ObjectAlignMenu | menu | TabSetPivotChartTools | TabPivotChartToolsFormat |
| ObjectsAlignLeft | button | TabSetPivotChartTools | TabPivotChartToolsFormat |
| ObjectsAlignCenterHorizontal | button | TabSetPivotChartTools | TabPivotChartToolsFormat |
| ObjectsAlignRight | button | TabSetPivotChartTools | TabPivotChartToolsFormat |
| ObjectsAlignTop | button | TabSetPivotChartTools | TabPivotChartToolsFormat |
| ObjectsAlignMiddleVertical | button | TabSetPivotChartTools | TabPivotChartToolsFormat |
| ObjectsAlignBottom | button | TabSetPivotChartTools | TabPivotChartToolsFormat |
| AlignDistributeHorizontallyClassic | button | TabSetPivotChartTools | TabPivotChartToolsFormat |
| AlignDistributeVerticallyClassic | button | TabSetPivotChartTools | TabPivotChartToolsFormat |
| SnapToGrid | toggleButton | TabSetPivotChartTools | TabPivotChartToolsFormat |
| SnapToShapes | toggleButton | TabSetPivotChartTools | TabPivotChartToolsFormat |
| ViewGridlinesToggleExcel | toggleButton | TabSetPivotChartTools | TabPivotChartToolsFormat |
| ObjectsGroupMenu | menu | TabSetPivotChartTools | TabPivotChartToolsFormat |
| ObjectsGroup | button | TabSetPivotChartTools | TabPivotChartToolsFormat |
| ObjectsRegroup | button | TabSetPivotChartTools | TabPivotChartToolsFormat |
| ObjectsUngroup | button | TabSetPivotChartTools | TabPivotChartToolsFormat |
| ObjectRotateGallery | gallery | TabSetPivotChartTools | TabPivotChartToolsFormat |
| ObjectRotationOptionsDialog | button | TabSetPivotChartTools | TabPivotChartToolsFormat |
| GroupSize | group | TabSetPivotChartTools | TabPivotChartToolsFormat |
| ShapeHeight | control | TabSetPivotChartTools | TabPivotChartToolsFormat |
| ShapeWidth | control | TabSetPivotChartTools | TabPivotChartToolsFormat |
| ObjectSizeAndPropertiesDialog | button (dialogBoxLauncher) | TabSetPivotChartTools | TabPivotChartToolsFormat |
| TabSetInkTools | tabSet | | |
| TabInkToolsPens | tab | TabSetInkTools | |
| GroupPensWrite | group | TabSetInkTools | TabInkToolsPens |
| InkBallpointPen | toggleButton | TabSetInkTools | TabInkToolsPens |
| InkHighlighter | toggleButton | TabSetInkTools | TabInkToolsPens |
| InkEraser | toggleButton | TabSetInkTools | TabInkToolsPens |
| ObjectsSelect | toggleButton | TabSetInkTools | TabInkToolsPens |
| GroupPens | group | TabSetInkTools | TabInkToolsPens |
| PensGallery | gallery | TabSetInkTools | TabInkToolsPens |
| PenAddFavorite | button | TabSetInkTools | TabInkToolsPens |
| InkColorPicker | gallery | TabSetInkTools | TabInkToolsPens |
| InkColorMoreColorsDialog | button | TabSetInkTools | TabInkToolsPens |
| LineThickness | gallery | TabSetInkTools | TabInkToolsPens |
| LineStylesDialog | button | TabSetInkTools | TabInkToolsPens |
| GroupInkSelect | group | TabSetInkTools | TabInkToolsPens |
| ObjectsSelect | toggleButton | TabSetInkTools | TabInkToolsPens |
| GroupInkFormat | group | TabSetInkTools | TabInkToolsPens |
| ObjectsSelect | toggleButton | TabSetInkTools | TabInkToolsPens |
| GroupInkPens | group | TabSetInkTools | TabInkToolsPens |
| InkFeltTipPen | toggleButton | TabSetInkTools | TabInkToolsPens |
| GroupInkClose | group | TabSetInkTools | TabInkToolsPens |
| InkStopInkingReadingView | button | TabSetInkTools | TabInkToolsPens |
| TabSetSparkline | tabSet | | |
| TabSparklineDesign | tab | TabSetSparkline | |
| GroupSparklineDataEdit | group | TabSetSparkline | TabSparklineDesign |
| SparklineEditLocationAndDataMenu | splitButton | TabSetSparkline | TabSparklineDesign |
| SparklineEditLocationAndData | button | TabSetSparkline | TabSparklineDesign |
| SparklineEditSingleData | button | TabSetSparkline | TabSparklineDesign |
| SparklineHiddenAndEmptyCells | button | TabSetSparkline | TabSparklineDesign |
| SwitchSparklineRowColumn | button | TabSetSparkline | TabSparklineDesign |
| GroupSparklineType | group | TabSetSparkline | TabSparklineDesign |
| SparklineConvertToLine | toggleButton | TabSetSparkline | TabSparklineDesign |
| SparklineConvertToColumn | toggleButton | TabSetSparkline | TabSparklineDesign |
| SparklineConvertToWinLoss | toggleButton | TabSetSparkline | TabSparklineDesign |
| GroupSparklineDetailsShow | group | TabSetSparkline | TabSparklineDesign |
| SparklineToggleHighPoint | checkBox | TabSetSparkline | TabSparklineDesign |
| SparklineToggleLowPoint | checkBox | TabSetSparkline | TabSparklineDesign |
| SparklineToggleNegativePoints | checkBox | TabSetSparkline | TabSparklineDesign |
| SparklineToggleFirstPoint | checkBox | TabSetSparkline | TabSparklineDesign |
| SparklineToggleLastPoint | checkBox | TabSetSparkline | TabSparklineDesign |
| SparklineToggleMarkers | checkBox | TabSetSparkline | TabSparklineDesign |
| GroupSparklineStyle | group | TabSetSparkline | TabSparklineDesign |
| SparklineColorStyleGallery | gallery | TabSetSparkline | TabSparklineDesign |
| SparklineColorPicker | gallery | TabSetSparkline | TabSparklineDesign |
| SparklineMoreColors | button | TabSetSparkline | TabSparklineDesign |
| SparklineLineWeightGallery | gallery | TabSetSparkline | TabSparklineDesign |
| SparklineCustomWeight | toggleButton | TabSetSparkline | TabSparklineDesign |
| SparklineAccentColorMenu | menu | TabSetSparkline | TabSparklineDesign |
| SparkLineNegativePointColorPicker | gallery | TabSetSparkline | TabSparklineDesign |
| SparklineNegativePointMoreColors | button | TabSetSparkline | TabSparklineDesign |
| SparklineMarkerColorPicker | gallery | TabSetSparkline | TabSparklineDesign |
| SparklineMarkerMoreColors | button | TabSetSparkline | TabSparklineDesign |
| SparklineHighPointColorPicker | gallery | TabSetSparkline | TabSparklineDesign |
| SparklineHighPointMoreColors | button | TabSetSparkline | TabSparklineDesign |
| SparklineLowPointColorPicker | gallery | TabSetSparkline | TabSparklineDesign |
| SparklineLowPointMoreColors | button | TabSetSparkline | TabSparklineDesign |
| SparklineFirstPointColorPicker | gallery | TabSetSparkline | TabSparklineDesign |
| SparklineFirstPointMoreColors | button | TabSetSparkline | TabSparklineDesign |
| SparklineLastPointColorPicker | gallery | TabSetSparkline | TabSparklineDesign |
| SparklineLastPointMoreColors | button | TabSetSparkline | TabSparklineDesign |
| GroupSparklineGroup | group | TabSetSparkline | TabSparklineDesign |
| SparklineAxisMenu | menu | TabSetSparkline | TabSparklineDesign |
| SparklineAxisGeneralType | checkBox | TabSetSparkline | TabSparklineDesign |
| SparklineAxisDateType | checkBox | TabSetSparkline | TabSparklineDesign |
| SparklineHorizontalAxisToggle | checkBox | TabSetSparkline | TabSparklineDesign |
| SparklinePlotDataRightToLeft | checkBox | TabSetSparkline | TabSparklineDesign |
| SparklineVerticalAxisAutomaticMinimumValue | checkBox | TabSetSparkline | TabSparklineDesign |
| SparklineVerticalAxisSameMinimumValue | checkBox | TabSetSparkline | TabSparklineDesign |
| SparklineVerticalAxisCustomMinimumValue | checkBox | TabSetSparkline | TabSparklineDesign |
| SparklineVerticalAxisAutomaticMaximumValue | checkBox | TabSetSparkline | TabSparklineDesign |
| SparklineVerticalAxisSameMaximumValue | checkBox | TabSetSparkline | TabSparklineDesign |
| SparklineVerticalAxisCustomMaximumValue | checkBox | TabSetSparkline | TabSparklineDesign |
| SparklinesGroupSelected | button | TabSetSparkline | TabSparklineDesign |
| SparklinesUngroupSelected | button | TabSetSparkline | TabSparklineDesign |
| SparklineClearMenu | splitButton | TabSetSparkline | TabSparklineDesign |
| SparklineClearSelected | button | TabSetSparkline | TabSparklineDesign |
| SparklineClearSelectedGroups | button | TabSetSparkline | TabSparklineDesign |
| TabSetTimeSlicerTools | tabSet | | |
| TabTimeSlicerDesign | tab | TabSetTimeSlicerTools | |
| GroupTimeSlicerOptions | group | TabSetTimeSlicerTools | TabTimeSlicerDesign |
| TimeSlicerNameLabel | labelControl | TabSetTimeSlicerTools | TabTimeSlicerDesign |
| TimeSlicerName | control | TabSetTimeSlicerTools | TabTimeSlicerDesign |
| SlicerConnectionsMenu | button | TabSetTimeSlicerTools | TabTimeSlicerDesign |
| GroupTimelineStyles | group | TabSetTimeSlicerTools | TabTimeSlicerDesign |
| TimelineStyles | gallery | TabSetTimeSlicerTools | TabTimeSlicerDesign |
| TimelineCreateNewStyle | button | TabSetTimeSlicerTools | TabTimeSlicerDesign |
| GroupArrange | group | TabSetTimeSlicerTools | TabTimeSlicerDesign |
| ObjectBringForwardMenu | splitButton | TabSetTimeSlicerTools | TabTimeSlicerDesign |
| ObjectBringForward | button | TabSetTimeSlicerTools | TabTimeSlicerDesign |
| ObjectBringToFront | button | TabSetTimeSlicerTools | TabTimeSlicerDesign |
| ObjectSendBackwardMenu | splitButton | TabSetTimeSlicerTools | TabTimeSlicerDesign |
| ObjectSendBackward | button | TabSetTimeSlicerTools | TabTimeSlicerDesign |
| ObjectSendToBack | button | TabSetTimeSlicerTools | TabTimeSlicerDesign |
| SelectionPane | toggleButton | TabSetTimeSlicerTools | TabTimeSlicerDesign |
| ObjectAlignMenu | menu | TabSetTimeSlicerTools | TabTimeSlicerDesign |
| ObjectsAlignLeft | button | TabSetTimeSlicerTools | TabTimeSlicerDesign |
| ObjectsAlignCenterHorizontal | button | TabSetTimeSlicerTools | TabTimeSlicerDesign |
| ObjectsAlignRight | button | TabSetTimeSlicerTools | TabTimeSlicerDesign |
| ObjectsAlignTop | button | TabSetTimeSlicerTools | TabTimeSlicerDesign |
| ObjectsAlignMiddleVertical | button | TabSetTimeSlicerTools | TabTimeSlicerDesign |
| ObjectsAlignBottom | button | TabSetTimeSlicerTools | TabTimeSlicerDesign |
| AlignDistributeHorizontallyClassic | button | TabSetTimeSlicerTools | TabTimeSlicerDesign |
| AlignDistributeVerticallyClassic | button | TabSetTimeSlicerTools | TabTimeSlicerDesign |
| SnapToGrid | toggleButton | TabSetTimeSlicerTools | TabTimeSlicerDesign |
| SnapToShapes | toggleButton | TabSetTimeSlicerTools | TabTimeSlicerDesign |
| ViewGridlinesToggleExcel | toggleButton | TabSetTimeSlicerTools | TabTimeSlicerDesign |
| ObjectsGroupMenu | menu | TabSetTimeSlicerTools | TabTimeSlicerDesign |
| ObjectsGroup | button | TabSetTimeSlicerTools | TabTimeSlicerDesign |
| ObjectsRegroup | button | TabSetTimeSlicerTools | TabTimeSlicerDesign |
| ObjectsUngroup | button | TabSetTimeSlicerTools | TabTimeSlicerDesign |
| ObjectRotateGallery | gallery | TabSetTimeSlicerTools | TabTimeSlicerDesign |
| ObjectRotationOptionsDialog | button | TabSetTimeSlicerTools | TabTimeSlicerDesign |
| GroupSize | group | TabSetTimeSlicerTools | TabTimeSlicerDesign |
| ShapeHeight | control | TabSetTimeSlicerTools | TabTimeSlicerDesign |
| ShapeWidth | control | TabSetTimeSlicerTools | TabTimeSlicerDesign |
| ObjectSizeAndPropertiesDialog | button (dialogBoxLauncher) | TabSetTimeSlicerTools | TabTimeSlicerDesign |
| GroupTimeSlicerShowOptions | group | TabSetTimeSlicerTools | TabTimeSlicerDesign |
| TimeSlicerShowHeader | checkBox | TabSetTimeSlicerTools | TabTimeSlicerDesign |
| TimeSlicerShowSelectionLabel | checkBox | TabSetTimeSlicerTools | TabTimeSlicerDesign |
| TimeSlicerShowScrollbar | checkBox | TabSetTimeSlicerTools | TabTimeSlicerDesign |
| TimeSlicerShowTimeLevel | checkBox | TabSetTimeSlicerTools | TabTimeSlicerDesign |
| TabSetSlicerTools | tabSet | | |
| TabSlicerDesign | tab | TabSetSlicerTools | |
| GroupSlicerOptions | group | TabSetSlicerTools | TabSlicerDesign |
| SlicerNameLabel | labelControl | TabSetSlicerTools | TabSlicerDesign |
| SlicerName | control | TabSetSlicerTools | TabSlicerDesign |
| SlicerSettings | button | TabSetSlicerTools | TabSlicerDesign |
| SlicerConnectionsMenu | button | TabSetSlicerTools | TabSlicerDesign |
| GroupSlicerStyles | group | TabSetSlicerTools | TabSlicerDesign |
| SlicerStyles | gallery | TabSetSlicerTools | TabSlicerDesign |
| SlicerCreateNewStyle | button | TabSetSlicerTools | TabSlicerDesign |
| GroupArrange | group | TabSetSlicerTools | TabSlicerDesign |
| ObjectBringForwardMenu | splitButton | TabSetSlicerTools | TabSlicerDesign |
| ObjectBringForward | button | TabSetSlicerTools | TabSlicerDesign |
| ObjectBringToFront | button | TabSetSlicerTools | TabSlicerDesign |
| ObjectSendBackwardMenu | splitButton | TabSetSlicerTools | TabSlicerDesign |
| ObjectSendBackward | button | TabSetSlicerTools | TabSlicerDesign |
| ObjectSendToBack | button | TabSetSlicerTools | TabSlicerDesign |
| SelectionPane | toggleButton | TabSetSlicerTools | TabSlicerDesign |
| ObjectAlignMenu | menu | TabSetSlicerTools | TabSlicerDesign |
| ObjectsAlignLeft | button | TabSetSlicerTools | TabSlicerDesign |
| ObjectsAlignCenterHorizontal | button | TabSetSlicerTools | TabSlicerDesign |
| ObjectsAlignRight | button | TabSetSlicerTools | TabSlicerDesign |
| ObjectsAlignTop | button | TabSetSlicerTools | TabSlicerDesign |
| ObjectsAlignMiddleVertical | button | TabSetSlicerTools | TabSlicerDesign |
| ObjectsAlignBottom | button | TabSetSlicerTools | TabSlicerDesign |
| AlignDistributeHorizontallyClassic | button | TabSetSlicerTools | TabSlicerDesign |
| AlignDistributeVerticallyClassic | button | TabSetSlicerTools | TabSlicerDesign |
| SnapToGrid | toggleButton | TabSetSlicerTools | TabSlicerDesign |
| SnapToShapes | toggleButton | TabSetSlicerTools | TabSlicerDesign |
| ViewGridlinesToggleExcel | toggleButton | TabSetSlicerTools | TabSlicerDesign |
| ObjectsGroupMenu | menu | TabSetSlicerTools | TabSlicerDesign |
| ObjectsGroup | button | TabSetSlicerTools | TabSlicerDesign |
| ObjectsRegroup | button | TabSetSlicerTools | TabSlicerDesign |
| ObjectsUngroup | button | TabSetSlicerTools | TabSlicerDesign |
| ObjectRotateGallery | gallery | TabSetSlicerTools | TabSlicerDesign |
| ObjectRotationOptionsDialog | button | TabSetSlicerTools | TabSlicerDesign |
| GroupSlicerRowColumnSize | group | TabSetSlicerTools | TabSlicerDesign |
| SlicerNumberOfColumns | control | TabSetSlicerTools | TabSlicerDesign |
| SlicerRowHeight | control | TabSetSlicerTools | TabSlicerDesign |
| SlicerColumnWidth | control | TabSetSlicerTools | TabSlicerDesign |
| GroupSize | group | TabSetSlicerTools | TabSlicerDesign |
| ShapeHeight | control | TabSetSlicerTools | TabSlicerDesign |
| ShapeWidth | control | TabSetSlicerTools | TabSlicerDesign |
| ObjectSizeAndPropertiesDialog | button (dialogBoxLauncher) | TabSetSlicerTools | TabSlicerDesign |
| TabSetPowerQuerySearch | tabSet | | |
| TabPowerQuerySearch | tab | TabSetPowerQuerySearch | |
| GroupPowerQuerySearchRefine | group | TabSetPowerQuerySearch | TabPowerQuerySearch |
| PowerQuerySearchByName | button | TabSetPowerQuerySearch | TabPowerQuerySearch |
| PowerQuerySearchByDescription | button | TabSetPowerQuerySearch | TabPowerQuerySearch |
| PowerQuerySearchByAuthor | button | TabSetPowerQuerySearch | TabPowerQuerySearch |
| PowerQuerySearchByDataSource | button | TabSetPowerQuerySearch | TabPowerQuerySearch |
| PowerQuerySearchSplitButtonRefineLastModified | gallery | TabSetPowerQuerySearch | TabPowerQuerySearch |
| PowerQuerySearchByColumnNames | button | TabSetPowerQuerySearch | TabPowerQuerySearch |
| PowerQuerySearchByCertified | toggleButton | TabSetPowerQuerySearch | TabPowerQuerySearch |
| GroupPowerQuerySearchOptions | group | TabSetPowerQuerySearch | TabPowerQuerySearch |
| PowerQuerySearchHistoryGallery | gallery | TabSetPowerQuerySearch | TabPowerQuerySearch |
| GroupPowerQuerySearchClose | group | TabSetPowerQuerySearch | TabPowerQuerySearch |
| PowerQuerySearchClose | button | TabSetPowerQuerySearch | TabPowerQuerySearch |
| TabSetPowerQueryEdit | tabSet | | |
| TabPowerQueryQueryEdit | tab | TabSetPowerQueryEdit | |
| GroupPowerQueryQueryData | group | TabSetPowerQueryEdit | TabPowerQueryQueryEdit |
| PowerQueryEditQuery | button | TabSetPowerQueryEdit | TabPowerQueryQueryEdit |
| PowerQueryQueryProperties | button | TabSetPowerQueryEdit | TabPowerQueryQueryEdit |
| PowerQueryDeleteQuery | button | TabSetPowerQueryEdit | TabPowerQueryQueryEdit |
| GroupPowerQueryQueryLoad | group | TabSetPowerQueryEdit | TabPowerQueryQueryEdit |
| FlyoutAnchorPowerQueryRefresh | splitButton | TabSetPowerQueryEdit | TabPowerQueryQueryEdit |
| GetPowerQueryRefresh | button | TabSetPowerQueryEdit | TabPowerQueryQueryEdit |
| PowerQueryCancelRefresh | button | TabSetPowerQueryEdit | TabPowerQueryQueryEdit |
| PowerQueryQueryLoadOptions | button | TabSetPowerQueryEdit | TabPowerQueryQueryEdit |
| GroupPowerQueryQueryManage | group | TabSetPowerQueryEdit | TabPowerQueryQueryEdit |
| PowerQueryDuplicateQuery | button | TabSetPowerQueryEdit | TabPowerQueryQueryEdit |
| PowerQueryReferenceQuery | button | TabSetPowerQueryEdit | TabPowerQueryQueryEdit |
| GroupPowerQueryQueryCombine | group | TabSetPowerQueryEdit | TabPowerQueryQueryEdit |
| PowerQueryMergeQuery | button | TabSetPowerQueryEdit | TabPowerQueryQueryEdit |
| PowerQueryAppendQuery | button | TabSetPowerQueryEdit | TabPowerQueryQueryEdit |
| GroupPowerQueryQueryShare | group | TabSetPowerQueryEdit | TabPowerQueryQueryEdit |
| PowerQueryShareQuery | button | TabSetPowerQueryEdit | TabPowerQueryQueryEdit |
| TabSetEquationTools | tabSet | | |
| TabEquationToolsDesign | tab | TabSetEquationTools | |
| GroupEquationTools | group | TabSetEquationTools | TabEquationToolsDesign |
| EquationInsertGallery | gallery | TabSetEquationTools | TabEquationToolsDesign |
| InkEquation | button | TabSetEquationTools | TabEquationToolsDesign |
| EquationProfessional | button | TabSetEquationTools | TabEquationToolsDesign |
| EquationLinearFormat | button | TabSetEquationTools | TabEquationToolsDesign |
| EquationNormalText | toggleButton | TabSetEquationTools | TabEquationToolsDesign |
| EquationOptions | button (dialogBoxLauncher) | TabSetEquationTools | TabEquationToolsDesign |
| GroupEquationSymbols | group | TabSetEquationTools | TabEquationToolsDesign |
| EquationSymbolsInsertGallery | gallery | TabSetEquationTools | TabEquationToolsDesign |
| GroupEquationStructures | group | TabSetEquationTools | TabEquationToolsDesign |
| EquationFractionGallery | gallery | TabSetEquationTools | TabEquationToolsDesign |
| EquationScriptGallery | gallery | TabSetEquationTools | TabEquationToolsDesign |
| EquationRadicalGallery | gallery | TabSetEquationTools | TabEquationToolsDesign |
| EquationIntegralGallery | gallery | TabSetEquationTools | TabEquationToolsDesign |
| EquationLargeOperatorGallery | gallery | TabSetEquationTools | TabEquationToolsDesign |
| EquationDelimiterGallery | gallery | TabSetEquationTools | TabEquationToolsDesign |
| EquationFunctionGallery | gallery | TabSetEquationTools | TabEquationToolsDesign |
| EquationAccentGallery | gallery | TabSetEquationTools | TabEquationToolsDesign |
| EquationLimitGallery | gallery | TabSetEquationTools | TabEquationToolsDesign |
| EquationOperatorGallery | gallery | TabSetEquationTools | TabEquationToolsDesign |
| EquationMatrixGallery | gallery | TabSetEquationTools | TabEquationToolsDesign |
| NoTcid | control | None (Backstage View) | |
| TabInfo | tab | None (Backstage View) | |
| GroupUploadErrors | group | None (Backstage View) | TabInfo |
| | group | None (Backstage View) | TabInfo |
| GroupARMPreview | group | None (Backstage View) | TabInfo |
| GroupWorkflows | group | None (Backstage View) | TabInfo |
| GrupPolicyWarning | group | None (Backstage View) | TabInfo |
| GroupSecurityWarning | group | None (Backstage View) | TabInfo |
| GroupProtectedView | group | None (Backstage View) | TabInfo |
| GroupReadOnly | group | None (Backstage View) | TabInfo |
| GroupReadOnlyServer | group | None (Backstage View) | TabInfo |
| GroupReadOnlyOffline | group | None (Backstage View) | TabInfo |
| GroupReadOnlyCheckOutRequired | group | None (Backstage View) | TabInfo |
| GroupReadOnlyCachedOffline | group | None (Backstage View) | TabInfo |
| ReadOnlyCachedOffline | button | None (Backstage View) | TabInfo |
| GroupReadOnlyCached | group | None (Backstage View) | TabInfo |
| GroupCheckIn | group | None (Backstage View) | TabInfo |
| FileCheckOutDiscard | button | None (Backstage View) | TabInfo |
| GroupFileConvert | group | None (Backstage View) | TabInfo |
| UpgradeDocument | button | None (Backstage View) | TabInfo |
| OfficePolicyTips | group | None (Backstage View) | TabInfo |
| GroupSignatures | group | None (Backstage View) | TabInfo |
| GroupPermissions | group | None (Backstage View) | TabInfo |
| FileMarkAsFinal | control | None (Backstage View) | TabInfo |
| FileDocumentEncrypt | control | None (Backstage View) | TabInfo |
| UsagePermissions | button | None (Backstage View) | TabInfo |
| FileAddDigitalSignature | button | None (Backstage View) | TabInfo |
| GroupPrepareForSharing | group | None (Backstage View) | TabInfo |
| AllowPersonallyIdentifiableInformation | control | None (Backstage View) | TabInfo |
| GroupVersions | group | None (Backstage View) | TabInfo |
| GroupPublishToExcelServices | group | None (Backstage View) | TabInfo |
| GroupThumbnail | group | None (Backstage View) | TabInfo |
| GroupDocumentProperties | group | None (Backstage View) | TabInfo |
| TabOfficeStart | tab | None (Backstage View) | |
| GroupOfficeStart | group | None (Backstage View) | TabOfficeStart |
| TabRecent | tab | None (Backstage View) | |
| GroupOpenPlaces | taskFormGroup | None (Backstage View) | TabRecent |
| ButtonCategoryRecentDocuments | category | None (Backstage View) | TabRecent |
| ButtonTaskRecentDocuments | task | None (Backstage View) | TabRecent |
| GroupRecentDocuments | group | None (Backstage View) | TabRecent |
| ButtonOpenBrowse | button | None (Backstage View) | TabRecent |
| GroupRecoverUnsavedFiles | group | None (Backstage View) | TabRecent |
| ButtonTaskDynamicServiceProvider | task | None (Backstage View) | TabRecent |
| GroupRecentPlaces | group | None (Backstage View) | TabRecent |
| GroupGettingStartedOpenMRUPlacesOrNavSlab | group | None (Backstage View) | TabRecent |
| SkyDriveUpsellGroup | group | None (Backstage View) | TabRecent |
| | button | None (Backstage View) | TabRecent |
| LoadingServicesGroup | group | None (Backstage View) | TabRecent |
| GroupAddLocation | group | None (Backstage View) | TabRecent |
| FileSave | button | None (Backstage View) | |
| TabSave | tab | None (Backstage View) | |
| SaveGroup | taskFormGroup | None (Backstage View) | TabSave |
| Save | category | None (Backstage View) | TabSave |
| ButtonTaskDynamicServiceProvider | task | None (Backstage View) | TabSave |
| GroupDynamicServiceProvider | group | None (Backstage View) | TabSave |
| GroupGettingStartedSaveAsMRUPlacesOrNavSlab | group | None (Backstage View) | TabSave |
| SkyDriveUpsellGroup | group | None (Backstage View) | TabSave |
| | button | None (Backstage View) | TabSave |
| LoadingServicesGroup | group | None (Backstage View) | TabSave |
| GroupAddLocation | group | None (Backstage View) | TabSave |
| HistoryTab | button | None (Backstage View) | |
| TabPrint | tab | None (Backstage View) | |
| GroupPrintProtectedView | group | None (Backstage View) | TabPrint |
| GroupPrintSettings | group | None (Backstage View) | TabPrint |
| GroupPrintPreview | group | None (Backstage View) | TabPrint |
| TabShare | tab | None (Backstage View) | |
| GroupShare | taskFormGroup | None (Backstage View) | TabShare |
| Share | category | None (Backstage View) | TabShare |
| ShareWithPeopleFromSharePane | task | None (Backstage View) | TabShare |
| SlabShareWithPeopleFromSharePane | group | None (Backstage View) | TabShare |
| SendUsingEmail | task | None (Backstage View) | TabShare |
| GroupSendAsAttachment | group | None (Backstage View) | TabShare |
| GroupSendAsLink | group | None (Backstage View) | TabShare |
| GroupSendAsPdf | group | None (Backstage View) | TabShare |
| GroupSendAsXps | group | None (Backstage View) | TabShare |
| GroupSendAsInternetFax | group | None (Backstage View) | TabShare |
| AppShare | task | None (Backstage View) | TabShare |
| GroupAppShare | group | None (Backstage View) | TabShare |
| SendByInstantMessage | task | None (Backstage View) | TabShare |
| GroupSendByInstantMessage | group | None (Backstage View) | TabShare |
| Workflow | category | None (Backstage View) | TabShare |
| WorkflowStart | task | None (Backstage View) | TabShare |
| GroupWorkflowStart | group | None (Backstage View) | TabShare |
| WorkflowsUnavailable | task | None (Backstage View) | TabShare |
| GroupWorkflowsUnavailable | group | None (Backstage View) | TabShare |
| TabPublish | tab | None (Backstage View) | |
| PublishGroup | taskFormGroup | None (Backstage View) | TabPublish |
| FileTypes | category | None (Backstage View) | TabPublish |
| FileSaveAsPdfOrXps | task | None (Backstage View) | TabPublish |
| GroupCreatePdfOrXpsDocument | group | None (Backstage View) | TabPublish |
| FileTypeChange | task | None (Backstage View) | TabPublish |
| GroupFileSave | group | None (Backstage View) | TabPublish |
| Publish2Tab | tab | None (Backstage View) | |
| Publish2Group | taskFormGroup | None (Backstage View) | Publish2Tab |
| Publish2ButtonCategory | category | None (Backstage View) | Publish2Tab |
| PublishToPowerBI | task | None (Backstage View) | Publish2Tab |
| PublishToPowerBI | group | None (Backstage View) | Publish2Tab |
| FileClose | button | None (Backstage View) | |
| TabHelp | tab | None (Backstage View) | |
| GroupBackstageIdentity | group | None (Backstage View) | TabHelp |
| Personalization | group | None (Backstage View) | TabHelp |
| Theming | group | None (Backstage View) | TabHelp |
| ManageServices | group | None (Backstage View) | TabHelp |
| GroupBackstageSignInDisabled | group | None (Backstage View) | TabHelp |
| GroupBackstageSignIn | group | None (Backstage View) | TabHelp |
| | button | None (Backstage View) | TabHelp |
| GroupOfficeBranding | group | None (Backstage View) | TabHelp |
| GroupClickToRunUpdateStatus | group | None (Backstage View) | TabHelp |
| GroupAboutOfficeProducts | group | None (Backstage View) | TabHelp |
| ApplicationOptionsDialog | button | None (Backstage View) | |
| ContextMenuWorkbook | contextMenu | None (Context Menu) | None (Context Menu) |
| ContextMenuWorkbookPly | contextMenu | None (Context Menu) | None (Context Menu) |
| SheetInsertPage | button | None (Context Menu) | None (Context Menu) |
| SheetDelete | button | None (Context Menu) | None (Context Menu) |
| SheetRename | button | None (Context Menu) | None (Context Menu) |
| SheetMoveOrCopy | button | None (Context Menu) | None (Context Menu) |
| ViewVisualBasicCode | button | None (Context Menu) | None (Context Menu) |
| SheetProtect | button | None (Context Menu) | None (Context Menu) |
| SheetTabColorGallery | gallery | None (Context Menu) | None (Context Menu) |
| SheetTabColorMoreColorsDialog | button | None (Context Menu) | None (Context Menu) |
| SheetHide | button | None (Context Menu) | None (Context Menu) |
| SheetUnhide | button | None (Context Menu) | None (Context Menu) |
| SelectAllSheets | button | None (Context Menu) | None (Context Menu) |
| UngroupSheets | button | None (Context Menu) | None (Context Menu) |
| ContextMenuFormulaBar | contextMenu | None (Context Menu) | None (Context Menu) |
| ContextMenuDesktop | contextMenu | None (Context Menu) | None (Context Menu) |
| ContextMenuTitleBar | contextMenu | None (Context Menu) | None (Context Menu) |
| ContextMenuPreviewer | contextMenu | None (Context Menu) | None (Context Menu) |
| ContextMenuCellLayout | contextMenu | None (Context Menu) | None (Context Menu) |
| ContextMenuCell | contextMenu | None (Context Menu) | None (Context Menu) |
| ContextMenuRowLayout | contextMenu | None (Context Menu) | None (Context Menu) |
| ContextMenuRow | contextMenu | None (Context Menu) | None (Context Menu) |
| ContextMenuColumnLayout | contextMenu | None (Context Menu) | None (Context Menu) |
| ContextMenuColumn | contextMenu | None (Context Menu) | None (Context Menu) |
| ContextMenuDialogPly | contextMenu | None (Context Menu) | None (Context Menu) |
| ContextMenuMacroCell | contextMenu | None (Context Menu) | None (Context Menu) |
| ContextMenuXmlRangeLayout | contextMenu | None (Context Menu) | None (Context Menu) |
| ContextMenuXmlRange | contextMenu | None (Context Menu) | None (Context Menu) |
| ContextMenuListRangeLayout | contextMenu | None (Context Menu) | None (Context Menu) |
| ContextMenuListRange | contextMenu | None (Context Menu) | None (Context Menu) |
| ContextMenuPivotTable | contextMenu | None (Context Menu) | None (Context Menu) |
| ContextMenuDrawnObject | contextMenu | None (Context Menu) | None (Context Menu) |
| ContextMenuActiveXControl | contextMenu | None (Context Menu) | None (Context Menu) |
| ContextMenuFormControl | contextMenu | None (Context Menu) | None (Context Menu) |
| ContextMenuOleObject | contextMenu | None (Context Menu) | None (Context Menu) |
| ContextMenuCurve | contextMenu | None (Context Menu) | None (Context Menu) |
| ContextMenuCurveNode | contextMenu | None (Context Menu) | None (Context Menu) |
| ContextMenuCurveSegment | contextMenu | None (Context Menu) | None (Context Menu) |
| ContextMenuConnectorClassic | contextMenu | None (Context Menu) | None (Context Menu) |
| ContextMenuQueryLayout | contextMenu | None (Context Menu) | None (Context Menu) |
| ContextMenuQuery | contextMenu | None (Context Menu) | None (Context Menu) |
| ContextMenuAutoFill | contextMenu | None (Context Menu) | None (Context Menu) |
| ContextMenuRightDragDrop | contextMenu | None (Context Menu) | None (Context Menu) |
| ContextMenuPhoneticEdit | contextMenu | None (Context Menu) | None (Context Menu) |
| ContextMenuPictureClassic | contextMenu | None (Context Menu) | None (Context Menu) |
| ContextMenuRowTouch | contextMenu | None (Context Menu) | None (Context Menu) |
| ContextMenuColumnTouch | contextMenu | None (Context Menu) | None (Context Menu) |
| ContextMenuPivotTableTouch | contextMenu | None (Context Menu) | None (Context Menu) |
| ContextMenuPivotTableSimpleTouch | contextMenu | None (Context Menu) | None (Context Menu) |
| ContextMenuPicture | contextMenu | None (Context Menu) | None (Context Menu) |
| Cut | button | None (Context Menu) | None (Context Menu) |
| Copy | button | None (Context Menu) | None (Context Menu) |
| PasteGalleryMini | gallery | None (Context Menu) | None (Context Menu) |
| PictureEdit | button | None (Context Menu) | None (Context Menu) |
| PictureChange | button | None (Context Menu) | None (Context Menu) |
| ObjectsGroupMenu | menu | None (Context Menu) | None (Context Menu) |
| ObjectsGroup | button | None (Context Menu) | None (Context Menu) |
| ObjectsRegroup | button | None (Context Menu) | None (Context Menu) |
| ObjectsUngroup | button | None (Context Menu) | None (Context Menu) |
| ObjectBringToFrontMenu | splitButton | None (Context Menu) | None (Context Menu) |
| ObjectBringToFront | button | None (Context Menu) | None (Context Menu) |
| ObjectBringForward | button | None (Context Menu) | None (Context Menu) |
| ObjectSendToBackMenu | splitButton | None (Context Menu) | None (Context Menu) |
| ObjectSendToBack | button | None (Context Menu) | None (Context Menu) |
| ObjectSendBackward | button | None (Context Menu) | None (Context Menu) |
| HyperlinkInsert | button | None (Context Menu) | None (Context Menu) |
| HyperlinkEdit | button | None (Context Menu) | None (Context Menu) |
| HyperlinkOpenExcel | button | None (Context Menu) | None (Context Menu) |
| HyperlinkRemove | button | None (Context Menu) | None (Context Menu) |
| MacroAssign | button | None (Context Menu) | None (Context Menu) |
| ObjectSizeAndPropertiesDialog | button | None (Context Menu) | None (Context Menu) |
| ObjectFormatDialog | button | None (Context Menu) | None (Context Menu) |
| ContextMenuShape | contextMenu | None (Context Menu) | None (Context Menu) |
| Cut | button | None (Context Menu) | None (Context Menu) |
| Copy | button | None (Context Menu) | None (Context Menu) |
| PasteGalleryMini | gallery | None (Context Menu) | None (Context Menu) |
| ObjectAddText | button | None (Context Menu) | None (Context Menu) |
| ObjectEditText | button | None (Context Menu) | None (Context Menu) |
| ObjectEditPoints | toggleButton | None (Context Menu) | None (Context Menu) |
| ObjectsGroupMenu | menu | None (Context Menu) | None (Context Menu) |
| ObjectsGroup | button | None (Context Menu) | None (Context Menu) |
| ObjectsRegroup | button | None (Context Menu) | None (Context Menu) |
| ObjectsUngroup | button | None (Context Menu) | None (Context Menu) |
| ObjectBringToFrontMenu | splitButton | None (Context Menu) | None (Context Menu) |
| ObjectBringToFront | button | None (Context Menu) | None (Context Menu) |
| ObjectBringForward | button | None (Context Menu) | None (Context Menu) |
| ObjectSendToBackMenu | splitButton | None (Context Menu) | None (Context Menu) |
| ObjectSendToBack | button | None (Context Menu) | None (Context Menu) |
| ObjectSendBackward | button | None (Context Menu) | None (Context Menu) |
| HyperlinkInsert | button | None (Context Menu) | None (Context Menu) |
| HyperlinkEdit | button | None (Context Menu) | None (Context Menu) |
| HyperlinkOpenExcel | button | None (Context Menu) | None (Context Menu) |
| HyperlinkRemove | button | None (Context Menu) | None (Context Menu) |
| MacroAssign | button | None (Context Menu) | None (Context Menu) |
| ObjectSetShapeDefaults | button | None (Context Menu) | None (Context Menu) |
| ObjectSizeAndPropertiesDialog | button | None (Context Menu) | None (Context Menu) |
| ObjectFormatDialog | button | None (Context Menu) | None (Context Menu) |
| ContextMenuInk | contextMenu | None (Context Menu) | None (Context Menu) |
| Cut | button | None (Context Menu) | None (Context Menu) |
| Copy | button | None (Context Menu) | None (Context Menu) |
| InkCopyAsText | button | None (Context Menu) | None (Context Menu) |
| PasteGalleryMini | gallery | None (Context Menu) | None (Context Menu) |
| ObjectsGroupMenu | menu | None (Context Menu) | None (Context Menu) |
| ObjectsGroup | button | None (Context Menu) | None (Context Menu) |
| ObjectsRegroup | button | None (Context Menu) | None (Context Menu) |
| ObjectsUngroup | button | None (Context Menu) | None (Context Menu) |
| ObjectBringToFrontMenu | splitButton | None (Context Menu) | None (Context Menu) |
| ObjectBringToFront | button | None (Context Menu) | None (Context Menu) |
| ObjectBringForward | button | None (Context Menu) | None (Context Menu) |
| ObjectSendToBackMenu | splitButton | None (Context Menu) | None (Context Menu) |
| ObjectSendToBack | button | None (Context Menu) | None (Context Menu) |
| ObjectSendBackward | button | None (Context Menu) | None (Context Menu) |
| MacroAssign | button | None (Context Menu) | None (Context Menu) |
| ObjectSetShapeDefaults | button | None (Context Menu) | None (Context Menu) |
| ObjectSizeAndPropertiesDialog | button | None (Context Menu) | None (Context Menu) |
| ObjectFormatDialog | button | None (Context Menu) | None (Context Menu) |
| ContextMenuObjectsGroup | contextMenu | None (Context Menu) | None (Context Menu) |
| Cut | button | None (Context Menu) | None (Context Menu) |
| Copy | button | None (Context Menu) | None (Context Menu) |
| PasteGalleryMini | gallery | None (Context Menu) | None (Context Menu) |
| ObjectsGroupMenu | menu | None (Context Menu) | None (Context Menu) |
| ObjectsGroup | button | None (Context Menu) | None (Context Menu) |
| ObjectsRegroup | button | None (Context Menu) | None (Context Menu) |
| ObjectsUngroup | button | None (Context Menu) | None (Context Menu) |
| ObjectBringToFrontMenu | splitButton | None (Context Menu) | None (Context Menu) |
| ObjectBringToFront | button | None (Context Menu) | None (Context Menu) |
| ObjectBringForward | button | None (Context Menu) | None (Context Menu) |
| ObjectSendToBackMenu | splitButton | None (Context Menu) | None (Context Menu) |
| ObjectSendToBack | button | None (Context Menu) | None (Context Menu) |
| ObjectSendBackward | button | None (Context Menu) | None (Context Menu) |
| HyperlinkInsert | button | None (Context Menu) | None (Context Menu) |
| HyperlinkEdit | button | None (Context Menu) | None (Context Menu) |
| HyperlinkOpenExcel | button | None (Context Menu) | None (Context Menu) |
| HyperlinkRemove | button | None (Context Menu) | None (Context Menu) |
| MacroAssign | button | None (Context Menu) | None (Context Menu) |
| ObjectSetShapeDefaults | button | None (Context Menu) | None (Context Menu) |
| ObjectSizeAndPropertiesDialog | button | None (Context Menu) | None (Context Menu) |
| ObjectFormatDialog | button | None (Context Menu) | None (Context Menu) |
| ContextMenuObjectEditPoint | contextMenu | None (Context Menu) | None (Context Menu) |
| AddNode | button | None (Context Menu) | None (Context Menu) |
| DeleteNode | button | None (Context Menu) | None (Context Menu) |
| OpenPath | toggleButton | None (Context Menu) | None (Context Menu) |
| ClosePath | toggleButton | None (Context Menu) | None (Context Menu) |
| SmoothVertex | toggleButton | None (Context Menu) | None (Context Menu) |
| StraightVertex | toggleButton | None (Context Menu) | None (Context Menu) |
| CornerVertex | toggleButton | None (Context Menu) | None (Context Menu) |
| ExitEditCurve | button | None (Context Menu) | None (Context Menu) |
| ContextMenuObjectEditSegment | contextMenu | None (Context Menu) | None (Context Menu) |
| AddNode | button | None (Context Menu) | None (Context Menu) |
| DeleteSegment | button | None (Context Menu) | None (Context Menu) |
| OpenPath | toggleButton | None (Context Menu) | None (Context Menu) |
| ClosePath | toggleButton | None (Context Menu) | None (Context Menu) |
| MakeSegmentStraight | button | None (Context Menu) | None (Context Menu) |
| MakeSegmentCurved | button | None (Context Menu) | None (Context Menu) |
| ExitEditCurve | button | None (Context Menu) | None (Context Menu) |
| ContextMenuTextEdit | contextMenu | None (Context Menu) | None (Context Menu) |
| FirstCorrectionAlternative | button | None (Context Menu) | None (Context Menu) |
| SecondCorrectionAlternative | button | None (Context Menu) | None (Context Menu) |
| ThirdCorrectionAlternative | button | None (Context Menu) | None (Context Menu) |
| FourthCorrectionAlternative | button | None (Context Menu) | None (Context Menu) |
| FifthCorrectionAlternative | button | None (Context Menu) | None (Context Menu) |
| MoreCorrectionAlternatives | button | None (Context Menu) | None (Context Menu) |
| Cut | button | None (Context Menu) | None (Context Menu) |
| Copy | button | None (Context Menu) | None (Context Menu) |
| PasteGalleryMini | gallery | None (Context Menu) | None (Context Menu) |
| EquationOptionsGallery | gallery | None (Context Menu) | None (Context Menu) |
| TextEditModeExit | button | None (Context Menu) | None (Context Menu) |
| FontDialog | button | None (Context Menu) | None (Context Menu) |
| ParagraphDialog | button | None (Context Menu) | None (Context Menu) |
| BulletsGallery | gallery | None (Context Menu) | None (Context Menu) |
| BulletsAndNumberingBulletsDialog | button | None (Context Menu) | None (Context Menu) |
| ImeReconvert | button | None (Context Menu) | None (Context Menu) |
| HyperlinkInsert | button | None (Context Menu) | None (Context Menu) |
| HyperlinkEdit | button | None (Context Menu) | None (Context Menu) |
| HyperlinkOpenExcel | button | None (Context Menu) | None (Context Menu) |
| HyperlinkRemove | button | None (Context Menu) | None (Context Menu) |
| MacroAssign | button | None (Context Menu) | None (Context Menu) |
| WordArtFormatDialog | button | None (Context Menu) | None (Context Menu) |
| ObjectFormatDialog | button | None (Context Menu) | None (Context Menu) |
| ContextMenuShapeConnector | contextMenu | None (Context Menu) | None (Context Menu) |
| Cut | button | None (Context Menu) | None (Context Menu) |
| Copy | button | None (Context Menu) | None (Context Menu) |
| PasteGalleryMini | gallery | None (Context Menu) | None (Context Menu) |
| ShapeConnectorStyleMenu | menu | None (Context Menu) | None (Context Menu) |
| ShapeConnectorStyleStraight | toggleButton | None (Context Menu) | None (Context Menu) |
| ShapeConnectorStyleElbow | toggleButton | None (Context Menu) | None (Context Menu) |
| ShapeConnectorStyleCurved | toggleButton | None (Context Menu) | None (Context Menu) |
| ShapeRerouteConnectors | toggleButton | None (Context Menu) | None (Context Menu) |
| ObjectsGroupMenu | menu | None (Context Menu) | None (Context Menu) |
| ObjectsGroup | button | None (Context Menu) | None (Context Menu) |
| ObjectsRegroup | button | None (Context Menu) | None (Context Menu) |
| ObjectsUngroup | button | None (Context Menu) | None (Context Menu) |
| ObjectBringToFrontMenu | splitButton | None (Context Menu) | None (Context Menu) |
| ObjectBringToFront | button | None (Context Menu) | None (Context Menu) |
| ObjectBringForward | button | None (Context Menu) | None (Context Menu) |
| ObjectSendToBackMenu | splitButton | None (Context Menu) | None (Context Menu) |
| ObjectSendToBack | button | None (Context Menu) | None (Context Menu) |
| ObjectSendBackward | button | None (Context Menu) | None (Context Menu) |
| HyperlinkInsert | button | None (Context Menu) | None (Context Menu) |
| HyperlinkEdit | button | None (Context Menu) | None (Context Menu) |
| HyperlinkOpenExcel | button | None (Context Menu) | None (Context Menu) |
| HyperlinkRemove | button | None (Context Menu) | None (Context Menu) |
| MacroAssign | button | None (Context Menu) | None (Context Menu) |
| ObjectSetShapeDefaults | button | None (Context Menu) | None (Context Menu) |
| ObjectSizeAndPositionDialog | button | None (Context Menu) | None (Context Menu) |
| ObjectFormatDialog | button | None (Context Menu) | None (Context Menu) |
| ContextMenuShapeFreeform | contextMenu | None (Context Menu) | None (Context Menu) |
| Cut | button | None (Context Menu) | None (Context Menu) |
| Copy | button | None (Context Menu) | None (Context Menu) |
| PasteGalleryMini | gallery | None (Context Menu) | None (Context Menu) |
| ObjectAddText | button | None (Context Menu) | None (Context Menu) |
| ObjectEditText | button | None (Context Menu) | None (Context Menu) |
| ObjectEditPoints | toggleButton | None (Context Menu) | None (Context Menu) |
| ObjectsGroupMenu | menu | None (Context Menu) | None (Context Menu) |
| ObjectsGroup | button | None (Context Menu) | None (Context Menu) |
| ObjectsRegroup | button | None (Context Menu) | None (Context Menu) |
| ObjectsUngroup | button | None (Context Menu) | None (Context Menu) |
| ObjectBringToFrontMenu | splitButton | None (Context Menu) | None (Context Menu) |
| ObjectBringToFront | button | None (Context Menu) | None (Context Menu) |
| ObjectBringForward | button | None (Context Menu) | None (Context Menu) |
| ObjectSendToBackMenu | splitButton | None (Context Menu) | None (Context Menu) |
| ObjectSendToBack | button | None (Context Menu) | None (Context Menu) |
| ObjectSendBackward | button | None (Context Menu) | None (Context Menu) |
| HyperlinkInsert | button | None (Context Menu) | None (Context Menu) |
| HyperlinkEdit | button | None (Context Menu) | None (Context Menu) |
| HyperlinkOpenExcel | button | None (Context Menu) | None (Context Menu) |
| HyperlinkRemove | button | None (Context Menu) | None (Context Menu) |
| MacroAssign | button | None (Context Menu) | None (Context Menu) |
| ObjectSetShapeDefaults | button | None (Context Menu) | None (Context Menu) |
| ObjectSizeAndPositionDialog | button | None (Context Menu) | None (Context Menu) |
| ObjectFormatDialog | button | None (Context Menu) | None (Context Menu) |
| ContextMenuChartArea | contextMenu | None (Context Menu) | None (Context Menu) |
| PivotChartRefresh | button | None (Context Menu) | None (Context Menu) |
| Cut | button | None (Context Menu) | None (Context Menu) |
| Copy | button | None (Context Menu) | None (Context Menu) |
| PasteGalleryMini | gallery | None (Context Menu) | None (Context Menu) |
| ChartResetToMatchStyle | button | None (Context Menu) | None (Context Menu) |
| FontDialog | button | None (Context Menu) | None (Context Menu) |
| ChartChangeType | button | None (Context Menu) | None (Context Menu) |
| ChartSaveTemplates | button | None (Context Menu) | None (Context Menu) |
| ChartEditDataSource | button | None (Context Menu) | None (Context Menu) |
| ChartPlacement | button | None (Context Menu) | None (Context Menu) |
| Chart3DView | button | None (Context Menu) | None (Context Menu) |
| ObjectsGroupMenu | menu | None (Context Menu) | None (Context Menu) |
| ObjectsGroup | button | None (Context Menu) | None (Context Menu) |
| ObjectsRegroup | button | None (Context Menu) | None (Context Menu) |
| ObjectsUngroup | button | None (Context Menu) | None (Context Menu) |
| ObjectBringToFrontMenu | splitButton | None (Context Menu) | None (Context Menu) |
| ObjectBringToFront | button | None (Context Menu) | None (Context Menu) |
| ObjectBringForward | button | None (Context Menu) | None (Context Menu) |
| ObjectSendToBackMenu | splitButton | None (Context Menu) | None (Context Menu) |
| ObjectSendToBack | button | None (Context Menu) | None (Context Menu) |
| ObjectSendBackward | button | None (Context Menu) | None (Context Menu) |
| MacroAssign | button | None (Context Menu) | None (Context Menu) |
| ChartFormatChartArea | button | None (Context Menu) | None (Context Menu) |
| PivotChartOptionsPopup | button | None (Context Menu) | None (Context Menu) |
| PivotFieldListShowHideContextual | toggleButton | None (Context Menu) | None (Context Menu) |
| ChartShowBigPicture | button | None (Context Menu) | None (Context Menu) |
| ContextMenuChartAxis | contextMenu | None (Context Menu) | None (Context Menu) |
| ChartDelete | button | None (Context Menu) | None (Context Menu) |
| ChartResetToMatchStyle | button | None (Context Menu) | None (Context Menu) |
| FontDialog | button | None (Context Menu) | None (Context Menu) |
| ChartChangeType | button | None (Context Menu) | None (Context Menu) |
| ChartSourceDataContextualMenu | button | None (Context Menu) | None (Context Menu) |
| ChartEditDataMenu | splitButton | None (Context Menu) | None (Context Menu) |
| ChartShowDataGrid | button | None (Context Menu) | None (Context Menu) |
| ChartShowDataContextualMenu | button | None (Context Menu) | None (Context Menu) |
| Chart3DView | button | None (Context Menu) | None (Context Menu) |
| ChartMajorGridlinesAdd | button | None (Context Menu) | None (Context Menu) |
| ChartMinorGridlinesAdd | button | None (Context Menu) | None (Context Menu) |
| ChartFormatMajorGridlinesAndSelect | button | None (Context Menu) | None (Context Menu) |
| ChartFormatMinorGridlinesAndSelect | button | None (Context Menu) | None (Context Menu) |
| ChartFormatAxis | button | None (Context Menu) | None (Context Menu) |
| | button | None (Context Menu) | None (Context Menu) |
| ContextMenuChartAxisLabel | contextMenu | None (Context Menu) | None (Context Menu) |
| PivotTableSortMenu | menu | None (Context Menu) | None (Context Menu) |
| PivotTableFilterMenu | menu | None (Context Menu) | None (Context Menu) |
| ChartShowHideLevelsMenu | menu | None (Context Menu) | None (Context Menu) |
| ChartExpandCollapseMenu | menu | None (Context Menu) | None (Context Menu) |
| ChartNavDrillDownDrillUpMenu | menu | None (Context Menu) | None (Context Menu) |
| ChartQuickExplore | button | None (Context Menu) | None (Context Menu) |
| PivotTableReorderingMenu | menu | None (Context Menu) | None (Context Menu) |
| ChartPropertiesInTooltips | menu | None (Context Menu) | None (Context Menu) |
| PivotActionPopup | menu | None (Context Menu) | None (Context Menu) |
| ChartDelete | button | None (Context Menu) | None (Context Menu) |
| ChartResetToMatchStyle | button | None (Context Menu) | None (Context Menu) |
| FontDialog | button | None (Context Menu) | None (Context Menu) |
| ChartChangeType | button | None (Context Menu) | None (Context Menu) |
| ChartSourceDataContextualMenu | button | None (Context Menu) | None (Context Menu) |
| ChartEditDataMenu | splitButton | None (Context Menu) | None (Context Menu) |
| ChartShowDataGrid | button | None (Context Menu) | None (Context Menu) |
| ChartShowDataContextualMenu | button | None (Context Menu) | None (Context Menu) |
| Chart3DView | button | None (Context Menu) | None (Context Menu) |
| ChartMajorGridlinesAdd | button | None (Context Menu) | None (Context Menu) |
| ChartMinorGridlinesAdd | button | None (Context Menu) | None (Context Menu) |
| ChartFormatMajorGridlinesAndSelect | button | None (Context Menu) | None (Context Menu) |
| ChartFormatMinorGridlinesAndSelect | button | None (Context Menu) | None (Context Menu) |
| ChartFormatAxis | button | None (Context Menu) | None (Context Menu) |
| ContextMenuChartAxisTitle | contextMenu | None (Context Menu) | None (Context Menu) |
| FirstCorrectionAlternative | button | None (Context Menu) | None (Context Menu) |
| SecondCorrectionAlternative | button | None (Context Menu) | None (Context Menu) |
| ThirdCorrectionAlternative | button | None (Context Menu) | None (Context Menu) |
| FourthCorrectionAlternative | button | None (Context Menu) | None (Context Menu) |
| FifthCorrectionAlternative | button | None (Context Menu) | None (Context Menu) |
| MoreCorrectionAlternatives | button | None (Context Menu) | None (Context Menu) |
| ChartDelete | button | None (Context Menu) | None (Context Menu) |
| ChartResetToMatchStyle | button | None (Context Menu) | None (Context Menu) |
| ChartEditText | button | None (Context Menu) | None (Context Menu) |
| ChartExitEditText | button | None (Context Menu) | None (Context Menu) |
| FontDialog | button | None (Context Menu) | None (Context Menu) |
| ChartChangeType | button | None (Context Menu) | None (Context Menu) |
| ChartSourceDataContextualMenu | button | None (Context Menu) | None (Context Menu) |
| ChartEditDataMenu | splitButton | None (Context Menu) | None (Context Menu) |
| ChartShowDataGrid | button | None (Context Menu) | None (Context Menu) |
| ChartShowDataContextualMenu | button | None (Context Menu) | None (Context Menu) |
| Chart3DView | button | None (Context Menu) | None (Context Menu) |
| ChartFormatAxisTitle | button | None (Context Menu) | None (Context Menu) |
| | button | None (Context Menu) | None (Context Menu) |
| ContextMenuChartBackWall | contextMenu | None (Context Menu) | None (Context Menu) |
| ChartDelete | button | None (Context Menu) | None (Context Menu) |
| ChartResetToMatchStyle | button | None (Context Menu) | None (Context Menu) |
| ChartChangeType | button | None (Context Menu) | None (Context Menu) |
| ChartSourceDataContextualMenu | button | None (Context Menu) | None (Context Menu) |
| ChartEditDataMenu | splitButton | None (Context Menu) | None (Context Menu) |
| ChartShowDataGrid | button | None (Context Menu) | None (Context Menu) |
| ChartShowDataContextualMenu | button | None (Context Menu) | None (Context Menu) |
| Chart3DView | button | None (Context Menu) | None (Context Menu) |
| ChartFormatBackWall | button | None (Context Menu) | None (Context Menu) |
| | button | None (Context Menu) | None (Context Menu) |
| ContextMenuChartTitle | contextMenu | None (Context Menu) | None (Context Menu) |
| FirstCorrectionAlternative | button | None (Context Menu) | None (Context Menu) |
| SecondCorrectionAlternative | button | None (Context Menu) | None (Context Menu) |
| ThirdCorrectionAlternative | button | None (Context Menu) | None (Context Menu) |
| FourthCorrectionAlternative | button | None (Context Menu) | None (Context Menu) |
| FifthCorrectionAlternative | button | None (Context Menu) | None (Context Menu) |
| MoreCorrectionAlternatives | button | None (Context Menu) | None (Context Menu) |
| ChartDelete | button | None (Context Menu) | None (Context Menu) |
| ChartResetToMatchStyle | button | None (Context Menu) | None (Context Menu) |
| ChartEditText | button | None (Context Menu) | None (Context Menu) |
| ChartExitEditText | button | None (Context Menu) | None (Context Menu) |
| FontDialog | button | None (Context Menu) | None (Context Menu) |
| ChartChangeType | button | None (Context Menu) | None (Context Menu) |
| ChartSourceDataContextualMenu | button | None (Context Menu) | None (Context Menu) |
| ChartEditDataMenu | splitButton | None (Context Menu) | None (Context Menu) |
| ChartShowDataGrid | button | None (Context Menu) | None (Context Menu) |
| ChartShowDataContextualMenu | button | None (Context Menu) | None (Context Menu) |
| Chart3DView | button | None (Context Menu) | None (Context Menu) |
| ChartFormatChartTitle | button | None (Context Menu) | None (Context Menu) |
| | button | None (Context Menu) | None (Context Menu) |
| ContextMenuChartDataLabel | contextMenu | None (Context Menu) | None (Context Menu) |
| FirstCorrectionAlternative | button | None (Context Menu) | None (Context Menu) |
| SecondCorrectionAlternative | button | None (Context Menu) | None (Context Menu) |
| ThirdCorrectionAlternative | button | None (Context Menu) | None (Context Menu) |
| FourthCorrectionAlternative | button | None (Context Menu) | None (Context Menu) |
| FifthCorrectionAlternative | button | None (Context Menu) | None (Context Menu) |
| MoreCorrectionAlternatives | button | None (Context Menu) | None (Context Menu) |
| ChartDelete | button | None (Context Menu) | None (Context Menu) |
| ChartResetToMatchStyle | button | None (Context Menu) | None (Context Menu) |
| ChartEditText | button | None (Context Menu) | None (Context Menu) |
| ChartExitEditText | button | None (Context Menu) | None (Context Menu) |
| FontDialog | button | None (Context Menu) | None (Context Menu) |
| ChartInsertDataField | button | None (Context Menu) | None (Context Menu) |
| ChartChangeType | button | None (Context Menu) | None (Context Menu) |
| ChartSourceDataContextualMenu | button | None (Context Menu) | None (Context Menu) |
| ChartEditDataMenu | splitButton | None (Context Menu) | None (Context Menu) |
| ChartShowDataGrid | button | None (Context Menu) | None (Context Menu) |
| ChartShowDataContextualMenu | button | None (Context Menu) | None (Context Menu) |
| Chart3DView | button | None (Context Menu) | None (Context Menu) |
| ChartFormatDataPointAndSelect | button | None (Context Menu) | None (Context Menu) |
| ChartChangeDataLabelShapeGallery | gallery | None (Context Menu) | None (Context Menu) |
| ChartFormatDataLabel | button | None (Context Menu) | None (Context Menu) |
| | button | None (Context Menu) | None (Context Menu) |
| ContextMenuChartDataLabels | contextMenu | None (Context Menu) | None (Context Menu) |
| ChartDelete | button | None (Context Menu) | None (Context Menu) |
| ChartResetToMatchStyle | button | None (Context Menu) | None (Context Menu) |
| FontDialog | button | None (Context Menu) | None (Context Menu) |
| ChartChangeType | button | None (Context Menu) | None (Context Menu) |
| ChartSourceDataContextualMenu | button | None (Context Menu) | None (Context Menu) |
| ChartEditDataMenu | splitButton | None (Context Menu) | None (Context Menu) |
| ChartShowDataGrid | button | None (Context Menu) | None (Context Menu) |
| ChartShowDataContextualMenu | button | None (Context Menu) | None (Context Menu) |
| Chart3DView | button | None (Context Menu) | None (Context Menu) |
| ChartFormatDataSeriesAndSelect | button | None (Context Menu) | None (Context Menu) |
| ChartChangeDataLabelShapesGallery | gallery | None (Context Menu) | None (Context Menu) |
| ChartFormatDataLabels | button | None (Context Menu) | None (Context Menu) |
| | button | None (Context Menu) | None (Context Menu) |
| ContextMenuChartDataPoint | contextMenu | None (Context Menu) | None (Context Menu) |
| PivotTableSortMenu | menu | None (Context Menu) | None (Context Menu) |
| PivotTableFilterMenu | menu | None (Context Menu) | None (Context Menu) |
| ChartExpandCollapseMenu | menu | None (Context Menu) | None (Context Menu) |
| ChartNavDrillDownDrillUpMenu | menu | None (Context Menu) | None (Context Menu) |
| ChartQuickExplore | button | None (Context Menu) | None (Context Menu) |
| PivotChartDatapointShowDetail | button | None (Context Menu) | None (Context Menu) |
| PivotActionPopup | menu | None (Context Menu) | None (Context Menu) |
| ChartDeleteSeries | button | None (Context Menu) | None (Context Menu) |
| ChartResetToMatchStyle | button | None (Context Menu) | None (Context Menu) |
| ChartSeriesTypeChange | button | None (Context Menu) | None (Context Menu) |
| ChartSourceDataContextualMenu | button | None (Context Menu) | None (Context Menu) |
| ChartEditDataMenu | splitButton | None (Context Menu) | None (Context Menu) |
| ChartShowDataGrid | button | None (Context Menu) | None (Context Menu) |
| ChartShowDataContextualMenu | button | None (Context Menu) | None (Context Menu) |
| Chart3DView | button | None (Context Menu) | None (Context Menu) |
| AddDataLabelShapesMenu | splitButton | None (Context Menu) | None (Context Menu) |
| ChartDataLabelAdd | button | None (Context Menu) | None (Context Menu) |
| ChartCalloutDataLabelAdd | button | None (Context Menu) | None (Context Menu) |
| ChartTrendlineAdd | button | None (Context Menu) | None (Context Menu) |
| ChartFormatDataLabelAndSelect | button | None (Context Menu) | None (Context Menu) |
| ChartWaterfallSetAsTotal | button | None (Context Menu) | None (Context Menu) |
| ChartWaterfallUnsetTotal | button | None (Context Menu) | None (Context Menu) |
| ChartFormatDataPoint | button | None (Context Menu) | None (Context Menu) |
| | button | None (Context Menu) | None (Context Menu) |
| ContextMenuChartDataSeries | contextMenu | None (Context Menu) | None (Context Menu) |
| PivotTableSortMenu | menu | None (Context Menu) | None (Context Menu) |
| PivotTableFilterMenu | menu | None (Context Menu) | None (Context Menu) |
| ChartShowHideLevelsMenu | menu | None (Context Menu) | None (Context Menu) |
| ChartExpandCollapseMenu | menu | None (Context Menu) | None (Context Menu) |
| ChartNavDrillDownDrillUpMenu | menu | None (Context Menu) | None (Context Menu) |
| ChartQuickExplore | button | None (Context Menu) | None (Context Menu) |
| ChartPropertiesInTooltips | menu | None (Context Menu) | None (Context Menu) |
| PivotActionPopup | menu | None (Context Menu) | None (Context Menu) |
| ChartDelete | button | None (Context Menu) | None (Context Menu) |
| ChartResetToMatchStyle | button | None (Context Menu) | None (Context Menu) |
| ChartSeriesTypeChange | button | None (Context Menu) | None (Context Menu) |
| ChartSourceDataContextualMenu | button | None (Context Menu) | None (Context Menu) |
| ChartEditDataMenu | splitButton | None (Context Menu) | None (Context Menu) |
| ChartShowDataGrid | button | None (Context Menu) | None (Context Menu) |
| ChartShowDataContextualMenu | button | None (Context Menu) | None (Context Menu) |
| Chart3DView | button | None (Context Menu) | None (Context Menu) |
| AddDataLabelsShapesMenu | splitButton | None (Context Menu) | None (Context Menu) |
| ChartDataLabelsAdd | button | None (Context Menu) | None (Context Menu) |
| ChartCalloutDataLabelsAdd | button | None (Context Menu) | None (Context Menu) |
| ChartTrendlineAdd | button | None (Context Menu) | None (Context Menu) |
| ChartFormatDataLabelsAndSelect | button | None (Context Menu) | None (Context Menu) |
| ChartFormatDataSeries | button | None (Context Menu) | None (Context Menu) |
| | button | None (Context Menu) | None (Context Menu) |
| ContextMenuChartParetoLine | contextMenu | None (Context Menu) | None (Context Menu) |
| ChartFormatParetoLine | button | None (Context Menu) | None (Context Menu) |
| | button | None (Context Menu) | None (Context Menu) |
| ContextMenuChartDataTable | contextMenu | None (Context Menu) | None (Context Menu) |
| ChartDelete | button | None (Context Menu) | None (Context Menu) |
| ChartResetToMatchStyle | button | None (Context Menu) | None (Context Menu) |
| FontDialog | button | None (Context Menu) | None (Context Menu) |
| ChartChangeType | button | None (Context Menu) | None (Context Menu) |
| ChartSourceDataContextualMenu | button | None (Context Menu) | None (Context Menu) |
| ChartEditDataMenu | splitButton | None (Context Menu) | None (Context Menu) |
| ChartShowDataGrid | button | None (Context Menu) | None (Context Menu) |
| ChartShowDataContextualMenu | button | None (Context Menu) | None (Context Menu) |
| Chart3DView | button | None (Context Menu) | None (Context Menu) |
| ChartFormatDataTable | button | None (Context Menu) | None (Context Menu) |
| ChartFormatAxisAndSelect | button | None (Context Menu) | None (Context Menu) |
| | button | None (Context Menu) | None (Context Menu) |
| ContextMenuChartDisplayUnit | contextMenu | None (Context Menu) | None (Context Menu) |
| FirstCorrectionAlternative | button | None (Context Menu) | None (Context Menu) |
| SecondCorrectionAlternative | button | None (Context Menu) | None (Context Menu) |
| ThirdCorrectionAlternative | button | None (Context Menu) | None (Context Menu) |
| FourthCorrectionAlternative | button | None (Context Menu) | None (Context Menu) |
| FifthCorrectionAlternative | button | None (Context Menu) | None (Context Menu) |
| MoreCorrectionAlternatives | button | None (Context Menu) | None (Context Menu) |
| ChartDelete | button | None (Context Menu) | None (Context Menu) |
| ChartResetToMatchStyle | button | None (Context Menu) | None (Context Menu) |
| ChartEditText | button | None (Context Menu) | None (Context Menu) |
| ChartExitEditText | button | None (Context Menu) | None (Context Menu) |
| FontDialog | button | None (Context Menu) | None (Context Menu) |
| ChartChangeType | button | None (Context Menu) | None (Context Menu) |
| ChartSourceDataContextualMenu | button | None (Context Menu) | None (Context Menu) |
| ChartEditDataMenu | splitButton | None (Context Menu) | None (Context Menu) |
| ChartShowDataGrid | button | None (Context Menu) | None (Context Menu) |
| ChartShowDataContextualMenu | button | None (Context Menu) | None (Context Menu) |
| Chart3DView | button | None (Context Menu) | None (Context Menu) |
| ChartFormatDisplayUnit | button | None (Context Menu) | None (Context Menu) |
| ChartFormatAxisAndSelect | button | None (Context Menu) | None (Context Menu) |
| ChartAddAxis | button | None (Context Menu) | None (Context Menu) |
| | button | None (Context Menu) | None (Context Menu) |
| ContextMenuChartDownBars | contextMenu | None (Context Menu) | None (Context Menu) |
| ChartDelete | button | None (Context Menu) | None (Context Menu) |
| ChartResetToMatchStyle | button | None (Context Menu) | None (Context Menu) |
| ChartChangeType | button | None (Context Menu) | None (Context Menu) |
| ChartSourceDataContextualMenu | button | None (Context Menu) | None (Context Menu) |
| ChartEditDataMenu | splitButton | None (Context Menu) | None (Context Menu) |
| ChartShowDataGrid | button | None (Context Menu) | None (Context Menu) |
| ChartShowDataContextualMenu | button | None (Context Menu) | None (Context Menu) |
| Chart3DView | button | None (Context Menu) | None (Context Menu) |
| ChartFormatDownBars | button | None (Context Menu) | None (Context Menu) |
| | button | None (Context Menu) | None (Context Menu) |
| ContextMenuChartDropLines | contextMenu | None (Context Menu) | None (Context Menu) |
| ChartDelete | button | None (Context Menu) | None (Context Menu) |
| ChartResetToMatchStyle | button | None (Context Menu) | None (Context Menu) |
| ChartChangeType | button | None (Context Menu) | None (Context Menu) |
| ChartSourceDataContextualMenu | button | None (Context Menu) | None (Context Menu) |
| ChartEditDataMenu | splitButton | None (Context Menu) | None (Context Menu) |
| ChartShowDataGrid | button | None (Context Menu) | None (Context Menu) |
| ChartShowDataContextualMenu | button | None (Context Menu) | None (Context Menu) |
| Chart3DView | button | None (Context Menu) | None (Context Menu) |
| ChartFormatDropLines | button | None (Context Menu) | None (Context Menu) |
| | button | None (Context Menu) | None (Context Menu) |
| ContextMenuChartErrorBars | contextMenu | None (Context Menu) | None (Context Menu) |
| ChartDelete | button | None (Context Menu) | None (Context Menu) |
| ChartResetToMatchStyle | button | None (Context Menu) | None (Context Menu) |
| ChartChangeType | button | None (Context Menu) | None (Context Menu) |
| ChartSourceDataContextualMenu | button | None (Context Menu) | None (Context Menu) |
| ChartEditDataMenu | splitButton | None (Context Menu) | None (Context Menu) |
| ChartShowDataGrid | button | None (Context Menu) | None (Context Menu) |
| ChartShowDataContextualMenu | button | None (Context Menu) | None (Context Menu) |
| Chart3DView | button | None (Context Menu) | None (Context Menu) |
| ChartFormatErrorBars | button | None (Context Menu) | None (Context Menu) |
| | button | None (Context Menu) | None (Context Menu) |
| ContextMenuChartFloor | contextMenu | None (Context Menu) | None (Context Menu) |
| ChartDelete | button | None (Context Menu) | None (Context Menu) |
| ChartResetToMatchStyle | button | None (Context Menu) | None (Context Menu) |
| ChartChangeType | button | None (Context Menu) | None (Context Menu) |
| ChartSourceDataContextualMenu | button | None (Context Menu) | None (Context Menu) |
| ChartEditDataMenu | splitButton | None (Context Menu) | None (Context Menu) |
| ChartShowDataGrid | button | None (Context Menu) | None (Context Menu) |
| ChartShowDataContextualMenu | button | None (Context Menu) | None (Context Menu) |
| Chart3DView | button | None (Context Menu) | None (Context Menu) |
| ChartFormatFloor | button | None (Context Menu) | None (Context Menu) |
| | button | None (Context Menu) | None (Context Menu) |
| ContextMenuChartGridlines | contextMenu | None (Context Menu) | None (Context Menu) |
| ChartDelete | button | None (Context Menu) | None (Context Menu) |
| ChartResetToMatchStyle | button | None (Context Menu) | None (Context Menu) |
| ChartChangeType | button | None (Context Menu) | None (Context Menu) |
| ChartSourceDataContextualMenu | button | None (Context Menu) | None (Context Menu) |
| ChartEditDataMenu | splitButton | None (Context Menu) | None (Context Menu) |
| ChartShowDataGrid | button | None (Context Menu) | None (Context Menu) |
| ChartShowDataContextualMenu | button | None (Context Menu) | None (Context Menu) |
| Chart3DView | button | None (Context Menu) | None (Context Menu) |
| ChartFormatGridlines | button | None (Context Menu) | None (Context Menu) |
| ChartFormatAxisAndSelect | button | None (Context Menu) | None (Context Menu) |
| ChartAddAxis | button | None (Context Menu) | None (Context Menu) |
| | button | None (Context Menu) | None (Context Menu) |
| ContextMenuChartHighLowLine | contextMenu | None (Context Menu) | None (Context Menu) |
| ChartDelete | button | None (Context Menu) | None (Context Menu) |
| ChartResetToMatchStyle | button | None (Context Menu) | None (Context Menu) |
| ChartChangeType | button | None (Context Menu) | None (Context Menu) |
| ChartSourceDataContextualMenu | button | None (Context Menu) | None (Context Menu) |
| ChartEditDataMenu | splitButton | None (Context Menu) | None (Context Menu) |
| ChartShowDataGrid | button | None (Context Menu) | None (Context Menu) |
| ChartShowDataContextualMenu | button | None (Context Menu) | None (Context Menu) |
| Chart3DView | button | None (Context Menu) | None (Context Menu) |
| ChartFormatHighLowLine | button | None (Context Menu) | None (Context Menu) |
| | button | None (Context Menu) | None (Context Menu) |
| ContextMenuChartLeaderLines | contextMenu | None (Context Menu) | None (Context Menu) |
| ChartDelete | button | None (Context Menu) | None (Context Menu) |
| ChartResetToMatchStyle | button | None (Context Menu) | None (Context Menu) |
| ChartChangeType | button | None (Context Menu) | None (Context Menu) |
| ChartSourceDataContextualMenu | button | None (Context Menu) | None (Context Menu) |
| ChartEditDataMenu | splitButton | None (Context Menu) | None (Context Menu) |
| ChartShowDataGrid | button | None (Context Menu) | None (Context Menu) |
| ChartShowDataContextualMenu | button | None (Context Menu) | None (Context Menu) |
| Chart3DView | button | None (Context Menu) | None (Context Menu) |
| ChartFormatLeaderLines | button | None (Context Menu) | None (Context Menu) |
| | button | None (Context Menu) | None (Context Menu) |
| ContextMenuChartLegend | contextMenu | None (Context Menu) | None (Context Menu) |
| ChartDelete | button | None (Context Menu) | None (Context Menu) |
| ChartResetToMatchStyle | button | None (Context Menu) | None (Context Menu) |
| FontDialog | button | None (Context Menu) | None (Context Menu) |
| ChartChangeType | button | None (Context Menu) | None (Context Menu) |
| ChartSourceDataContextualMenu | button | None (Context Menu) | None (Context Menu) |
| ChartEditDataMenu | splitButton | None (Context Menu) | None (Context Menu) |
| ChartShowDataGrid | button | None (Context Menu) | None (Context Menu) |
| ChartShowDataContextualMenu | button | None (Context Menu) | None (Context Menu) |
| Chart3DView | button | None (Context Menu) | None (Context Menu) |
| ChartFormatLegend | button | None (Context Menu) | None (Context Menu) |
| | button | None (Context Menu) | None (Context Menu) |
| ContextMenuChartLegendEntry | contextMenu | None (Context Menu) | None (Context Menu) |
| PivotTableSortMenu | menu | None (Context Menu) | None (Context Menu) |
| PivotTableFilterMenu | menu | None (Context Menu) | None (Context Menu) |
| ChartShowHideLevelsMenu | menu | None (Context Menu) | None (Context Menu) |
| ChartExpandCollapseMenu | menu | None (Context Menu) | None (Context Menu) |
| ChartNavDrillDownDrillUpMenu | menu | None (Context Menu) | None (Context Menu) |
| ChartQuickExplore | button | None (Context Menu) | None (Context Menu) |
| PivotTableReorderingMenu | menu | None (Context Menu) | None (Context Menu) |
| ChartPropertiesInTooltips | menu | None (Context Menu) | None (Context Menu) |
| PivotActionPopup | menu | None (Context Menu) | None (Context Menu) |
| ChartDelete | button | None (Context Menu) | None (Context Menu) |
| ChartDeleteSeries | button | None (Context Menu) | None (Context Menu) |
| ChartResetToMatchStyle | button | None (Context Menu) | None (Context Menu) |
| FontDialog | button | None (Context Menu) | None (Context Menu) |
| ChartSeriesTypeChange | button | None (Context Menu) | None (Context Menu) |
| ChartSourceDataContextualMenu | button | None (Context Menu) | None (Context Menu) |
| ChartEditDataMenu | splitButton | None (Context Menu) | None (Context Menu) |
| ChartShowDataGrid | button | None (Context Menu) | None (Context Menu) |
| ChartShowDataContextualMenu | button | None (Context Menu) | None (Context Menu) |
| Chart3DView | button | None (Context Menu) | None (Context Menu) |
| ChartFormatDataSeriesAndSelect | button | None (Context Menu) | None (Context Menu) |
| ChartFormatLegendEntry | button | None (Context Menu) | None (Context Menu) |
| | button | None (Context Menu) | None (Context Menu) |
| ContextMenuChartPlotArea | contextMenu | None (Context Menu) | None (Context Menu) |
| ChartDelete | button | None (Context Menu) | None (Context Menu) |
| ChartResetToMatchStyle | button | None (Context Menu) | None (Context Menu) |
| ChartChangeType | button | None (Context Menu) | None (Context Menu) |
| ChartSaveTemplates | button | None (Context Menu) | None (Context Menu) |
| ChartSourceDataContextualMenu | button | None (Context Menu) | None (Context Menu) |
| ChartEditDataMenu | splitButton | None (Context Menu) | None (Context Menu) |
| ChartShowDataGrid | button | None (Context Menu) | None (Context Menu) |
| ChartShowDataContextualMenu | button | None (Context Menu) | None (Context Menu) |
| Chart3DView | button | None (Context Menu) | None (Context Menu) |
| ChartFormatPlotArea | button | None (Context Menu) | None (Context Menu) |
| | button | None (Context Menu) | None (Context Menu) |
| ContextMenuChartSeriesLine | contextMenu | None (Context Menu) | None (Context Menu) |
| ChartDelete | button | None (Context Menu) | None (Context Menu) |
| ChartResetToMatchStyle | button | None (Context Menu) | None (Context Menu) |
| ChartChangeType | button | None (Context Menu) | None (Context Menu) |
| ChartSourceDataContextualMenu | button | None (Context Menu) | None (Context Menu) |
| ChartEditDataMenu | splitButton | None (Context Menu) | None (Context Menu) |
| ChartShowDataGrid | button | None (Context Menu) | None (Context Menu) |
| ChartShowDataContextualMenu | button | None (Context Menu) | None (Context Menu) |
| Chart3DView | button | None (Context Menu) | None (Context Menu) |
| ChartFormatSeriesLine | button | None (Context Menu) | None (Context Menu) |
| | button | None (Context Menu) | None (Context Menu) |
| ContextMenuChartSideWall | contextMenu | None (Context Menu) | None (Context Menu) |
| ChartDelete | button | None (Context Menu) | None (Context Menu) |
| ChartResetToMatchStyle | button | None (Context Menu) | None (Context Menu) |
| ChartChangeType | button | None (Context Menu) | None (Context Menu) |
| ChartSourceDataContextualMenu | button | None (Context Menu) | None (Context Menu) |
| ChartEditDataMenu | splitButton | None (Context Menu) | None (Context Menu) |
| ChartShowDataGrid | button | None (Context Menu) | None (Context Menu) |
| ChartShowDataContextualMenu | button | None (Context Menu) | None (Context Menu) |
| Chart3DView | button | None (Context Menu) | None (Context Menu) |
| ChartFormatSideWall | button | None (Context Menu) | None (Context Menu) |
| | button | None (Context Menu) | None (Context Menu) |
| ContextMenuChartTrendline | contextMenu | None (Context Menu) | None (Context Menu) |
| ChartDelete | button | None (Context Menu) | None (Context Menu) |
| ChartResetToMatchStyle | button | None (Context Menu) | None (Context Menu) |
| ChartChangeType | button | None (Context Menu) | None (Context Menu) |
| ChartSourceDataContextualMenu | button | None (Context Menu) | None (Context Menu) |
| ChartEditDataMenu | splitButton | None (Context Menu) | None (Context Menu) |
| ChartShowDataGrid | button | None (Context Menu) | None (Context Menu) |
| ChartShowDataContextualMenu | button | None (Context Menu) | None (Context Menu) |
| Chart3DView | button | None (Context Menu) | None (Context Menu) |
| ChartFormatTrendline | button | None (Context Menu) | None (Context Menu) |
| | button | None (Context Menu) | None (Context Menu) |
| ContextMenuChartTrendlineLabel | contextMenu | None (Context Menu) | None (Context Menu) |
| FirstCorrectionAlternative | button | None (Context Menu) | None (Context Menu) |
| SecondCorrectionAlternative | button | None (Context Menu) | None (Context Menu) |
| ThirdCorrectionAlternative | button | None (Context Menu) | None (Context Menu) |
| FourthCorrectionAlternative | button | None (Context Menu) | None (Context Menu) |
| FifthCorrectionAlternative | button | None (Context Menu) | None (Context Menu) |
| MoreCorrectionAlternatives | button | None (Context Menu) | None (Context Menu) |
| ChartDelete | button | None (Context Menu) | None (Context Menu) |
| ChartResetToMatchStyle | button | None (Context Menu) | None (Context Menu) |
| ChartEditText | button | None (Context Menu) | None (Context Menu) |
| ChartExitEditText | button | None (Context Menu) | None (Context Menu) |
| FontDialog | button | None (Context Menu) | None (Context Menu) |
| ChartChangeType | button | None (Context Menu) | None (Context Menu) |
| ChartSourceDataContextualMenu | button | None (Context Menu) | None (Context Menu) |
| ChartEditDataMenu | splitButton | None (Context Menu) | None (Context Menu) |
| ChartShowDataGrid | button | None (Context Menu) | None (Context Menu) |
| ChartShowDataContextualMenu | button | None (Context Menu) | None (Context Menu) |
| Chart3DView | button | None (Context Menu) | None (Context Menu) |
| ChartFormatTrendlineLabel | button | None (Context Menu) | None (Context Menu) |
| ChartFormatTrendlineAndSelect | button | None (Context Menu) | None (Context Menu) |
| ChartFormatDataSeriesAndSelect | button | None (Context Menu) | None (Context Menu) |
| | button | None (Context Menu) | None (Context Menu) |
| ContextMenuChartUpBars | contextMenu | None (Context Menu) | None (Context Menu) |
| ChartDelete | button | None (Context Menu) | None (Context Menu) |
| ChartResetToMatchStyle | button | None (Context Menu) | None (Context Menu) |
| ChartChangeType | button | None (Context Menu) | None (Context Menu) |
| ChartSourceDataContextualMenu | button | None (Context Menu) | None (Context Menu) |
| ChartEditDataMenu | splitButton | None (Context Menu) | None (Context Menu) |
| ChartShowDataGrid | button | None (Context Menu) | None (Context Menu) |
| ChartShowDataContextualMenu | button | None (Context Menu) | None (Context Menu) |
| Chart3DView | button | None (Context Menu) | None (Context Menu) |
| ChartFormatUpBars | button | None (Context Menu) | None (Context Menu) |
| | button | None (Context Menu) | None (Context Menu) |
| ContextMenuChartWalls | contextMenu | None (Context Menu) | None (Context Menu) |
| ChartDelete | button | None (Context Menu) | None (Context Menu) |
| ChartResetToMatchStyle | button | None (Context Menu) | None (Context Menu) |
| ChartChangeType | button | None (Context Menu) | None (Context Menu) |
| ChartSourceDataContextualMenu | button | None (Context Menu) | None (Context Menu) |
| ChartEditDataMenu | splitButton | None (Context Menu) | None (Context Menu) |
| ChartShowDataGrid | button | None (Context Menu) | None (Context Menu) |
| ChartShowDataContextualMenu | button | None (Context Menu) | None (Context Menu) |
| Chart3DView | button | None (Context Menu) | None (Context Menu) |
| ChartFormatWalls | button | None (Context Menu) | None (Context Menu) |
| | button | None (Context Menu) | None (Context Menu) |
| ContextMenuGraphicsCompatibility | contextMenu | None (Context Menu) | None (Context Menu) |
| Cut | button | None (Context Menu) | None (Context Menu) |
| Copy | button | None (Context Menu) | None (Context Menu) |
| PasteGalleryMini | gallery | None (Context Menu) | None (Context Menu) |
| ObjectsGroupMenu | menu | None (Context Menu) | None (Context Menu) |
| ObjectsGroup | button | None (Context Menu) | None (Context Menu) |
| ObjectsRegroup | button | None (Context Menu) | None (Context Menu) |
| ObjectsUngroup | button | None (Context Menu) | None (Context Menu) |
| ObjectBringToFrontMenu | splitButton | None (Context Menu) | None (Context Menu) |
| ObjectBringToFront | button | None (Context Menu) | None (Context Menu) |
| ObjectBringForward | button | None (Context Menu) | None (Context Menu) |
| ObjectSendToBackMenu | splitButton | None (Context Menu) | None (Context Menu) |
| ObjectSendToBack | button | None (Context Menu) | None (Context Menu) |
| ObjectSendBackward | button | None (Context Menu) | None (Context Menu) |
| MacroAssign | button | None (Context Menu) | None (Context Menu) |
| ContextMenuSmartArtContentPane | contextMenu | None (Context Menu) | None (Context Menu) |
| FirstCorrectionAlternative | button | None (Context Menu) | None (Context Menu) |
| SecondCorrectionAlternative | button | None (Context Menu) | None (Context Menu) |
| ThirdCorrectionAlternative | button | None (Context Menu) | None (Context Menu) |
| FourthCorrectionAlternative | button | None (Context Menu) | None (Context Menu) |
| FifthCorrectionAlternative | button | None (Context Menu) | None (Context Menu) |
| MoreCorrectionAlternatives | button | None (Context Menu) | None (Context Menu) |
| Cut | button | None (Context Menu) | None (Context Menu) |
| Copy | button | None (Context Menu) | None (Context Menu) |
| PasteGalleryMini | gallery | None (Context Menu) | None (Context Menu) |
| SmartArtPromote | button | None (Context Menu) | None (Context Menu) |
| SmartArtDemote | button | None (Context Menu) | None (Context Menu) |
| SmartArtReorderUp | button | None (Context Menu) | None (Context Menu) |
| SmartArtReorderDown | button | None (Context Menu) | None (Context Menu) |
| FontDialog | button | None (Context Menu) | None (Context Menu) |
| ImeReconvert | button | None (Context Menu) | None (Context Menu) |
| ContextMenuSmartArtBackground | contextMenu | None (Context Menu) | None (Context Menu) |
| Cut | button | None (Context Menu) | None (Context Menu) |
| Copy | button | None (Context Menu) | None (Context Menu) |
| PasteGalleryMini | gallery | None (Context Menu) | None (Context Menu) |
| SmartArtChangeLayout | button | None (Context Menu) | None (Context Menu) |
| SmartArtTextPane | toggleButton | None (Context Menu) | None (Context Menu) |
| ObjectsGroupMenu | menu | None (Context Menu) | None (Context Menu) |
| ObjectsGroup | button | None (Context Menu) | None (Context Menu) |
| ObjectsRegroup | button | None (Context Menu) | None (Context Menu) |
| ObjectsUngroup | button | None (Context Menu) | None (Context Menu) |
| ObjectBringToFrontMenu | splitButton | None (Context Menu) | None (Context Menu) |
| ObjectBringToFront | button | None (Context Menu) | None (Context Menu) |
| ObjectBringForward | button | None (Context Menu) | None (Context Menu) |
| ObjectSendToBackMenu | splitButton | None (Context Menu) | None (Context Menu) |
| ObjectSendToBack | button | None (Context Menu) | None (Context Menu) |
| ObjectSendBackward | button | None (Context Menu) | None (Context Menu) |
| HyperlinkInsert | button | None (Context Menu) | None (Context Menu) |
| HyperlinkEdit | button | None (Context Menu) | None (Context Menu) |
| HyperlinkOpenExcel | button | None (Context Menu) | None (Context Menu) |
| HyperlinkRemove | button | None (Context Menu) | None (Context Menu) |
| MacroAssign | button | None (Context Menu) | None (Context Menu) |
| SmartArtResetGraphic | button | None (Context Menu) | None (Context Menu) |
| SmartArtConvertToShapes | button | None (Context Menu) | None (Context Menu) |
| ObjectSizeAndPropertiesDialog | button | None (Context Menu) | None (Context Menu) |
| ObjectFormatDialog | button | None (Context Menu) | None (Context Menu) |
| ContextMenuSmartArtEditSmartArt | contextMenu | None (Context Menu) | None (Context Menu) |
| Cut | button | None (Context Menu) | None (Context Menu) |
| Copy | button | None (Context Menu) | None (Context Menu) |
| PasteGalleryMini | gallery | None (Context Menu) | None (Context Menu) |
| ObjectAddText | button | None (Context Menu) | None (Context Menu) |
| ObjectEditText | button | None (Context Menu) | None (Context Menu) |
| FontDialog | button | None (Context Menu) | None (Context Menu) |
| ShapeChangeShapeGallery | gallery | None (Context Menu) | None (Context Menu) |
| SmartArtAddShapeMenu | menu | None (Context Menu) | None (Context Menu) |
| SmartArtAddShapeAfter | button | None (Context Menu) | None (Context Menu) |
| SmartArtAddShapeBefore | button | None (Context Menu) | None (Context Menu) |
| SmartArtAddShapeAbove | button | None (Context Menu) | None (Context Menu) |
| SmartArtAddShapeBelow | button | None (Context Menu) | None (Context Menu) |
| SmartArtAddAssistant | button | None (Context Menu) | None (Context Menu) |
| HyperlinkInsert | button | None (Context Menu) | None (Context Menu) |
| HyperlinkEdit | button | None (Context Menu) | None (Context Menu) |
| HyperlinkOpenExcel | button | None (Context Menu) | None (Context Menu) |
| HyperlinkRemove | button | None (Context Menu) | None (Context Menu) |
| SmartArtResetShape | button | None (Context Menu) | None (Context Menu) |
| ObjectSizeAndPropertiesDialog | button | None (Context Menu) | None (Context Menu) |
| ObjectFormatDialog | button | None (Context Menu) | None (Context Menu) |
| ContextMenuSmartArtEdit1DShape | contextMenu | None (Context Menu) | None (Context Menu) |
| Cut | button | None (Context Menu) | None (Context Menu) |
| Copy | button | None (Context Menu) | None (Context Menu) |
| PasteGalleryMini | gallery | None (Context Menu) | None (Context Menu) |
| FontDialog | button | None (Context Menu) | None (Context Menu) |
| SmartArtAddShapeMenu | menu | None (Context Menu) | None (Context Menu) |
| SmartArtAddShapeAfter | button | None (Context Menu) | None (Context Menu) |
| SmartArtAddShapeBefore | button | None (Context Menu) | None (Context Menu) |
| SmartArtAddShapeAbove | button | None (Context Menu) | None (Context Menu) |
| SmartArtAddShapeBelow | button | None (Context Menu) | None (Context Menu) |
| SmartArtAddAssistant | button | None (Context Menu) | None (Context Menu) |
| SmartArtResetShape | button | None (Context Menu) | None (Context Menu) |
| ObjectSizeAndPropertiesDialog | button | None (Context Menu) | None (Context Menu) |
| ObjectFormatDialog | button | None (Context Menu) | None (Context Menu) |
| ContextMenuSmartArtEditText | contextMenu | None (Context Menu) | None (Context Menu) |
| FirstCorrectionAlternative | button | None (Context Menu) | None (Context Menu) |
| SecondCorrectionAlternative | button | None (Context Menu) | None (Context Menu) |
| ThirdCorrectionAlternative | button | None (Context Menu) | None (Context Menu) |
| FourthCorrectionAlternative | button | None (Context Menu) | None (Context Menu) |
| FifthCorrectionAlternative | button | None (Context Menu) | None (Context Menu) |
| MoreCorrectionAlternatives | button | None (Context Menu) | None (Context Menu) |
| Cut | button | None (Context Menu) | None (Context Menu) |
| Copy | button | None (Context Menu) | None (Context Menu) |
| PasteGalleryMini | gallery | None (Context Menu) | None (Context Menu) |
| EquationOptionsGallery | gallery | None (Context Menu) | None (Context Menu) |
| TextEditModeExit | button | None (Context Menu) | None (Context Menu) |
| FontDialog | button | None (Context Menu) | None (Context Menu) |
| ParagraphDialog | button | None (Context Menu) | None (Context Menu) |
| ImeReconvert | button | None (Context Menu) | None (Context Menu) |
| ShapeChangeShapeGallery | gallery | None (Context Menu) | None (Context Menu) |
| SmartArtAddShapeMenu | menu | None (Context Menu) | None (Context Menu) |
| SmartArtAddShapeAfter | button | None (Context Menu) | None (Context Menu) |
| SmartArtAddShapeBefore | button | None (Context Menu) | None (Context Menu) |
| SmartArtAddShapeAbove | button | None (Context Menu) | None (Context Menu) |
| SmartArtAddShapeBelow | button | None (Context Menu) | None (Context Menu) |
| SmartArtAddAssistant | button | None (Context Menu) | None (Context Menu) |
| HyperlinkInsert | button | None (Context Menu) | None (Context Menu) |
| HyperlinkEdit | button | None (Context Menu) | None (Context Menu) |
| HyperlinkOpenExcel | button | None (Context Menu) | None (Context Menu) |
| HyperlinkRemove | button | None (Context Menu) | None (Context Menu) |
| SmartArtResetShape | button | None (Context Menu) | None (Context Menu) |
| WordArtFormatDialog | button | None (Context Menu) | None (Context Menu) |
| ObjectSizeAndPropertiesDialog | button | None (Context Menu) | None (Context Menu) |
| ObjectFormatDialog | button | None (Context Menu) | None (Context Menu) |
| ContextMenuSmartArtEdit1DShapeText | contextMenu | None (Context Menu) | None (Context Menu) |
| FirstCorrectionAlternative | button | None (Context Menu) | None (Context Menu) |
| SecondCorrectionAlternative | button | None (Context Menu) | None (Context Menu) |
| ThirdCorrectionAlternative | button | None (Context Menu) | None (Context Menu) |
| FourthCorrectionAlternative | button | None (Context Menu) | None (Context Menu) |
| FifthCorrectionAlternative | button | None (Context Menu) | None (Context Menu) |
| MoreCorrectionAlternatives | button | None (Context Menu) | None (Context Menu) |
| Cut | button | None (Context Menu) | None (Context Menu) |
| Copy | button | None (Context Menu) | None (Context Menu) |
| PasteGalleryMini | gallery | None (Context Menu) | None (Context Menu) |
| FontDialog | button | None (Context Menu) | None (Context Menu) |
| ParagraphDialog | button | None (Context Menu) | None (Context Menu) |
| ImeReconvert | button | None (Context Menu) | None (Context Menu) |
| SmartArtAddShapeMenu | menu | None (Context Menu) | None (Context Menu) |
| SmartArtAddShapeAfter | button | None (Context Menu) | None (Context Menu) |
| SmartArtAddShapeBefore | button | None (Context Menu) | None (Context Menu) |
| SmartArtAddShapeAbove | button | None (Context Menu) | None (Context Menu) |
| SmartArtAddShapeBelow | button | None (Context Menu) | None (Context Menu) |
| SmartArtAddAssistant | button | None (Context Menu) | None (Context Menu) |
| SmartArtResetShape | button | None (Context Menu) | None (Context Menu) |
| WordArtFormatDialog | button | None (Context Menu) | None (Context Menu) |
| ObjectSizeAndPropertiesDialog | button | None (Context Menu) | None (Context Menu) |
| ObjectFormatDialog | button | None (Context Menu) | None (Context Menu) |
| ContextMenuTimeSlicerLevel | contextMenu | None (Context Menu) | None (Context Menu) |
| | checkBox | None (Context Menu) | None (Context Menu) |
| ContextMenuTimeSlicer | contextMenu | None (Context Menu) | None (Context Menu) |
| Cut | button | None (Context Menu) | None (Context Menu) |
| Copy | button | None (Context Menu) | None (Context Menu) |
| PasteGalleryMini | gallery | None (Context Menu) | None (Context Menu) |
| TimeSlicerRefresh | button | None (Context Menu) | None (Context Menu) |
| TimeSlicerClearFilter | button | None (Context Menu) | None (Context Menu) |
| SlicerConnectionsMenu | button | None (Context Menu) | None (Context Menu) |
| TimeSlicerDelete | button | None (Context Menu) | None (Context Menu) |
| ObjectsGroupMenu | menu | None (Context Menu) | None (Context Menu) |
| ObjectsGroup | button | None (Context Menu) | None (Context Menu) |
| ObjectsRegroup | button | None (Context Menu) | None (Context Menu) |
| ObjectsUngroup | button | None (Context Menu) | None (Context Menu) |
| ObjectBringToFrontMenu | splitButton | None (Context Menu) | None (Context Menu) |
| ObjectBringToFront | button | None (Context Menu) | None (Context Menu) |
| ObjectBringForward | button | None (Context Menu) | None (Context Menu) |
| ObjectSendToBackMenu | splitButton | None (Context Menu) | None (Context Menu) |
| ObjectSendToBack | button | None (Context Menu) | None (Context Menu) |
| ObjectSendBackward | button | None (Context Menu) | None (Context Menu) |
| MacroAssign | button | None (Context Menu) | None (Context Menu) |
| ObjectSizeAndPropertiesDialog | button | None (Context Menu) | None (Context Menu) |
| ContextMenuSlicer | contextMenu | None (Context Menu) | None (Context Menu) |
| Cut | button | None (Context Menu) | None (Context Menu) |
| Copy | button | None (Context Menu) | None (Context Menu) |
| PasteGalleryMini | gallery | None (Context Menu) | None (Context Menu) |
| SlicerRefresh | button | None (Context Menu) | None (Context Menu) |
| SlicerSortUp | toggleButton | None (Context Menu) | None (Context Menu) |
| SlicerSortDown | toggleButton | None (Context Menu) | None (Context Menu) |
| SlicerDataSourceOrder | toggleButton | None (Context Menu) | None (Context Menu) |
| SlicerClearFilter | button | None (Context Menu) | None (Context Menu) |
| SlicerMultiSelect | button | None (Context Menu) | None (Context Menu) |
| SlicerConnectionsMenu | button | None (Context Menu) | None (Context Menu) |
| SlicerDelete | button | None (Context Menu) | None (Context Menu) |
| ObjectsGroupMenu | menu | None (Context Menu) | None (Context Menu) |
| ObjectsGroup | button | None (Context Menu) | None (Context Menu) |
| ObjectsRegroup | button | None (Context Menu) | None (Context Menu) |
| ObjectsUngroup | button | None (Context Menu) | None (Context Menu) |
| ObjectBringToFrontMenu | splitButton | None (Context Menu) | None (Context Menu) |
| ObjectBringToFront | button | None (Context Menu) | None (Context Menu) |
| ObjectBringForward | button | None (Context Menu) | None (Context Menu) |
| ObjectSendToBackMenu | splitButton | None (Context Menu) | None (Context Menu) |
| ObjectSendToBack | button | None (Context Menu) | None (Context Menu) |
| ObjectSendBackward | button | None (Context Menu) | None (Context Menu) |
| MacroAssign | button | None (Context Menu) | None (Context Menu) |
| ObjectSizeAndPropertiesDialog | button | None (Context Menu) | None (Context Menu) |
| SlicerSettings | button | None (Context Menu) | None (Context Menu) |
| ContextMenuOfficeWebExtension | contextMenu | None (Context Menu) | None (Context Menu) |
| Cut | button | None (Context Menu) | None (Context Menu) |
| Copy | button | None (Context Menu) | None (Context Menu) |
| PasteGalleryMini | gallery | None (Context Menu) | None (Context Menu) |
| ObjectsGroupMenu | menu | None (Context Menu) | None (Context Menu) |
| ObjectsGroup | button | None (Context Menu) | None (Context Menu) |
| ObjectsRegroup | button | None (Context Menu) | None (Context Menu) |
| ObjectsUngroup | button | None (Context Menu) | None (Context Menu) |
| ObjectBringToFrontMenu | splitButton | None (Context Menu) | None (Context Menu) |
| ObjectBringToFront | button | None (Context Menu) | None (Context Menu) |
| ObjectBringForward | button | None (Context Menu) | None (Context Menu) |
| ObjectSendToBackMenu | splitButton | None (Context Menu) | None (Context Menu) |
| ObjectSendToBack | button | None (Context Menu) | None (Context Menu) |
| ObjectSendBackward | button | None (Context Menu) | None (Context Menu) |
| ObjectSetShapeDefaults | button | None (Context Menu) | None (Context Menu) |
| ObjectSizeAndPropertiesDialog | button | None (Context Menu) | None (Context Menu) |
| ObjectFormatDialog | button | None (Context Menu) | None (Context Menu) |
| | contextMenu | None (Context Menu) | None (Context Menu) |
| | gallery | None (Context Menu) | None (Context Menu) |
| | toggleButton | None (Context Menu) | None (Context Menu) |
| | toggleButton | None (Context Menu) | None (Context Menu) |